COVID
As we head into the winter, here's your guide to at-home COVID testing
"The easy availability of rapid at-home COVID test will likely enable the detection of cases that would not have been diagnosed otherwise."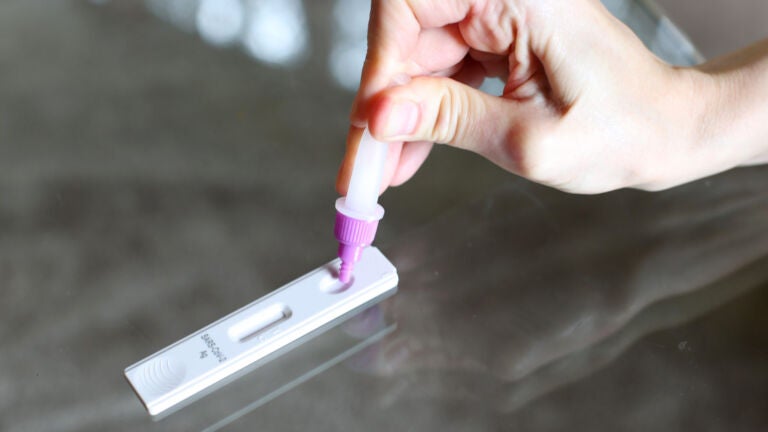 Heading into 2022, rapid at-home tests will increasingly become more available at your local pharmacy, and we caught up with experts about what you should know.
A quick Google search shows that local pharmacies have carried one or two tests for a while — at least online. CVS Pharmacy, Walgreens, and Stop & Shop all sell the BinaxNOW rapid test, some have the newer QuickVue rapid test, but federal authorities are hoping to increase access and availability of rapid, at-home COVID tests heading into the winter to broaden detection efforts.
In October, the FDA approved an emergency use license for another rapid test – Acon Laboratories's FlowFlex home COVID test kit – with that goal in mind. Local experts agree: Massachusetts General Hospital infectious disease specialist Dr. Kimon Zachary told Boston.com the broad accessibility of rapid at-home COVID tests could limit viral spread.
"The easy availability of rapid at-home COVID test will likely enable the detection of cases that would not have been diagnosed otherwise, and will encourage affected individuals to observe appropriate isolation measures, thereby reducing spread," he said.
As of September, the FDA had approved 13 at-home test kits and 63 home collection kits, though the most broadly used appear to be BinaxNOW and QuickVue. At-home tests are antigen tests, as opposed to the more comprehensive PCR test, so they do have limitations. Though samples for a PCR test can be taken at home and sent to a lab, they are much more expensive than antigen tests and take 24 to 48 hours to get a result.
Rapid antigen tests detect viral proteins, Zachary said, but are less sensitive than the molecular PCR test, which detects viral RNA.
"This means that rapid antigen tests are more likely to miss infections and be falsely negative, especially when the viral burden is relatively low," he said. "Therefore, a negative result may lend a false sense of security, especially when only a single test is done. Individuals who are infected and test negative with a rapid antigen test may be relatively unlikely to spread the virus at the time the test was taken, but the burden of virus, and the attendant risk of contagiousness, can change quickly, from day to day or even faster."
Zachary believes our existing public health strategies — including testing for any suspicious symptoms and exposure — will remain, but be enhanced by the at-home antigen tests.
"It will be important, however, to ensure that positive results are reported both to an individual's healthcare provider, and to the pertinent public health authorities," he said.
How to get an accurate result
Dr. Karl Laskowski, a primary care physician and associate chief medical officer for Brigham and Women's Hospital, is also the co-lead of Mass General Brigham's COVID testing operations. You could say he knows a thing or two about how to successfully administer a COVID test.
The most important thing to remember when administering an at-home COVID test? Follow the instructions.
"It is critically important that you carefully read any instructions for the type of test you are taking, and follow them to the letter," Laskowski told Boston.com. "Not getting a good sample to test or making a mistake in carrying out the test will make the test unreliable, so be sure to pay attention and take your time."
As far as avoiding a false positive or negative, Laskowski said we have to understand the limitations of an antigen test. The PCR test is the "gold standard," he said, and though antigen tests are convenient, they are generally less sensitive.
"They may miss some infections, particularly if you're not carrying enough virus to have symptoms, and all tests may miss infection if you test too early or too late," Laskowski said. "Repeating a test a day or two later increases the likelihood that you'll identify an infection. But the important point to remember is that a negative test doesn't mean you can forget all COVID precautions. There's still a risk you might be infected — and that you could infect others — so it's still necessary to adhere to best practices… Of course, if you test positive, assume it's an accurate result and be sure to contact your doctor."
Laskowski absolutely believes people will be able to successfully administer the tests at home, and said he's used them when he or his kids develop cold symptoms or before a visit from grandparents.
"Home tests are a helpful tool, and some epidemiologists have argued that frequent testing, even with lower sensitivity products, can help reduce the risk of COVID spreading within a community," Laskowski said. "It's hard to argue that more testing is bad, so long as we all remember that there is still risk of infection even with a negative result.
"This is particularly true as we gather indoors more often with the colder weather and with visits from family and friends around the holidays. Masks, airflow, and avoiding others when sick or after a known COVID exposure remain critically important to helping us get through another winter."
Newsletter Signup
Stay up to date on all the latest news from Boston.com