COVID
Massachusetts expands COVID-19 booster eligibility to all adults, bypassing federal guidelines
Effective immediately, all adults in Massachusetts can get an additional shot after their waiting period has elapsed.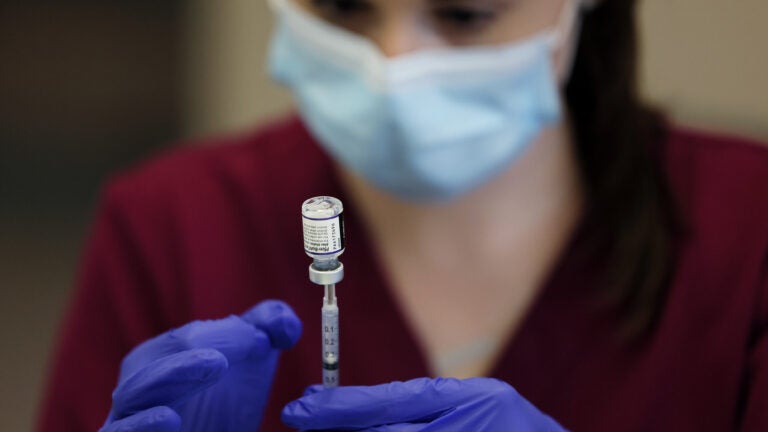 Massachusetts is expanding COVID-19 vaccine booster eligibility to all adults, joining a growing list of states that are jumping federal guidelines.
Gov. Charlie Baker's administration announced Thursday morning that, "effective immediately," all Massachusetts residents over the age of 18 can get a booster shot six months after receiving the second dose of the Pfizer or Moderna vaccines or two months after getting the single-dose Johnson & Johnson vaccine.
Officials noted that booster shots are available at more than 1,000 locations in Massachusetts, searchable on the state's vaxfinder.mass.gov website.
With the move, Massachusetts is jumping ahead of the current federal guidelines for boosters, which recommend the additional Pfizer or Moderna shots for a broad and loosely defined group, including individuals over the age of 65, certain workers, and people with medical conditions that make them vulnerable to COVID-19 (all individuals over the age of 18 who have gotten the Johnson & Johnson vaccine have been eligible for a booster after two months).
The Food and Drug Administration and Centers for Disease Control and Prevention are scheduled to discuss — and expected to recommend — expanding booster eligibility to all adults who got the Pfizer or Moderna vaccines this week.
However, a growing list of states — including Rhode Island and Maine — have jumped the gun and begun offering boosters to all adults, amid concerns about still-elevated COVID-19 rates and waning vaccine effectiveness, as both the winter season and holidays approach.
The announcement from the Baker administration comes after the state's health officials reported 2,650 new COVID-19 cases Wednesday, the highest single-day increase since February. The number of hospitalizations due to COVID-19 over the past two days has also increased from 554 to 642.
Baker also suggested Thursday that the move would clear up confusion around who, exactly, is eligible for the boosters. Unlike the initial vaccine rollout, officials have been less exact about what jobs and medical conditions qualified individuals under the age of 65 for boosters.
"Having talked to a lot of people and a lot of providers, there's a lot of confusion out there about who's eligible and who's not," the governor told reporters in Boston. "And the simple truth of the matter is, if you're six months out of your booster, you're over the age of 18, and it's a Pfizer or a Moderna, you should just go ahead and – in our opinion – sign up and get it."
According to the Baker administration, over 94 percent of Massachusetts adults have received at least one dose of a COVID-19 vaccine and over 4.8 million — or 81 percent —of the population is fully vaccinated. Over 800,000 residents have gotten a booster.
Officials noted that current CDC recommendations allow individuals to get a different COVID-19 vaccine as a booster than their initial shots — otherwise known as mixing and matching. Officials said residents with questions about which booster is right for them should ask their health care provider for advice.
Baker said Thursday that the state's pharmacies and vaccine clinics should be ready for any influx in appointments.
"We've already done almost a million booster shots, and they all said they thought they could handle it," Baker said. "Remember, this is for anybody over the age of 18, who's out six months on their Moderna or Pfizer vaccine or out two months on their J&J vaccine. So there's still a process here."
COVID-19 vaccine booster shot
Newsletter Signup
Stay up to date on all the latest news from Boston.com