Coronavirus
Charlie Baker says Massachusetts residents 'should' enjoy a normal Thanksgiving, urges booster shots
Even though COVID-19 rates remain high, Baker says "the bottom line is people should enjoy their Thanksgiving" due to the state's high vaccination rates.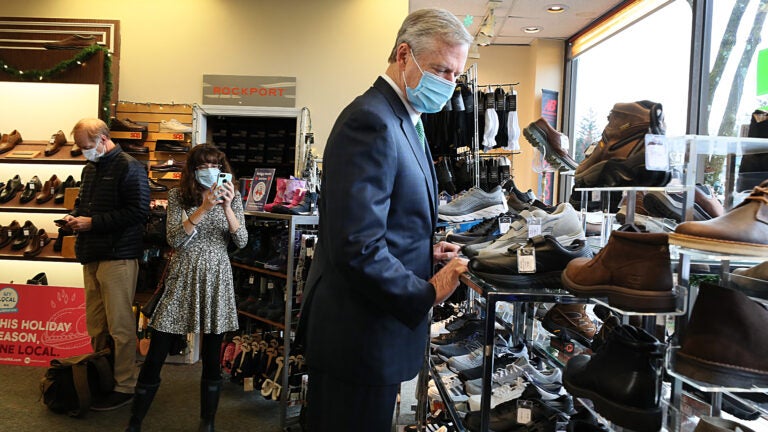 A year ago, Gov. Charlie Baker was urging Massachusetts residents to stay home for Thanksgiving and keep any gatherings small, as the state headed into the second COVID-19 surge.
However, with 70 percent of the state — including 92 percent of individuals over the age of 65 — now fully vaccinated, Baker says the traditional holiday gatherings can basically return to normal, even with infections lingering persistently high.
"I think people should enjoy their Thanksgiving," Baker told reporters Monday during a stop at a shoe store in Needham to promote local holiday shopping.
Baker suggested that individuals could purchase rapid COVID-19 tests and make sure "everybody tests negative before you have Thanksgiving, if you have anybody in your family who happens to be vulnerable or isn't vaccinated."
"Obviously I would continue to encourage anybody who is part of the unvaccinated community to get vaccinated," the Republican governor said.
During the event, Baker also noted that everyone over the age of 18 is eligible to get a COVID-19 booster once they're six months out from their second Moderna or Pfizer vaccine dose or two months out from their Johnson & Johnson shot.
"We would urge people to get them," Baker said of the COVID-19 boosters, "especially if they're over the age of 65."
His comments echo the advice from national COVID-19 officials, like Dr. Anthony Fauci, who said Sunday there's "no reason" not to have a normal Thanksgiving if everyone at the gathering is vaccinated. While vaccination does not prevent COVID-19 infections or transmission, it reduces the risk and — most importantly — minimizes the chances of severe illness from the virus.
At the same time, Massachusetts has seen a significant jump in COVID-19 cases, as well as hospitalizations, since the beginning of November. However, public health experts say the availability of vaccines and therapeutics, as well as boosters, has changed the risk calculus since the last holiday season.
According to Baker, "the bottom line is people should enjoy their Thanksgiving."
"People have worked really hard over the past year to get vaccinated here in Massachusetts, to help reopen the economy, to be able to be in a position where we can have a normal Thanksgiving," he said.
That also holds true for the day after Thanksgiving.
During the event Wednesday in Needham, Retailers Association of Massachusetts President Jon Hurst said local businesses are expecting a 6 percent increase in holiday sales over last year, compared to the usual 4 percent increase. Hurst also said businesses are expecting a slight shift back toward more in-person shopping, thanks to consumers feeling safe due to the vaccines.
Baker noted that any concerns about the stressed supply chain could be a reason to support local businesses.
"If you're worried about supply chains and deliveries and all the rest, why don't you come on out and shop local," he said.
"Anywhere here in the commonwealth, there are literally tons of deals to be had and thousands of participants," Baker said. "And for us here in Massachusetts, it's a big way to say thank you to all of those retailers and restaurant operators and hospitality managers who have really sucked it up and made it possible for all of us to continue to be able to buy the goods and services and supports that we need through what we would all agree has been a very difficult period."
Newsletter Signup
Stay up to date on all the latest news from Boston.com