COVID
'Busier than ever,' Massachusetts hospitals are being ordered to cut back non-urgent care — again
Local hospitals are "contending with unprecedented capacity pressures" — and not only because of COVID-19.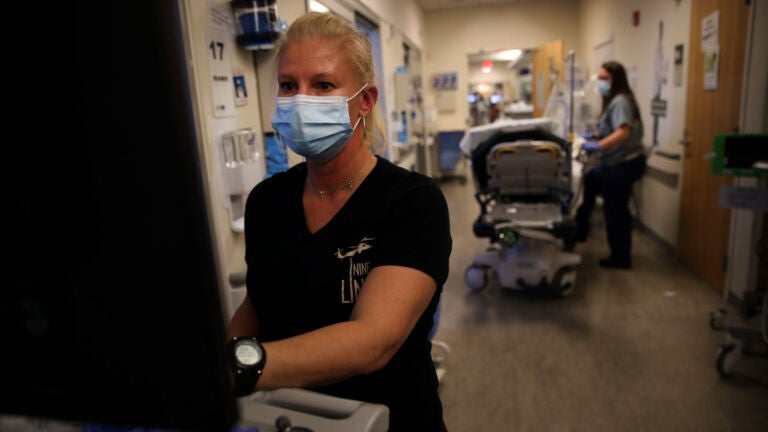 Amid an uptick in COVID-19 hospitalizations headed into the holidays, Gov. Charlie Baker's administration is ordering Massachusetts hospitals with limited bed capacity to cut back on non-urgent, scheduled procedures.
However, officials say the reason isn't the recent increase in COVID-19 patients.
Rather, they say hospitals are being primarily strained by staffing shortages, patients who delayed care for other ailments, and longer hospital stays.
"The current strain on hospital capacity is due to longer than average hospital stays and significant workforce shortages, separate and apart from the challenges brought on by COVID," Health and Human Services Secretary Marylou Sudders said in a statement Tuesday afternoon.
Still, Kevin Tabb, the president and CEO of Beth Israel Lahey Health, said that hospitals are "busier than ever" due to the combination of factors.
Under the Department of Public Health order issued Tuesday, a hospital or healthcare system that does not have a certain number of open beds must "reduce non-essential, non-urgent scheduled procedures," beginning next Monday, Nov. 29.
According to DPH guidance, hospitals that have less than 15 percent of beds available will be subject to a required 30 percent reduction in non-essential procedures, compared to its average 2019 volume.
As of this week, 11.3 percent of the 8,910 hospital beds in Massachusetts — and 21 percent of intensive care unit beds — remain available.
DPH officials say the order applies to procedures that are scheduled in advance because it is not a medical emergency and where delay will not result in adverse outcomes to the patient's health.
The order, which was developed with the Massachusetts Health & Hospital Association, does not affect urgent and essential care.
"While we recognize that delaying some prescheduled surgeries may present a significant hardship for patients, we believe it is a necessary step to assure that all of the Commonwealth's hospitals can continue to meet the needs of patients requiring emergency care," Eric Dickson, the chair of the MHA Board and president and CEO of UMass Memorial Health, said in a statement.
The order comes amid a sudden rebound in COVID-19 cases across New England over the last few weeks. While health experts say the highly vaccinated region shouldn't see an equivalent spike in COVID-19 hospitalizations, New Hampshire — the New England state with the lowest vaccination rate — moved Tuesday to set up internal "surge centers" in order to deal with a record level of COVID-19 patients.
In Massachusetts, hospitalizations due to COVID-19 increased to 740, according to state data released Tuesday. That figure is an increase of more than 200 since the beginning of November and the highest number the state has seen since April.
However, it's still nowhere close to the over 2,000 hospitalizations the state was averaging last winter or the near-4,000-patient peak it saw during the first surge in the spring of 2020, when field hospitals were deployed. During each surge, state officials ordered hospitals to curb elective care to make space for COVID-19 patients
Now, the issue is different. And in some ways, it's worse than before.
"Hospitals and health systems across Massachusetts are contending with unprecedented capacity pressures," Tabb said.
According to the Baker administration, there is "a critical staffing shortage across the healthcare system" largely stemming from the pandemic that has also resulted in the loss of approximately 500 medical and intensive care unit hospital beds in Massachusetts. In an industry that already struggled with the workforce shortage, the pandemic-induced burnout has only added on.
The staffing shortages are being exacerbated by an influx of patients who put off going to the hospital to address other issues during the pandemic, largely due to fears about the virus.
The Boston Globe reported over the weekend that the ailments run the gamut — heart attacks, strokes, drug overdoses, suicidal thoughts, broken bones, and infections (as well as COVID-19). It's an issue that state and federal officials have been warning about for nearly a year and a half. And doctors say that patients' decisions to delay care only made things worse, meaning they stay at the hospital longer.
"We didn't quite appreciate how much the delays of care would impact the acuity of illness for patients now," Dr. Ravin Davidoff, the chief medical officer at Boston Medical Center, told the Globe. "We probably underestimated the magnitude of that impact and the volume that we're seeing now."
These factors are also converging at a time in the year — post-Thanksgiving through January — when Massachusetts hospitals would see an increase in hospitalized patients, even before the pandemic.
"As we go into the holidays when pre-COVID, we traditionally see higher hospitalizations, our state's collective health system is preparing for the convergence of unprecedented inpatient levels due to deferred care across all hospitals and the impact of a severe staffing shortage that hinders our ability to care for patients," Eric Dickson, the chair of the MHA's board and president and CEO of UMass Memorial Health, said in a statement.
Baker's administration has made other moves to try to lighten the burden on hospitals, such as providing more administrative flexibility, extended temporary licensure for healthcare workers, and expanded coverage for telehealth and hospital-at-home programs.
Following a year of pandemic orders and restrictions, the Baker administration's orders remain limited to hospitals this time around — though they continue to stress vaccinations.
Baker, who said Monday that Massachusetts residents should be able to enjoy a normal Thanksgiving, has also urged Bay Staters, especially those over the age of 65, to get a COVID-19 vaccine booster. Sudders also noted that COVID-19 hospitalizations in Massachusetts "remain lower than almost every other state in the nation."
However, some structural issues will take more to address.
While they hope the new DPH order will ensure beds remain available for patients — including those with COVID-19 — who most need it, hospitals are publicly pleading for more employees to help address the staffing shortage.
"There are thousands of healthcare jobs available across the state for people of all backgrounds and education levels," Christine Schuster, the president and CEO of Emerson Hospital, said. "And we need you."
Newsletter Signup
Stay up to date on all the latest news from Boston.com