COVID
'The situation is worrisome': Boston doctor urges caution headed into holiday season as Mass. sees rising COVID cases
"It is not the time to drop your guard."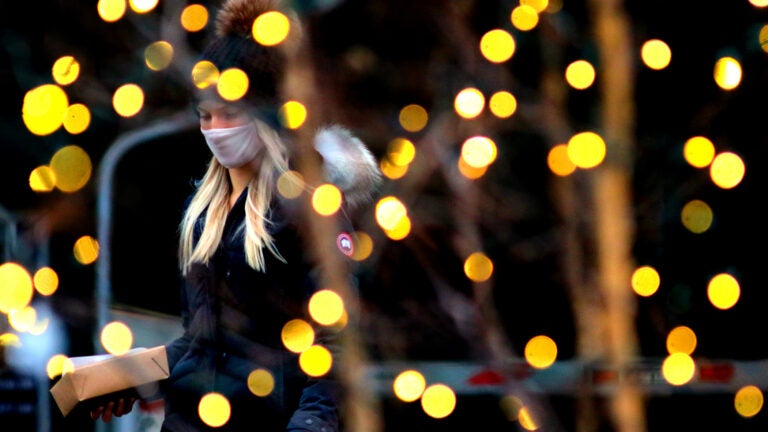 With Thanksgiving and a slew of other holiday gatherings on the horizon, an infectious disease doctor in Boston is urging Massachusetts residents to remain cautious with their celebrations in order to prevent a surge in COVID-19 cases.
Already, the state is seeing a troubling spike in infections.
Dr. David Hamer, a professor of global health and medicine at Boston University's Schools of Public Health and Medicine and an attending physician in infectious diseases at Boston Medical Center, said he's concerned by the data he's seen in recent weeks.
Last week, the 7-day average of new COVID-19 cases in Massachusetts jumped up above 2,000 for the first time since February, when most of the state's residents were unvaccinated. The state's average percent positivity rate is now 3.07 percent, a level that also hasn't been seen since early February.
In addition, levels of COVID-19 in Boston-area wastewater, which has been shown to be an early predictor for new infections, have ticked up.
The upward trend looks very similar to increases seen last holiday season, according to Dr. Paul Sax, an infectious diseases doctor at Brigham and Women's hospital, who is urging the public to protect themselves and others by getting vaccinated if they haven't already and for seeking out booster shots if eligible.
"Don't delay," he wrote on Twitter.
Hamer said it is alarming to see the current COVID-19 trends as the state heads into a holiday season that will take place largely indoors due to the cold weather.
"The situation is worrisome given the rising numbers, the rising wastewater data, and all of the indoor events that are going to be happening in the next few weeks," he told Boston.com.
The good news, according to the doctor, is that boosters are now available for anyone who is six months out from being fully vaccinated and is over the age of 18.
But the rise in cases in Massachusetts appears to be driven by increasing infections among adolescents.
The case rate for the last two weeks for kids aged 5 to 9 is 699.9 cases per 100,000 residents, while for 10- to 14-year-olds the rate is 621.2 per 100,000 residents.
Hamer said the trends Massachusetts is seeing are a reminder for everyone that vaccination remains the best protection against COVID-19. He urged everyone who is eligible to get their shots — including boosters, if they haven't already done so.
Even with the rising numbers, Hamer stressed that Massachustts is in a better situation than the same time last year. But with the increases being seen going into the holiday season, he said the state could easily see a continued rise in cases.
Some of those new cases will be breakthrough infections for people who got the vaccine six to nine months ago, he said.
But many of the new cases will be in individuals who still haven't gotten vaccinated, he predicted.
According to the COVID-19 vaccine tracker compiled by the New York Times, about 71 percent of the people in Massachusetts are fully vaccinated.
Hamer said it's good news that while hospitalization rates in the state have crept up recently, the numbers have not surged.
"Of those who are hospitalized, a majority of them are people who have not been previously vaccinated — or breakthroughs in people who have weak immune systems or are much older," Hamer said. "Hopefully that latter group will be availing themselves of the opportunity to get boosted and trying to enhance their protection."
As people prepare to gather with friends and loved ones for Thanksgiving, Hamer advised ensuring everyone meeting for the celebration be vaccinated.
For himself, the infectious disease doctor said his family is keeping their Thanksgiving celebration to a small group of immediate family, with another dinner with a group of vaccinated friends to follow.
Hamer said while he is getting tested before the get-togethers because of requirements at his workplace, the other members of his party likely will not.
"I'm not really worried because the family we'll be with has not had a lot of social contacts, and same with our family — we've all been pretty careful through the pandemic," he said.
But for families who have vulnerable members — either older or younger adults with underlying or immunocompromising conditions who may not have responded well to the vaccine — testing is another precaution that can be taken.
"They need to be really careful and know that some families are still making sure to get everyone vaccinated and also getting everybody tested before they get together," Hamer said.
Ideally, people should try to get a PCR test two days before the event. Or, they can opt for a rapid antigen test, which can be purchased over the counter.
"They're good at detecting infections in symptomatic individuals or people that are just about to become symptomatic, in the presymptomatic phase," Hamer said. "But for routine surveillance of asymptomatic individuals, they really have a much lower likelihood of detecting infection. So that's a major limitation.
"But that said, doing a test the day of Thanksgiving — certainly if anybody has symptoms — I think is an added measure that some families are going to take," he said.
Weather permitting, he suggested keeping windows open for airflow and ventilation. And if you are traveling to other parts of the state, region, or country, he advised familiarizing yourself with what the area is seeing in terms of coronavirus infections and preparing accordingly.
Everyone should continue wearing masks in indoor public spaces, he said.
"I would advocate now, because there is evidence cases are rising, for caution … I think people are getting a little lax — you know, tired of doing it and therefore lax," he said. "It is not the time to drop your guard."
After Thanksgiving, Hamer said he's going to be watching the COVID-19 case counts and wastewater data in the state carefully, given the gradual rise in infections that's already indicated after months of a stable plateau in activity.
"We can blunt that by being really cautious during the upcoming Thanksgiving holiday, cautious with social contacts through family and friends," Hamer said. "And that may help slow the progression. It will be important to continue doing that through December, as we get into Hanukkah and Christmas."
Newsletter Signup
Stay up to date on all the latest news from Boston.com