COVID
Massachusetts planning to release QR code app for COVID-19 vaccine verification
Gov. Charlie Baker say his administration has been working with other states on the more universal verification system.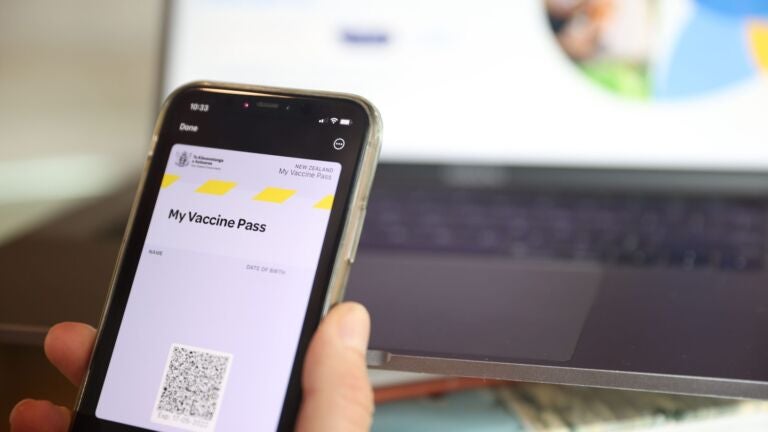 Is a COVID-19 vaccine verification system finally taking shape in Massachusetts?
Gov. Charlie Baker said Monday that his administration is planning to unveil a multi-state tool that allows residents to show they're fully vaccinated using a QR code.
"It's my proof that I've been vaccinated, it's easy to access, it's a universal standard. And we've been working with a bunch of other states — there's probably 15 or 20 of them — to try to create a single QR code that can be used for all sorts of things where people may choose to require a vaccine," he said during an appearance on GBH's "Boston Public Radio."
Asked when the system would come to fruition, the governor said "soon."
Baker first said in September that his administration was working on a state-sponsored digital tool to provide a "more universal" way of verifying individuals' vaccination status than paper cards and third-party apps. His comments came at a time when some municipalities and businesses first began requiring proof of vaccination for activities like indoor dining and concerts, as well as a reported increase in fake vaccine cards.
Amid the recent spike in COVID-19 cases, Boston Mayor Michelle Wu said last week her administration was exploring a vaccination requirement for restaurants and other indoor recreation like the policy in New York City and was working with city health officials "on what those standards will look like."
Some states, like California, have already rolled out portals through which residents can get a link to a QR code and digital copy of their COVID-19 vaccination record. The European Union and countries like New Zealand and Russia have similarly launched COVID-19 vaccine passes using the square black-and-white bar code, which is more difficult to counterfeit than paper cards.
Massachusetts residents may already be able to request digital vaccination records from the company or provider where they got their shots. For those who cannot, another option is to request a complete vaccination history from the state's Department of Public Health, though that process may take up to two weeks.
On the other hand, a state-backed QR code tool could provide a universal vaccination verification system that's just a tap or two away on one's phone.
However, exactly how "soon" such a tool will be available remains unclear.
For months, Baker has also been promising a decision "soon" on whether he'll run for a third term — a practice that the governor, who turned 65 years old earlier this month, was confronted with during his GBH appearance Monday.
"When you're 65 years old, 'soon' can cover a lot of territory," Baker joked in response.
Newsletter Signup
Stay up to date on all the latest news from Boston.com