COVID
Jha: Don't lose sight of delta as omicron spreads; a Thanksgiving spike is likely coming
"Bigger the drop during the holiday, bigger the bounce that follows."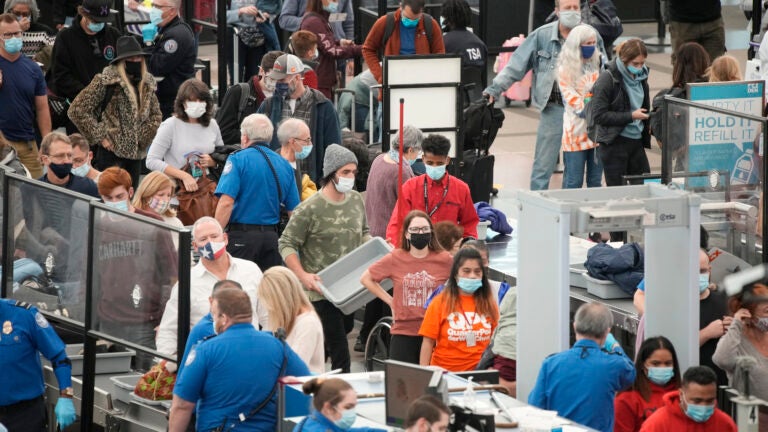 In a matter of days, the new COVID-19 variant omicron, which was first found by scientists in South Africa, has put the world on high alert. Multiple travel bans have been introduced, and the Centers for Disease Control and Prevention (CDC) named it a "variant of concern."
No cases of omicron have been detected in the U.S. so far, but health officials, including Chief Medical Advisor Dr. Anthony Fauci, believes it may already exist here.
A prominent physician, however, is warning people not to lose sight of the delta variant amid the omicron concerns, and to anticipate a "sharp jump" in the number of cases reported in the coming days.
"The variant killing Americans right now is Delta," Dr. Ashish Jha, dean of the Brown University School of Public Health, wrote in a tweet.
The number of reported COVID-19 cases across the country dropped over the Thanksgiving holiday, from 119,909 on Nov. 24 to 49,771 on Nov. 26. But this isn't good news, Jha said. Rather, he says this drop comes from the lack of testing during holidays, noting that many states did not report any case data on Thanksgiving.
"Bigger the drop during the holiday, bigger the bounce that follows," Jha wrote.
In 2020, new reported cases dropped both during Thanksgiving and Christmas before significantly increasing in the following weeks. This year, the drop in cases over the Thanksgiving holiday is bigger than in 2020, Jha says, which means that there may be an even larger spike in cases in the coming weeks than we saw last year.
About 13% more people traveled across the country this year, compared to last year, for Thanksgiving, with the number of travelers numbering about 53.4 million, according to the AAA.
Jha expects case numbers to significantly rise, possibly above 100,000 per day. And new data is already showing the increase in cases; 216,312 new cases were recorded on Nov. 29.
The way to mitigate the spread of the virus as much as possible, Jha says, is with vaccines, testing, and key public health measures.
Booster shots have now become available to all adults aged 18 or older, and vaccinations are available to those aged 5 or older. Free at-home rapid COVID-19 testing, however, remains off the table for Massachusetts. New Hampshire began offering free, rapid COVID-19 tests to residents Monday, but Gov. Charlie Baker said there are not enough testing kits to distribute in Massachusetts.
Health officials and doctors are also urging people to mask up, and even upgrade masks to more protective wear such as the N95 or surgical grade masks if possible.
Newsletter Signup
Stay up to date on all the latest news from Boston.com