Charlie Baker
Massachusetts is deploying COVID-19 antibody treatment sites for high-risk individuals
"While the best protection against COVID-19 is vaccination, these therapies can help prevent hospitalization and severe illness for infected or exposed high-risk individuals."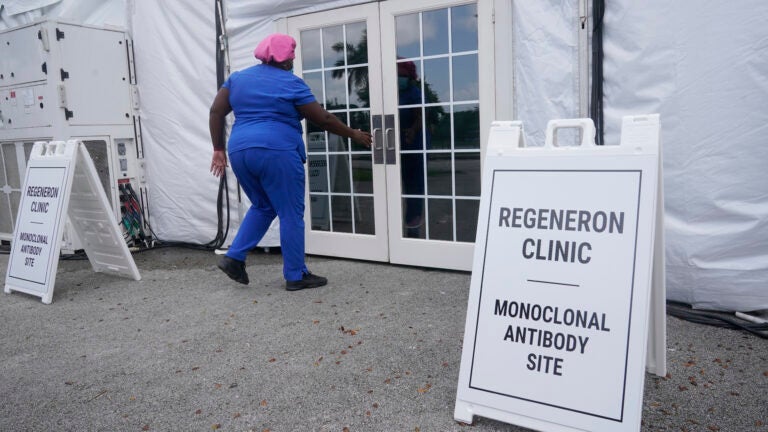 Massachusetts is establishing three state-sponsored mobile units where residents can receive monoclonal antibody treatment for COVID-19, in a bid to make the therapeutics more accessible across the state.
Gov. Charlie Baker's administration announced Tuesday that the three units — in Everett, Fall River, and Holyoke — will be available to high-risk individuals who have COVID-19 or have been exposed to someone with the virus. The units in Fall River and Holyoke have been administering antibody treatments to patients since Nov. 22, while the Everett site will be deployed this Friday.
For each of the clinics, a referral from a health care provider is required for the treatment, which is free of charge and offered regardless of immigration status or health insurance.
The new clinics have the capacity to treat a combined 500 patients per week, according the state's Department of Public Health.
Regeneron Pharmaceuticals received the first emergency use authorization for monoclonal antibody treatments in November 2020, shortly after the drug was credited for helping former president Donald Trump recover from a serious case of COVID-19.
According to the federal Department of Health and Human Services, such antibody treatments can reduce an individual's viral load, decreasing the likelihood of complications from COVID-19.
DPH is partnering with Gothams, a Texas-based emergency management company, to run the new temporary clinics in Massachusetts. According to a DPH spokesman, the sites will provide all three monoclonal antibody therapies, including Regeneron's REGEN-COV (casirivimab and imdevimab); bamlanivimab and etesevimab, administered together; and sotrovimab.
The drugs are administered through a single intravenous infusion — or IV needle into a patient's arm — that takes 20-30 minutes, followed by an hour of patient monitoring. Officials say the the one-time therapy is highly effective in neutralizing the virus and preventing symptoms from worsening, if administered within 10 days of onset of COVID-19 symptoms.
According to Baker administration guidelines, eligible high-risk individuals include those who are older or have certain medical conditions, with priority given to those who are over the age of 65 and adults with a body mass index over 35.
However, officials stress that COVID-19 antibody treatments — which preliminary evidence suggests may be less effective against the highly mutated omicron variant — are not a substitution for getting vaccinated.
The three mobile units will give Massachusetts a total of 32 publicly accessible locations — nearly all hospitals — with antibody treatments for COVID-19 in every county across the state, with the exception of Franklin County.
Margret Cooke, the state's acting public health commissioner, said in a statement that the mobile sites with enable those with early COVID-19 or exposure "to be treated quickly and safely with monoclonal antibody infusion."
"While the best protection against COVID-19 is vaccination, these therapies can help prevent hospitalization and severe illness for infected or exposed high-risk individuals," Cooke said. "People with questions about whether this treatment is right for them should discuss it with their healthcare provider."
Florida became the first state in the country to deploy state-backed monoclonal antibody treatment mobile sites in August, after the state became a COVID-19 hot spot due to a surge in cases fueled by the delta variant. Massachusetts has also experienced a rebound in infections and hospitalizations due to COVID-19 this fall, with the number of hospitalized patients at its highest number since February.
Baker has continued to urge all eligible individuals to get vaccinated if they haven't already, as well as to get a booster shot.
Newsletter Signup
Stay up to date on all the latest news from Boston.com