COVID
Why a doctor is urging people to 'upgrade' their face covering to a surgical mask
"Please do that now."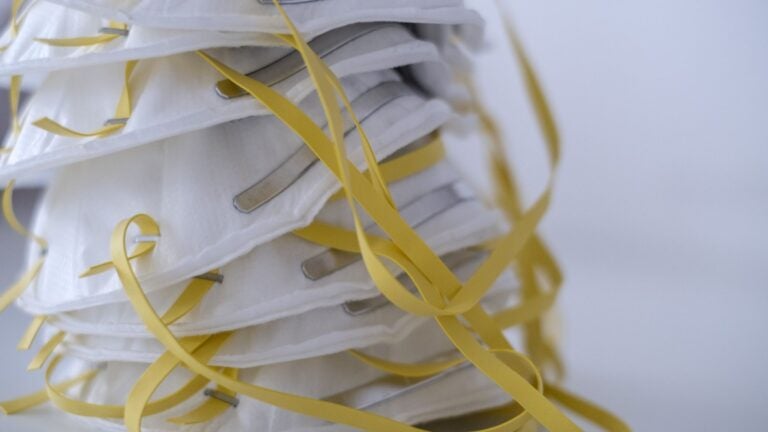 Since the uncertainty last year of whether to wear a mask or not during the initial outbreak of COVID-19, face coverings have become a staple in the pandemic-ridden world. With the introduction of the vaccines earlier this year, masks briefly came off as mandates were dropped and it seemed the COVID-era was rounding a corner.
But headed into the second pandemic winter, cases are once again on the rise across the country and a new variant, omicron, has emerged. Initially detected by South African scientists on Nov. 26, omicron has since been identified in several countries including the United States, Israel, Australia, Canada, and in Europe. Health officials and doctors are still unsure of key details surrounding the new variant, including its transmissibility and virulence. But many experts are recommending individuals get vaccinated or boosted, and continue to wear a mask to protect against the virus.
Dr. Abraar Karan, an infectious disease fellow at Stanford University and former physician at Brigham and Women's Hospital, wrote on Twitter that with details about omicron likely to be unknown for several weeks, people should act now to improve their masking.
"A few weeks is too long to take a chance, especially with higher risk people," he said. "If you can upgrade your mask for indoor/crowded settings, please do that now."
Cloth masks are significantly less effective than surgical masks, according to a study of community masking in Bangladesh. Scientists found that the filtration efficiency of a cloth mask, which had a non-woven polypropylene exterior layer and two interior layers made of cotton and polyester, was 37% compared to a surgical mask, which was 95%. The efficiency of the surgical mask remained higher than the cloth mask, at 76%, even after 10 washes.
Only one of seven cloth masks that were tested by Armbrust American, a Texas-based company that manufactures surgical masks and respirators and has tested hundreds of different brands of face coverings, had a PFE of over 50%. PFE, which stands for Particle Filtration Efficiency, evaluates how efficient the filter in the mask is against nonviable particles.
Karan said the ideal face coverings to switch to would be the N95 or a surgical grade mask with a mask brace to mitigate air flow around the edges. The N95, which is approved by the National Institute for Occupational Safety and Health, has a 99.95% PFE, according to Armbrust American.
A key part of a protective mask is the fit of the mask to the face of the person, according to the Centers for Disease Control and Prevention. A well-fitted mask should leave no gaps around the nose or mouth where air particles could enter.
Other alternatives to an N95 include surgical masks such as the KF94 and KN95, which are slightly less effective but are still protective and have over the ear loops, according to Aarons Collins, a mechanical engineer who has tested the effectiveness of many different types of masks.
Collins is calling for a "general population mask standard" to make guidance for face coverings clearer.
"There are a lot of things about COVID-19 we can't control, like poor ventilation in buildings or whether other people are vaccinated, but aside from ensuring you and your family get vaccinated, wearing a high-quality mask is the single most important thing people can do to protect themselves and their kids," he told the New York Times.
When purchasing surgical masks online, buyers should be careful of brands that have been flagged as counterfeit, according to the Times.
According to the CDC, 60% of KN95 respirators sold in the US are counterfeit.
Signs that indicate a potentially counterfeited N95 include no markings on the filtering facepiece respirator, no approval number on the respirator or headband, no NIOSH markings, the presence of decorative materials on the mask, claims of approval for children (NIOSH has not approved any type of respiratory protection for children), or if the mask has ear loops instead of a headband, according to the CDC.
Collins has also warned buyers to stay off Amazon, eBay and Etsy for masks.
Kimberly Prather, an aerosol expert and an atmospheric chemist at the University of California, San Diego, told Scientific American that trusted surgical masks can be found at websites such as Project N95, Bonafide masks and DemeTECH.
Newsletter Signup
Stay up to date on all the latest news from Boston.com