COVID
This Mass. school lifted its mask mandate for three weeks. Officials say it was a surprising success.
With the vast majority of students and staff vaccinated, Hopkinton High School found "smiling" more contagious than COVID-19, even as statewide cases continue to rise.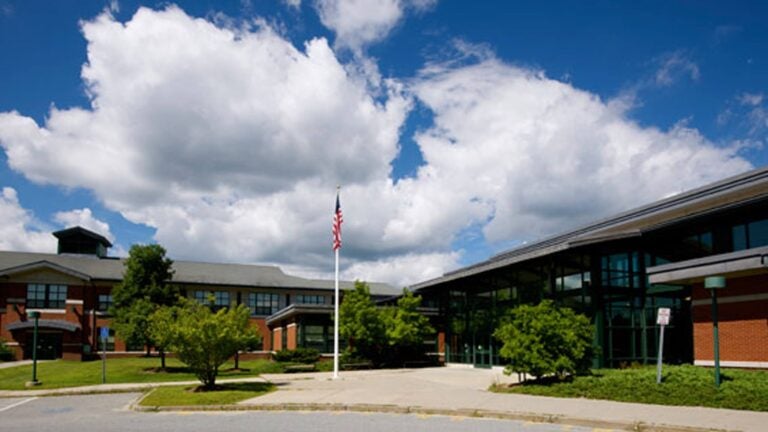 After reaching the state's required 80 percent COVID-19 vaccination threshold, Hopkinton High School became the first school in Massachusetts to lift its universal indoor mask mandate last month.
And at least after three weeks, even some initial skeptics say the trial has been a surprising success.
The Hopkinton School Committee voted Thursday night to extend the trial for another three weeks, allowing vaccinated students and staff at the high school to again go mask-less indoors beginning this Monday through the winter break.
The decision comes as statewide COVID-19 cases and hospitalizations have steeply risen over the same time period.
However, in a town where more than 95 percent of 12- to 19-year-olds are fully vaccinated, school officials said the results of their three-week trial gave them confidence going forward.
Officials said only one high school student tested positive for COVID-19 since the trial began Nov. 1, and that they had contracted the virus outside of school; there was no evidence of any COVID-19 transmission in the school building.
Additionally, the majority of students and staff reported an improvement to the learning experience and a morale boost during the trial, which ended Nov. 19.
"The pilot was far more successful than what I had anticipated," Nancy Cavanaugh, the chair of the school committee, said Thursday.
The trial allowed students to submit documentation that they were vaccinated, along with parental consent, so that they could go mask-less indoors. Those who did not hand in the required paperwork — whether because they weren't vaccinated or chose not to for other reasons — could to continue to mask up indoors.
Jessie Ianelli, a high school student council member, said Thursday that a survey found that roughly three-quarters of students chose not to wear a mask at least some of the time, including about 46 percent who went maskless at all times. Just under a quarter of students continued to keep their mask on all day.
According to the survey, 70 percent of students said the mask-optional policy improved their school experience, while just 8 percent said it worsened it. Ianelli said that students reported better class discussions and easier group work without universal masking, as well as "contagious smiling."
"It was just overall happier hallways and a more recognizable high school experience," Ianelli said, adding that she "definitely felt that experience myself as well."
Students also reported more ease learning different languages, whether in foreign languages classes or for English as a second language learners. It also solved issues with students reporting headaches from wearing masks all day, as well as glasses or goggles fogging up — not to mention gym class.
"I guess there were some difficulties breathing with the masks while playing kickball," Ianelli said.
Most teachers and school staff also said it was easier to communicate and connect with students, according to a separate survey presented by Hopkinton School District Superintendent Carol Cavanaugh.
"I think a lot of people felt okay about it," Cavanaugh said.
That doesn't mean everyone's experience was positive.
A smaller but significant number teachers and students said they felt uncomfortable near unmasked peers, as well as generally less safe. Ianelli said a common report was that teachers became more "reluctant" to give individual attention to unmasked students, even if that meant they were vaccinated. Some teachers also reported keeping a further distance from others.
"Teachers were scared to get close to them," Ianelli said. "There was definitely some distracting anxiety for the masked students who were worried about getting it from someone who may sit next to them who is not wearing a mask."
During the trial, some teachers with COVID-19 concerns due to health issues or pregnancy asked all students to keep wearing masks when in their classroom. Evan Bishop, the high school's principal, said there was virtually 100 percent compliance with those requests among students, and responses in the surveys indicated that most students tried to be respectful of others' comfort levels.
However, over the course of trial, Bishop said he noticed more and more individuals becoming comfortable and taking off their masks, even as he acknowledged concerns about the new omicron variant and flu season.
"I'm sure there's some concerns about that, but I thought, overall, the three weeks was a success," he said.
Hopkinton schools officials acknowledged that they were fortunate to be in a community with such a high vaccination rate. Across all eligible ages, the relatively well-off Boston suburb has a 98 percent vaccination rate, they said, as well as lower infection rates, at least for now.
The school district plans to keep a close eye on COVID-19 infection rates over the next three weeks, both in the school and the community.
"The high school doesn't exist in a vacuum," said Cavanaugh, the school committee chair, who had preferred keeping the universal mask mandate in place until at least the week after Martin Luther King Jr. Day.
However, the rest of the five-member committee pushed forward with the three-week trial, with four votes in approval, while Cavanaugh abstained.
After the trial, all students will again be required to return to mask wearing when they come back to school in January after the winter break, and the school committee plans to assess the results during its first meeting in the new year. They also motioned to allow an emergency meeting to reimpose the mask mandate sooner than the trial's Dec. 23 end date, if there's a school outbreak or a significant increase in community transmission.
Amanda Fargiano, the school committee's vice chair, said she felt comfortable the body could respond quickly to any adverse events.
"I'd like to wrap everybody up in bubble wrap for the rest of their lives," Fargiano said. "But I think in reality I can see a path forward that I couldn't see as clearly before."
Newsletter Signup
Stay up to date on all the latest news from Boston.com