COVID
A BU researcher wants officials to approach COVID surges like 'severe weather' events. Here's why.
"You can't prevent a blizzard or a hurricane, but you can limit its damage if people know it's coming."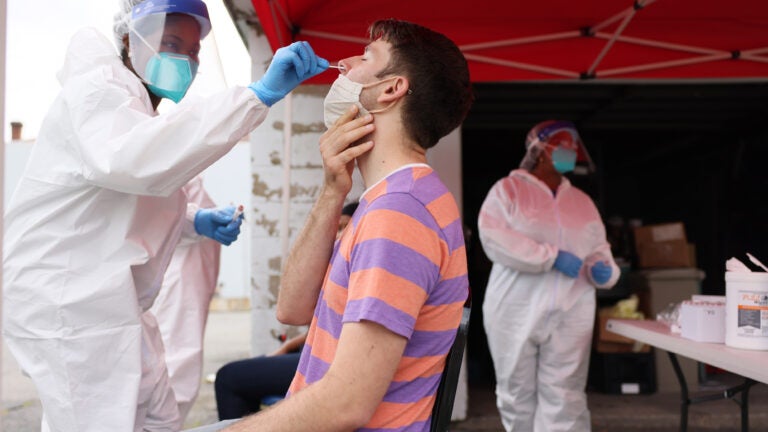 As the holiday season and new year approaches, it seems that the worst of COVID-19 will not be left behind in 2021, according to wastewater coronavirus tracking in Boston. Recent wastewater data shows a surge in cases similar to levels seen in last year's winter peak.
Jacob Bor, an assistant professor in the Departments of Global Health and Epidemiology at Boston University, is warning that in order to stop the rise in infections without widespread closures and lockdowns, COVID-19 surges should be treated like 'severe weather' events. He took to Twitter on Saturday to explain the similarities between COVID-19 case surges and severe weather events.
"We need to start thinking about COVID surges like 'severe weather' events," Bor said. "You can't prevent a blizzard or a hurricane, but you can limit its damage if people know it's coming."
Unlike during the surge seen last winter, Massachusetts now has a relatively high vaccination rate of 72% and Boston continues to have its indoor mask mandate, which was reinstated in August. However, the new virus variant, omicron, which scientists believe may be twice as contagious as the delta variant, was detected in Massachusetts on Sunday, even as delta continues drive rising cases.
The current surge comes after a dip in cases over Thanksgiving this year. Trends in 2020 showed that cases dropped before Thanksgiving and Christmas before significantly increasing, a trend which will occur again this year according to health professionals.
Similar to severe weather preparations, Bor says it is important for people to take safety measures during a COVID-19 surge to protect themselves.
That means getting vaccinated or getting the booster shot, wearing a mask indoors even in areas without a mask mandate, and reducing the amount of unmasked gatherings indoors with non-household members, he said.
However, COVID-19 surges are generally harder for the general public to observe compared to severe weather, according to Bor.
That is where authority figures and officials come into play, he said.
"We need CLEAR COMMUNICATION from our policy makers that we are in the midst of a major COVID surge so people/institutions can take necessary precautions," Bor wrote.
The professor outlined several steps Gov. Charlie Baker could take that would indicate the severity of the current surge, such as giving recommendations on indoor gatherings, implementing a mask mandate for the entire state of Massachusetts, holding a mass vaccination drive in communities that have low vaccination rates, scaling up rapid tests, and publicizing the state's paid sick leave policy and worker protections.
"Surges will continue to happen," Bor wrote. "While we can't prevent them entirely, we can adopt behaviors during surges to limit their impact as well as policies to protect the most vulnerable."
Newsletter Signup
Stay up to date on all the latest news from Boston.com