COVID
3 things vaccinated individuals can do to reduce their COVID-19 risk this holiday season
According to a Harvard infectious disease expert.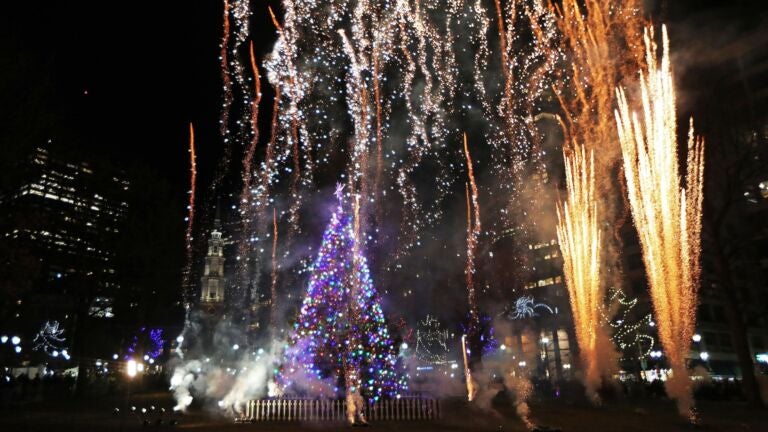 The consensus among public health experts is clear: Step one toward protecting yourself and those around you from COVID-19 is getting vaccinated.
But with the delta variant fueling an increase in hospitalizations and omicron on the horizon, it doesn't necessarily end there.
Unlike during the COVID-19 surge last winter, local officials aren't discouraging travel or gatherings this holiday season, with vaccination rates in Massachusetts and the surrounding states either above or close to 70 percent.
Still, hospitalizations are near where they were last time this year in Massachusetts. And according to Harvard epidemiologist Stephen Kissler, there are a few additional steps vaccinated individuals should take to limit their risk.
1. Get boosted
The first is to get a COVID-19 booster shot.
"Don't wait," Kissler said during a conference call with reporters Tuesday.
With more transmissible COVID-19 variants and the vaccines' effectiveness waning over time, officials are urging all vaccinated individuals over the age of 18 to get a booster shot, either six months after their second Pfizer or Moderna dose or two months after their Johnson & Johnson shot.
Kissler — who's currently a research fellow in the Harvard T.H. Chan School of Public Health's Department of Immunology and Infectious Diseases — said the move to expand eligibility to all adults reflected the "shifting context" of emerging data about the boosters' benefits, even to those who aren't at high risk of complications from COVID-19.
While vaccine manufacturers are working on shots designed specifically to combat omicron's mutations, Kissler says no one should wait to get a booster. Even without complete data on how well current boosters protect against severe disease from omicron, Kissler said there is "very good immunological reason to believe that getting the booster will be our best defense."
"It will at least be better than nothing," he said.
Kissler also said that vaccinated individuals who recently had a breakthrough case of COVID-19 shouldn't delay getting a booster, even if their infection also provides additional immunity.
"More immunity is better than less," Kissler said.
"If you've gotten a natural infection, that can actually put you in the position where your body's been exposed to sort of a slightly different version of the virus than is contained in the vaccine," he said. "I would still recommend [a booster]. That's that's not to say that previous infection isn't protective against infection and severe disease. But really, the more we can expose our body to these antigens — and the more that we can expose them to diverse aspects of the virus, which is something that we can do through natural infection and through vaccinations — then I think the better."
2. Ventilation
Even though vaccinated individuals are less likely to spread COVID-19, it can and does happen.
For those hosting holiday gatherings, Kissler says the "second line of defense is actually ventilation," which he says is "a very easy, cheap way to keep spread down, even if somebody does show up while infectious."
Simply cracking a window open by four to six inches should be sufficient, especially with the temperature differentiation between inside and outside during the New England winter.
"Unfortunately that gives you a blast of cold air in, but that cold air is ventilation," he said, adding that individuals could also set up outward-facing fans or a HEPA home air purifier if they want to go the "extra mile."
3. Get tested — with a rapid test
Last but not least is testing.
Kissler encourages doing a rapid at-home test immediately before any gatherings, as well as before and after travel, as a screening method.
"Anytime you're going to be in a large group of people, I would encourage everyone who's attending to take a rapid antigen test beforehand," he said, adding that individuals should test "as close as they can" to the event.
Kissler prefers the convenience of the brands that deliver results in 10 to 15 minutes, but otherwise says most of the antigen tests on the market have similar sensitivities and ease of use.
On the question of which one is best, he says "it's the one you can find on the shelves at your local store" (Kissler also says the federal government should be doing more to make such tests cheaper and more accessible).
Kissler notes that rapid tests are also "very good" for the newly tightened rules for international travelers requiring a COVID-19 test before coming to the United States, which he says should preclude the need for any type of travel ban.
"I think everybody should be taking a rapid test immediately before getting on a flight — basically not traveling if they get a positive test," he said. "But otherwise that can do everything that we hope to do with travel restrictions without actually imposing the restrictions."
Newsletter Signup
Stay up to date on all the latest news from Boston.com