COVID
What to know about getting the COVID-19 booster in Mass., if you're 16 or 17 years old
Roughly half of the vaccine locations in Massachusetts offer the Pfizer booster for the newly eligible group.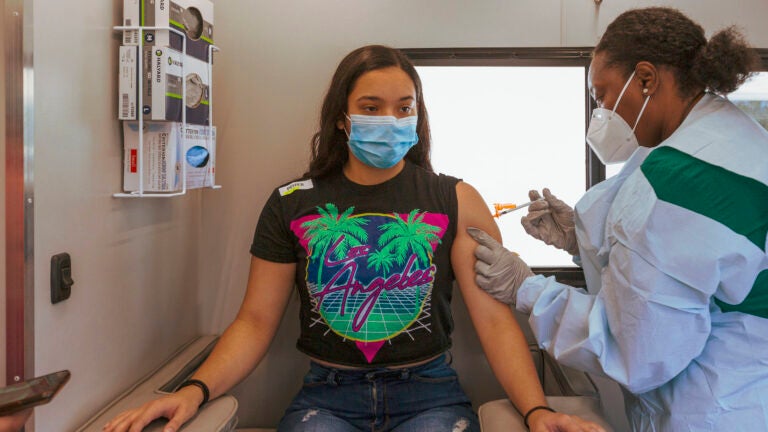 Massachusetts has over 1,000 locations offering COVID-19 vaccine boosters, though 16 and 17 year olds should check twice before selecting a site.
After federal officials authorized Pfizer's vaccine booster for 16 and 17 year olds, the state's Department of Public Health said Friday that there are more than 500 locations where the newly eligible group can get the additional shot.
The sites include retail pharmacies, primary care practices, regional collaboratives, local boards of health, community health centers, hospital systems, state-supported vaccination sites, and mobile clinics. Parents can also get their children vaccinated by their primary care provider.
To find a public site where 16 and 17 year olds can get the booster, officials recommend visiting the state's vaxfinder.mass.gov and using the filter tools to narrow down the options to sites offering boosters and the Pfizer vaccine.
Individuals can also schedule an appointment through the state's COVID-19 Vaccine Resource Line (available Monday to Friday from 8:30 a.m. to 6 p.m., as well as Saturday and Sunday from 9 a.m. to 2 p.m.) by calling 2-1-1.
The expanded eligibility comes during an increase in demand for boosters, as well as primary series doses, amid the holiday season and delta variant-fueled surge in COVID-19 cases, as well as concerns about the new omicron variant.
With the majority of the state's fully vaccinated population now eligible, health experts and state officials are urging residents not to wait to get a booster — though it may take some work to find a nearby appointment. Officials in Massachusetts are working to open additional "high-volume" sites.
"It may take a few tries or you might have to push out that appointment for a week or two to get it scheduled," Gov. Charlie Baker said last week.
Still, both state and federal officials are encouraging 16 and 17 year olds to take advantage of the opportunity.
"Although we don't have all the answers on the Omicron variant, initial data suggests that COVID-19 boosters help broaden and strengthen the protection against Omicron and other variants," Dr. Rochelle Walensky, the director of the Centers for Disease Control and Prevention, said in a statement.
"We know that COVID-19 vaccines are safe and effective, and I strongly encourage adolescents ages 16 and 17 to get their booster if they are at least 6 months post their initial Pfizer vaccination series," Walensky said.
Since Nov. 18, all individuals over the age of 18 in Massachusetts have been eligible for a booster, once they're six months past their second dose of the Pfizer or Moderna vaccines or two months past their Johnson & Johnson shot.
Under the newly expanded guidelines, 16 and 17 year olds also become eligible to get a booster six months after their second dose of the Pfizer vaccine, which remains the only COVID-19 vaccine authorized for those under the age of 18.
Newsletter Signup
Stay up to date on all the latest news from Boston.com