COVID
'It's a no-brainer': Ashish Jha says a booster is the best way to get through the next few weeks with omicron
"I think 2022 is the year we're going to see this pandemic in a very different way, in many ways in the rearview mirror."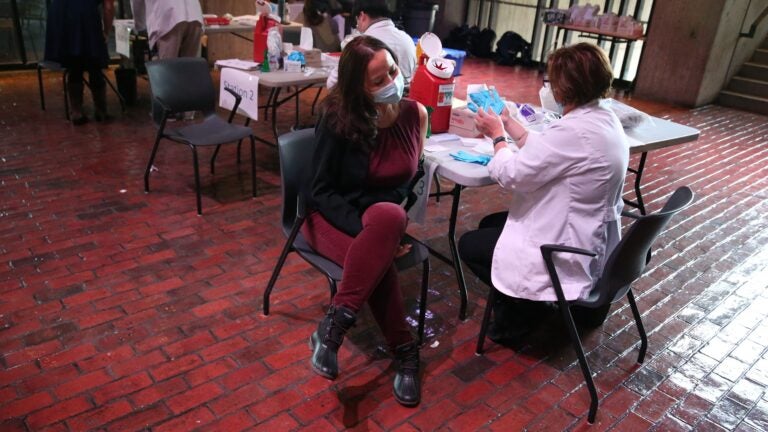 Approximately a month after all adults over the age of 18 in the U.S. became eligible for COVID-19 booster shots, just under a quarter of fully vaccinated adults have actually received one. With omicron cases continuing to pop up in various areas across the country and a rise in the number of COVID-19 cases overall, the dean of Brown University's School of Public Health is urging people to get boosted.
Dr. Ashish Jha appeared on CNN early Monday morning to speak about the importance of booster shots and the current state of COVID in the U.S.
"Omicron is highly contagious, and it really seems to break through vaccines and cause breakthrough infections for those who have only gotten two shots," Jha said. "So, if you want to protect yourself, if you're an adult, you're six months out from your second shot, it's a no-brainer you should be getting a booster."
The U.S. is now closing in on the 50 million mark for the total number of COVID cases since the pandemic began, according to the CDC. Almost 800,000 deaths have been recorded as well.
"What [those numbers] indicate is that we are a country where there is a massive amount of toxic misinformation, which has made it very hard to control this pandemic, and we've not had the political leadership from many of our state and federal leaders to really stand up and get this virus under control, and so we're seeing the effects of that both in terms of the number of infections, but particularly in terms of lives lost," Jha said.
With delta variant cases on the rise right before the holiday season, public health and medical experts are urging people to follow guidelines that have been preached throughout the pandemic: get vaccinated or boosted, wear masks in indoor spaces, and get tested, The Boston Globe reported.
From a public health perspective, Jha says a mask mandate would "help quite a bit" in areas where COVID cases are surging. Boston currently continues to have a mask mandate, which was reenacted in September, but there is currently no statewide mandate. Health experts told the Globe that having no statewide mask mandate is "[fighting] this war with one arm tied behind our backs."
COVID testing is also another tool that is useful for those gathering for the holidays, especially rapid tests that can be purchased in pharmacies. On Monday, Massachusetts announced plans to distribute 2.1 million at-home COVID test kits, prioritizing communities that have been hit the hardest during the pandemic.
As the year comes to a close, Jha says the rise of omicron may begin to bring the end of the pandemic, as early as the spring, as most people will either get vaccinated or achieve natural immunity from being infected.
"I think 2022 is the year we're going to see this pandemic in a very different way, in many ways in the rearview mirror, and that's because the omicron variant will come, the wave will wash over us, it will create that much more population immunity," Jha said. "Future variants, if they do arrive, will have less and less of an impact, and I think we'll slowly find our way out of this pandemic."
Newsletter Signup
Stay up to date on all the latest news from Boston.com