COVID
Study: If people of color had the COVID death rate of college-educated whites, 89% fewer would have died in 2020
"We see inequalities in other diseases and causes of death too, but these are much larger than we normally see."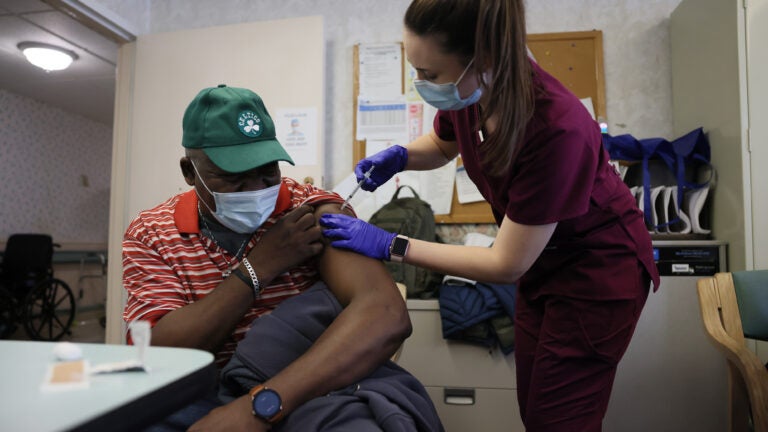 A recent Harvard study examined what would have happened during the COVID-19 pandemic if everyone in the U.S. had died at the same rate as white people with a college degree in 2020.
What it found was startling, and shows that the outcomes from attaining higher education apparently aren't equal for all.
Taking a look at people of color aged 25 to 64, both with and without college degrees, the study found that 89 percent fewer would have died of COVID-19 in 2020 if they'd died at the same rate as college-educated white people, meaning that 40,000 to 45,000 deaths would have been prevented. For all people of color, 71 percent fewer people would've died, and for all people 48 percent fewer would've died.
There are many factors that could lead to this outcome, according to Justin Feldman, a social epidemiologist and health and human rights fellow at the Harvard FXB Center for Health and Human Rights, who wrote the study along with Dr. Mary T. Bassett.
Breaking up the different racial groups a bit, Feldman noted that the study shows that white men with the lowest level of education — high school or less — died at the same rate as Black, Latino and American Indian men with a college degree. For Black men with a high school degree or less, they died at a rate about five times higher than white men with a college degree.
"The broad point I make there is education has different meanings and different returns by race," Feldman said. He noted that some of it has to do with racial discrimination, and lack of the same job opportunities for say, a Black person wtih a degree, versus that of a white person.
Unequal housing
A big part of it has to do with housing, he said, and who is getting exposed or infected in the first place. The study notes that people of color could be more likely to have risk factors like living in crowded housing, or multigenerational housing. They may also work in jobs with a higher risk of transmission.
There's data to back this up, Feldman noted. Antibody studies in some states or counties have shown the disparities in who was infected.
"We see inequalities in other diseases and causes of death too, but these are much larger than we normally see for causes of death," Feldman said.
White people usually live in a single-generation household, Feldman noted, or in a parent-child household. It's far different for basically every other racial or ethnic group.
Living in a crowded household can lead to more people being exposed, or contracting COVID-19, he said.
"And housing is really closely tied to wealth and multigenerational wealth, so despite education achievements, even increasing your income substantially can't necessarily overcome that," Feldman said.
Who is dying vs. who is inconvenienced
"During the first year of the COVID-19 pandemic, which largely preceded the availability of vaccines, there were extremely high levels of racialized economic inequity in the distribution of COVID-19 mortality," the study said. "Future research may investigate the specific pathways that produced these joint racial and ethnic and socioeconomic inequities, as well as whether the longstanding political disempowerment of populations among whom the virus was most lethal (ie, economically marginalized racial and ethnic minority groups) was associated with policy responses to the pandemic."
Feldman noted that those who have had the highest death rates are working-class people of color, old people and disabled people.
"And these are not populations that have a lot of political power or are very wealthy," he said. "I just think that explains a lot."
Feldman noted that this could show why the pandemic response in the country, at least in regards to policy, "has been so poor."
Going back to statistics, in 2020, the number of college-educated white people under 65 who died was 4,500 out of nearly 400,000.
It seems "policy makers will respond if privileged and empowered groups are being harmed, and less than 5,000 people isn't a whole lot," he said. "It's basically, younger white people aren't dying. If you look at the same mortality curve by age, they look quite different for other groups, especially American Indians and Pacific Islanders, but also Latino and Black people."
Reactions to the study
Feldman said he's received mixed reactions to the study.
There's one group that says they knew the inequality was bad, but didn't realize exactly how bad.
"That figure that we estimated — that 90 percent of deaths would've been averted had everyone, every person of color died at the same rate as a white person, specifically those under 65 — that is just pretty extreme," he said.
Then there's the other people who are "more dismissive," he said.
"They look at this and I think it challenges their world view, and they want to come up with explanations for why this pattern we're seeing is not the result of injustice, it's the result of something else," Feldman said, noting that one of the factors they point to is obesity.
"The patterns are actually very different," he said. "It's not exactly what you might assume, the race by education patterns for obesity. I really don't think that has a major role."
Then there are the people who look for other genetic differences. Or the ones that say it has to do with economic differences, not race.
"I think presenting racial inequality along with educational inequality really bothers some people," Feldman said, noting that the results of the study would seem to refute the idea that obtaining higher education can help level the playing field.
"When you can demonstrate pretty clearly that having an associate's degree, having a college degree does not get rid of the inequality, that's a pretty strong refutation of some people's world views," he said.
Solutions
Feldman also noted that there are people who want to get vaccinated, but may not be able to get the paid time off from work, or they want to talk to their primary care provider first. These are issues that can disproportionately affect people of color.
Then there are the people who aren't vaccinated. People of color have historically been more skeptical of the medical community, particularly Black men in the wake of the infamous Tuskegee Syphilis Study, in which subjects were lied to about the treatments they were receiving.
People of color are also more likely to be uninsured in this country.
"And being uninsured is one of the biggest predictors of not being vaccinated, despite it being free, because these are people who don't access health care very much," he said.
Vaccination can't be the only way to stop the virus, he noted.
"The bottom line is we need a better approach to the pandemic that's not solely reliant on vaccination," Feldman said. "Vaccination is important, but it can't be the only thing we're doing, and we need less spread of the virus. There are a variety of policies that we can implement to do that, and there are practically a dozen of them, and we're not really doing many of them."
Newsletter Signup
Stay up to date on all the latest news from Boston.com