COVID
Northeastern will ban spectators at athletic events amid concerns about the omicron variant
The university has seen an increase in cases "primarily in the student population," including some linked to the omicron variant.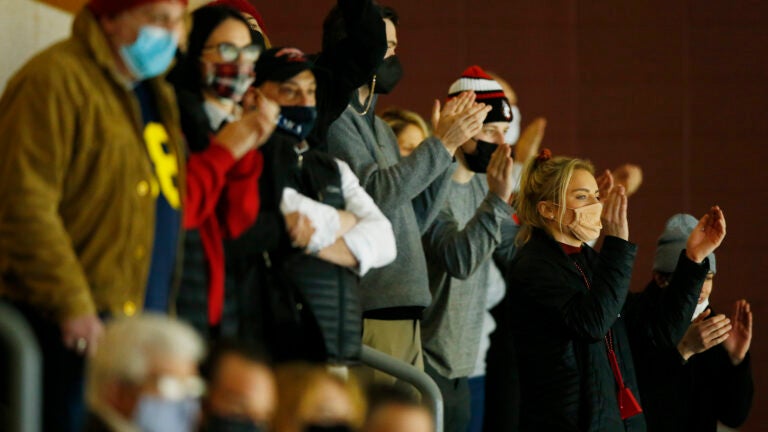 The games will go on at Matthews Arena — just without fans.
Northeastern University officials announced Friday that starting on Sunday spectators will not be allowed at campus athletic events, amid concerns about an increase in COVID-19 cases and the more transmissible omicron variant.
"In the past week, we have seen an increase in the number of cases on the Boston campus, primarily in the student population, including some cases of the Omicron variant," Kenneth Henderson, the university's chancellor and senior vice president for learning, wrote in a message to the Northeastern community on Friday morning.
With finals exams concluding this week, Henderson wrote that the university's U.S. and Canadian campuses will "remain fully operational," but recommended that all "non-essential gatherings and events be postponed or moved outdoors."
"While athletic events will proceed as scheduled, beginning this Sunday, December 19, they will do so without spectators in the stands," he added.
As the omicron variant spreads, it's a return to the fan-less in-arena experience that was common not only at Northeastern but at college and professional sports stadiums across the country during the COVID-19 surge last winter.
In the past week, Northeastern has reported 193 new COVID-19 cases, with a seven-day positive test rate of 0.9 percent as of Tuesday. No hospitalizations have resulted from the cases, which are mostly among the almost 100 percent vaccinated student population.
Preliminary research suggests that the omicron variant can spread 70 times faster than the delta variant, raising concerns that the strain may outpace officials' ability to track it. Researchers also say it may more easily infect individuals who have immunity from vaccination or previous infection, though it also appears to result in less severe outcomes, especially in those who are vaccinated.
Northeastern last week joined a growing number of colleges that will require all students and staff in the United States to get a COVID-19 vaccine booster shot. According to the policy, individuals will have to get the booster by Jan. 18, (the first day of spring semester classes) or seven days after they become eligible.
Northeastern had previously required proof of vaccination or a recent negative COVID-19 test to attend indoor sporting events. However, the new no-spectator policy comes amid a spike in COVID-19 cases and hospitalizations in Massachusetts, as well as a wave of outbreaks across North American and European sports leagues.
Recently, several top Canadian teams have moved to limit fan capacity at their arenas to 50 percent, though so far no major American sports teams have taken that step.
As students depart for the monthlong winter break, Northeastern officials declined to say how long they expect to keep the policy in place.
"As always, we will continue to monitor the situation, consult with our faculty experts, and provide regular updates," Henderson wrote on Friday.
Newsletter Signup
Stay up to date on all the latest news from Boston.com