COVID
Boston is handing out a half-million free rapid COVID-19 tests. Here's where you can get them.
Grab them while supplies last.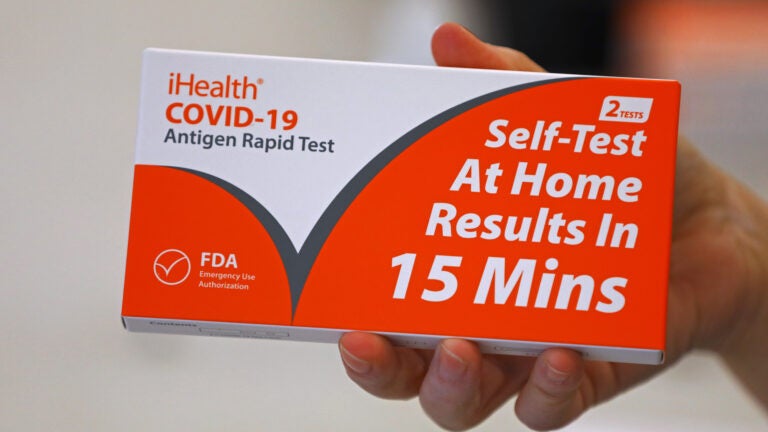 The city of Boston has about a half-million free rapid COVID-19 tests that it wants residents to take off its hands — and the first phase of the effort begins this week.
As part of the city's "multi-layered" response to the COVID-19 pandemic, Mayor Michelle Wu said Monday that free rapid take-home test kits will be available for pick up at 14 library branches and community centers across the city.
During a WBUR interview Monday afternoon, Wu said that the city has 260,000 test kits, many of which can be picked up at the 14 sites, while supplies last.
Each kit comes with two tests, and city officials are asking residents to limit themselves to one kit for each member of their household, per visit.
The pick-up sites are part of the first phase of the city's efforts to distribute its allotment of 488,700 rapid iHealth Labs tests from Gov. Charlie Baker's administration. That's in addition to the 20,000 rapid test kits that the city recently purchased to distribute in neighborhoods that were hard hit by the pandemic.
City officials are also partnering with the Boston Housing Authority and Boston Public Schools to distribute rapid tests. In a press release, Wu's administration said each one of the city's 55,000 public school students will receive an at-home test kit "to help ensure a safe return to school after winter break."
In the meantime, local residents can head to one of the 14 public pickup sites.
Read the full list of options below:
(Tests are available during the operating hours of each Boston Public Library or Boston Centers for Youth and Families site; BPL branch hours can be found here and BCYF center hours are available here.)
Back Bay
Brighton
Dorchester
East Boston
Hyde Park
Mattapan
Mission Hill
South Boston
Roslindale
Roxbury
Newsletter Signup
Stay up to date on all the latest news from Boston.com