COVID
Here's what Michelle Wu said about the anti-vaccine requirement protesters at Boston City Hall
"There's a lot of emotion here. There's also a lot of misinformation."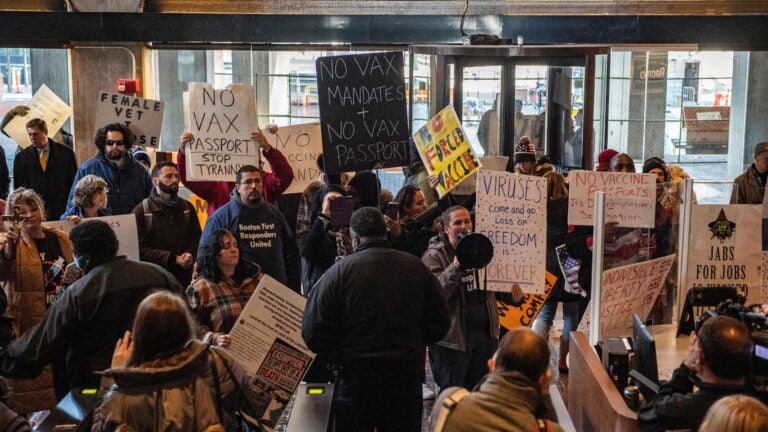 At times on Monday, as Boston Mayor Michelle Wu and other local officials announced plans to phase in vaccine requirements for city workers and certain indoor activities, it was difficult to even hear their words.
A group of a few dozen protesters inside City Hall — including Republican gubernatorial candidate and former state representative Geoff Diehl — loudly jeered the announcement, nearly drowning out the speakers with whistles, chants of "Shame on Wu," and a rendition of the national anthem.
"Welcome to the people's building," Wu said at one point, countering that there was "nothing more American" than coming together to ensure the health and safety of fellow community members.
During a interview Monday afternoon, Wu told WBUR that she and her peers noticed the crowd of protesters gathering on City Hall Plaza before the press conference.
"I had shared then that, you know, some of the hardest decisions that we make are the most important ones," she said. "And there's a lot of emotion here. There's also a lot of misinformation out in the world right now about vaccinations and about what risks are."
Wu noted that the COVID-19 vaccine has been widely available for over eight months; and one, the Pfizer vaccine, has the full approval from the federal government, while two others have emergency use authorizations.
"These are fully approved, vetted by many, many medical and health experts," she said. "They're safe for adults, they're safe for children."
The new requirement — which will begin to take effect on Jan. 15 and requires individuals to show proof of vaccination in a host of indoor venues — is intended to increase Boston's vaccination rates, as the region weathers a surge in COVID-19 cases and hospitalizations, mostly among the unvaccinated.
Wu also changed the city's vaccine requirement for its 18,000 municipal workers to eliminate the option that allowed unvaccinated employees to provide proof of a negative COVID-19 test instead.
"It is time to truly close gaps in terms of vaccinations because this is what each one of us needs to ensure we are protected, we are safe, and that our businesses can continue to thrive," Wu said.
In a statement, Diehl characterized the requirements as "clear violations of the civil rights of anyone who lives in, works in, or travels to the city" that would "make it even more difficult for Boston's economy to recover from the pandemic."
"While I openly acknowledge and share concern over rising case counts in Massachusetts, infringing on citizens' right to life, liberty, and the pursuit of happiness is never an acceptable solution," the Whitman Republican said.
Asked about Diehl's presence at the protest, Wu — who was elected last month by double-digit margins — said, "elections have consequences." And she said 2022 would be an "an important year for Massachusetts to have the conversations about where we're headed in the future."
"I certainly have a different view from the candidate who was here at City Hall today," Wu said, before going on to allude to the Democratic candidates running for governor.
"I really hope that we can get the chance to hear from each one of our candidates and put some big ideas on the table, because that is the urgency of what our communities are facing," she said.
Newsletter Signup
Stay up to date on all the latest news from Boston.com