COVID
'A true tragedy': New England hospitals battle staffing problems as doctors prep for COVID-19 surge
"The Massachusetts health care system is at a tipping point."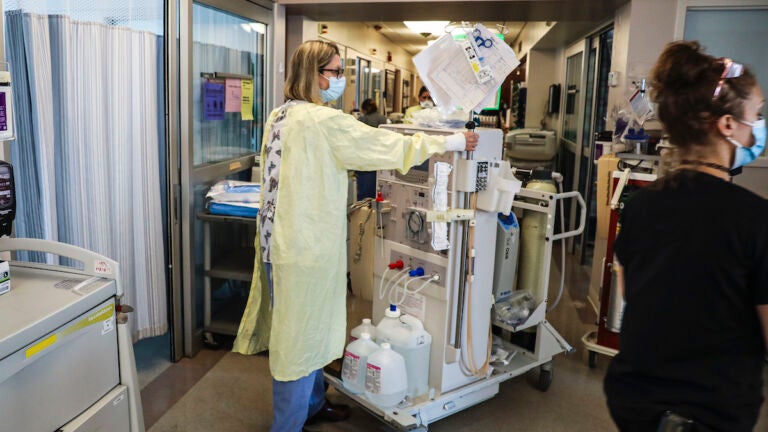 As the omicron variant of COVID-19 hits New England, health care workers in Rhode Island and Massachusetts are now strapped with staffing shortages that are strangling hospitals throughout the country and are sounding the alarm on the cusp of an anticipated winter surge of the virus.
In Massachusetts, hospitals have found it difficult to retain workers as the pandemic nears its second year, particularly as many professionals leave the field due to burnout brought on by the health crisis, according to Steve Walsh, CEO of the Massachusetts Health and Hospital Association.
Others have retired or left, deterred by the mandates they must be vaccinated against the virus in order to retain their jobs.
And in other scenarios, the state has lost portions of its healthcare workforce for positions in other states, especially for traveling nurses, who have traversed the country for the past year and a half for lucrative opportunities in states where virus cases surged and workforce demand was high, Walsh told Massachusetts lawmakers last week.
But now, with an even more contagious variant on the rise, states across the nation are facing an alarming number of rising cases, simultaneously, all the while being short-staffed, he said.
In Massachusetts alone, where state data shows 83 percent of ICU beds were occupied and 93 percent of non ICU beds were occupied as of Dec. 16, the healthcare system has lost 500 inpatient beds over the course of the pandemic because of staffing challenges, Walsh said.
The staffing problems also extend to EMS personnel, he said.
"After two years of fighting this virus, our caregivers are simply exhausted," he said during testimony before a state legislature committee on Dec. 16.
In Rhode Island, staffing woes that predate the health crisis have now left emergency physicians to see patients "in chairs in hallways and in waiting rooms, performing the tasks of nurses and medical technicians, all in an effort to ward off our biggest collective fears, that a patient dies of treatable illness while waiting in the waiting room or leaves of the wait time and comes back dead or dying," the state's chapter of the American College of Emergency Physicians wrote to Gov. Dan McKee and the state Department of Health on Dec. 14.
"These nightmare scenarios have come true, in multiple departments across the state, in the past few weeks," Dr. Nadine Himelfarb, the chapter's president, wrote. "Imagine patients dying while waiting to be seen by a doctor who is 50 feet away and, because of lack of staff and thus capacity, simply unable to treat them. This is a true tragedy that is currently unfolding for all citizens of Rhode Island."
Himelfarb wrote that emergency departments across the state are reporting "anywhere from 25 to 50 percent of their nursing positions vacant with additional critical position vacancies such as unit secretaries and radiology and laboratory technicians."
"We don't have staffing for the hospitals, let alone the field hospitals," Himelfarb wrote. "Any added strain right now will lead to collapse of the state health care system."
McKee, on Dec. 15, wrote to the Federal Emergency Management Agency to request medical personnel to assist state officials' efforts to fill vacancies at hospitals — one of several actions McKee announced last week aimed at beefing up the state's response to COVID-19 and reducing the burden on hospitals, including mandating masks or proof of vaccination for certain establishments.
In his letter, McKee wrote the pandemic exacerbated the state's hospital staffing difficulties "leading to bed shortages and hospital diversions at the state's acute care facilities and an even more emergent workforce shortage due to pandemic stress and burnout."
"In recent weeks, the number of COVID-19 cases and hospitalizations has dramatically increased," McKee wrote. "As a result, Rhode Island's hospitals are reporting that their emergency departments are at capacity and that patients are leaving without being evaluated, and that 7 of the 10 acute care hospitals are reaching maximum capacity, necessitating the diversion of patients to other hospitals."
Earlier this month, Massachusetts Gov. Charlie Baker ordered hospitals to reduce "certain non-essential, elective services and procedures" for patients by 50 percent to help preserve bed capacity.
The Baker Administration also is allowing hospitals flexibility when it comes to ICU nursing staff ratios and guidance that gives hospitals the right to create capacity in "alternative spaces."
"The Massachusetts health care system is at a tipping point," said Michael Wagner, chief physician executive with Wellforce, recently told The Boston Business Journal. "If the surge of COVID patients continues to get worse, or there is a major event that occurs in the state — a mass casualty event, God forbid — it's hard to predict the impact that would have in terms of our ability to take care of those patients … It's a little scary, people don't want to have that conversation. But that's where we're at."
To be clear though, in Massachusetts, hospitals are currently able to perform as needed for patients, according to Walsh.
"Right now, it is important to know that patients are still safe … They're watched 24/7," Walsh told lawmakers. "At this moment, it's the last place of refuge, as much as we would like it to change and improve moving forward."
Some of those changes must be made at the federal level, given the national scope of the problem, Walsh said.
In the commonwealth, hospitals have to be working with one another to meet the challenges, he said.
Health professionals make use of "health and medical coordinating coalitions," which Walsh said were launched early in the pandemic and continue to effectively allow hospital leaders to compare notes and data.
"It's really helpful for our providers to be acting as one hospital system responding in concert to the needs of the commonwealth as opposed to a patchwork of individual providers that are working in a silo approach," he said.
Himelfarb is asking Rhode Island leaders to consider steps taken in other New England states to respond to the crisis, including, among others, limits on elective surgeries to help increase hospital capacity and release staff for other matters.
In her letter, she noted that the state found "nationwide success" for its aggressive steps in combatting COVID-19 last year.
"We in emergency medicine quickly adapted, learning to recognize and treat this new illness," Himelfarb wrote. "We now face a different and more pressing crisis, inability to treat… any emergency. Because we don't have the people to do so."
Newsletter Signup
Stay up to date on all the latest news from Boston.com