COVID
Ayanna Pressley says Charlie Baker's new mask advisory 'falls well short'
The Massachusetts congresswoman is calling for a statewide indoor mask mandate; Baker has "no interest."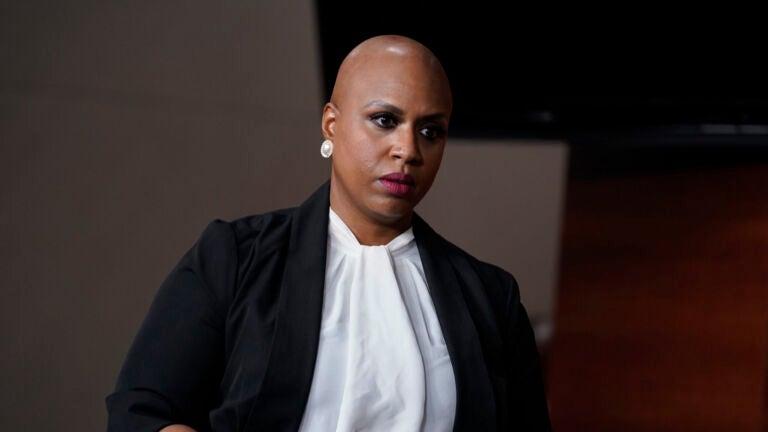 With hospitals under pressure and the omicron variant of COVID-19 spreading fast, Gov. Charlie Baker announced a new statewide mask advisory Monday recommending that all individuals in Massachusetts wear a face covering in indoor public places, regardless of their vaccination status.
Rep. Ayanna Pressley says it "falls well short."
In a letter Tuesday to Baker, the Massachusetts congresswoman urged the Republican governor to reinstate a statewide indoor mask mandate, calling it a "critical" part of "any comprehensive statewide plan" to stave off the winter surge and the rise of the alarmingly transmissible omicron variant.
"It is clear," Pressley, a Boston Democrat, wrote, "implementing a universal indoor mask policy now can help mitigate these spikes and help save lives."
The letter was released Tuesday morning by Pressley's office just a few hours after the Baker administration announced the new mask recommendations. The governor also ordered hospitals to postpone or cancel elective procedures and deployed the National Guard to give overburdened hospitals a hand with non-clinical tasks.
Pressley's office, however, noted that the mask advisory does not have the same legal authority as a mandate, which can carry the threat of fines for violators.
"Governor Baker's announcement this morning is an incremental step that falls well short of what is needed to save lives and protect our communities," Pressley told Boston.com in a subsequent statement Tuesday.
She added that Baker must "swiftly" implement a "COVID-19 Action Plan" recently proposed by a group of state lawmakers, "including the reinstatement of a statewide, universal indoor mask mandate." The plan also calls for increased state funding for local vaccination clinics, free testing, and efforts to combat misinformation about the COVID-19 vaccines.
"We must be aggressive in confronting this ongoing pandemic," Pressley said, noting that communities in her congressional district "continue to be disproportionately impacted" by the health and economic crisis.
Baker said Tuesday that he had "no interest" in reimposing a statewide mask mandate, arguing that the vaccines have changed the risks and the nature of the response to the pandemic, even with the omicron variant.
"We are saying that we think more people should be masking, but people in Massachusetts know at this point that masking is one of the tools they can pursue if they choose to do so to protect themselves," Baker told reporters Tuesday morning, alluding to rapid tests and more effective treatments.
"Let's not forget 5 million people in Massachusetts are fully vaccinated," he added. "And the vaccines are by far the most effective tool we have in the toolbox to protect one another from COVID."
Pressley also wrote that the Baker administration should extend the state's indoor mask mandate for most K-12 public schools — which is currently set to expire on Jan. 15 — and "provide flexibilities to allow for remote learning options when necessary and advised by public health experts so schools are able to quickly respond to major outbreaks and so that students who have become ill or may have been exposed to COVID-19 are not at risk of falling behind."
While some schools have been forced to briefly transition to remote learning in the wake of COVID-19 outbreaks, Baker emphasized that "kids are extremely low risk" and that "school is safe." The governor also ruled out allowing any sustained shift to remote learning.
"There's an overwhelming amount of evidence out there, at this point in time, that keeping kids out of school, keeping them away from one another, keeping them away from trained caring adults did terrible damage to kids all over the country," he said. "It's not going to happen in Massachusetts."
Newsletter Signup
Stay up to date on all the latest news from Boston.com