COVID
Biden's omicron battle plan to include a half-billion free at-home tests, support for overwhelmed hospitals
"The Administration has pre-positioned these supplies ... so that we can send them to states that need them immediately."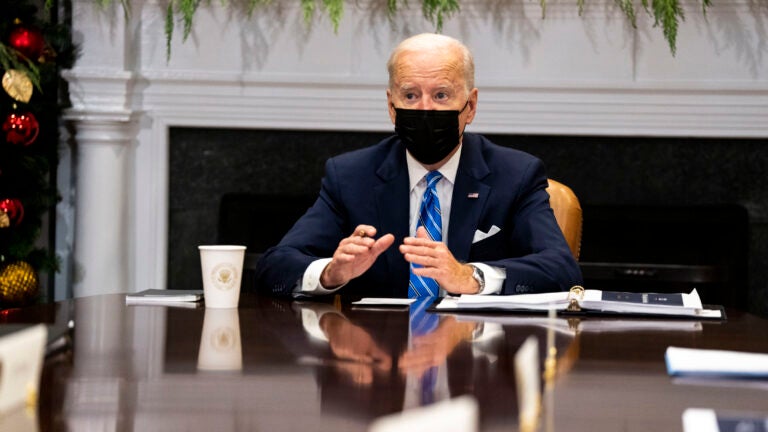 President Joe Biden in a speech Tuesday afternoon will outline plans to expand coronavirus testing sites across the country, distribute a half-billion free at-home tests and deploy more federal health resources to aid strained hospitals, as the omicron variant drives a fresh wave of infections.
The speech will not focus on "locking the country down," White House press secretary Jen Psaki told reporters Monday, but the president will be "direct and clear with the American people about the benefits of being vaccinated, the steps we're going to take to . . . increase testing, and the risks posed to unvaccinated individuals."
"We know how to protect people from severe illness," the White House said in a statement previewing the speech. "We have the tools needed to do it."
The Biden administration will start delivering a half-billion free rapid tests to American homes next month, according to the statement. Health officials will set up a website where Americans can order the tests. New federal testing sites will also be established across the country, starting with one in New York City this week.
The Biden administration has emphasized increased testing as one of the pillars of its pandemic policies, but it has been criticized for failing to provide at-home tests at low cost. Americans are paying $25 for a pack of two tests, if they can find any at a local pharmacy.
Health officials say they fear that the emergence of the quickly spreading omicron variant could overwhelm health-care facilities nationwide. The variant accounted for 73% of new coronavirus cases in the United States between Dec. 12 and 18, according to modeled projections from the Centers for Disease Control and Prevention.
To relieve overrun hospitals, the federal government will immediately send emergency medical teams to Michigan, Indiana, Wisconsin, Arizona, New Hampshire and Vermont, the president is expected to say. Some of those states, such as Michigan, had been suffering from case surges even before the announcement of the first omicron case in the United States this month.
The administration will deploy an additional 1,000 military doctors, nurses, paramedics and other health-care personnel to strained medical centers in January and February as needed. The president will order the Federal Emergency Management Agency to work with states and territories to prepare more hospital beds ahead of expected surges.
Federal officials have earmarked N95 masks, gloves, gowns and ventilators from the national stockpile ready for shipment to states that may require rapid assistance in medical supplies. "The Administration has pre-positioned these supplies . . . so that we can send them to states that need them immediately," the White House said.
Biden's speech comes three weeks after he unveiled his initial plan to combat a winter surge, which included campaigns to increase vaccinations and booster shots, more stringent testing for international travelers, and plans to make rapid at-home coronavirus testing free for more people.
But after close to a year of repeated messages to get vaccinated, administration officials have struggled to get through to holdouts, trying social media campaigns, vaccination lotteries and other efforts to raise awareness. Still, fewer than one-third of fully vaccinated people have received booster shots.
On Tuesday, Biden will renew his plea with Americans to get vaccinated and boosted, as well as outline efforts to make vaccination easier, including new pop-up clinics.
"While cases among vaccinated individuals will likely increase due to the more transmissible Omicron, evidence to date is that their cases will most likely be mild," the White House said. "In contrast, unvaccinated individuals are at high risk of getting COVID-19, getting severely ill, and even dying."
The Washington Post's Dan Diamond and Tyler Pager contributed to this report.