COVID
Not just Boston: Here are the other Mass. communities looking to require proof of vaccination for certain indoor venues
"There is no doubt this requirement will have greater impact if implemented regionally."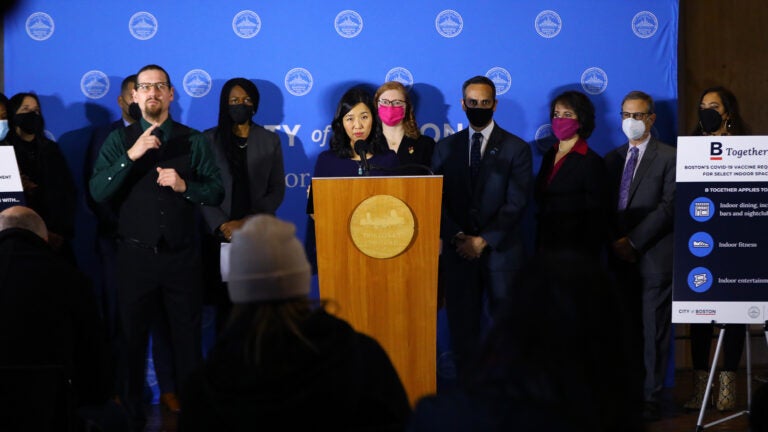 Boston Mayor Michelle Wu may have broken the news of the city's plans to require proof of COVID-19 vaccination for entry into restaurants, gyms, and other leisure-based indoor venues on a phased-in basis in the coming months.
But she wasn't alone.
The leaders of a half dozen nearby Massachusetts cities and towns said Monday that they also plan to consider vaccine requirements for certain indoor venues, and a few others expressed interest in following suit.
"There is no doubt this requirement will have greater impact if implemented regionally," Cambridge Mayor Sumbul Siddiqui said in a statement.
While not everyone is immediately committing to adopting identical policies as Boston, here is the list of neighboring municipalities thinking about it:
Arlington
Arlington Town Manager Adam Chapdelaine said Monday that the town "will be considering adoption of a policy like" Boston's vaccination requirement.
"We'll be working with our Board of Health to finalize a decision in the weeks ahead," he said.
Brookline
Brookline Town Administrator Mel Kleckner said he "will be meeting this week with Brookline businesses to discuss our own policy."
During a Select Board meeting Tuesday night, Brookline's acting public health director Pat Maloney said the town's Advisory Council of Public Health will discuss implementing a proof of vaccination requirement for indoor venues during a virtual meeting on Wednesday at 4:30 p.m.
"I see some tweaks that we need if we adopt this in Brookline," Maloney said.
Still, Brookline Select Board member Raul Fernandez said Monday at City Hall that he was "very confident" the town would move on the subject.
Cambridge
Praising Wu's order, Siddiqui said Monday that she plans to work with the Cambridge City Manager Louis DePasquale on the city's "next steps."
According to Cambridge Day, the City Council echoed that call, unanimously passing an order Monday night directing DePasquale to report back on the topic by their next regular meeting on Jan. 10.
Lynn
In a joint statement, Lynn Mayor Tom McGee and Mayor-elect Jared Nicholson said Monday that it was "important that Boston is taking this step," in response to the city's proof of vaccination policy.
"In the coming weeks, we hope to have an open dialogue with Lynn residents and business about what the right policy for Lynn is going forward in collaboration across the region so that our communities can continue to be safe and healthy, as well," McGee and Nicholson said.
Medford
Medford Mayor Breanna Lungo-Koehn said Monday that she supported Wu's policy, calling it "important that we take a thoughtful approach to our public health strategy."
"It's clear that our most effective tool in keeping our communities safe is getting as many people vaccinated and boosted as possible," Lungo-Koehn said. "In Medford, we will be discussing ways we can increase vaccine confidence and educate the community on the benefits of protecting yourself and your loved ones by getting the shot."
Melrose
Melrose Mayor Paul Brodeur called for "regional coordination for us to most effectively protect public health," during the pandemic.
"Here in Melrose, we are constantly evaluating our policies and procedures and working closely with the Board of Health, business community, and our local hospital to identify the most effective measures we can deploy to protect our residents," Brodeur said.
Salem
Salem Mayor Kim Driscoll said Monday that she supports putting in place "a vaccine requirement for public places like restaurants, gyms and entertainment venues" and will be "recommending to our Board of Health that we move in this direction."
"We need to use all the tools in our tool box to address the current COVID challenges and that means ensuring people are vaccinated as a means to curb virus transmission and reduce the likelihood of hospitalization for those who contract COVID," Driscoll wrote on Facebook.
Salem's Board of Health is scheduled to vote on the policy Wednesday night.
Somerville
Somerville Mayor Joe Curtatone submitted an order mirroring Boston's proof of vaccination requirement Tuesday to the city's Board of Health.
Just like Boston, the order would require individuals over the age of 12 to present proof of at least one dose of vaccination beginning Jan. 15, before requiring proof that they're fully vaccinated by Feb. 15. It also would require individuals between the ages of 5 and 12 to show proof of vaccination by March 1 and full vaccination by May 1.
However, the proposal elicited overwhelming opposition from residents and community leaders during the Board of Health meeting Tuesday night, over concerns about the costs of staffing an additional employee to check vaccination cards at the point of entry and other logistical questions.
Ultimately, the three-member board opted to delay a vote on the subject until January 14, possibly delaying when the rule would kick in.
"If we're a month behind Boston, it's probably not going to make that big a difference in the grand scheme of things," Brian Green, the chair of the Somerville Board of Health, said during the meeting.
"I feel like doing this regionally is a value, but also doing this in a way that is right for Somerville," Green said, adding that he was "not sure we're there right now."
Curtatone has also put an emphasis on a regional approach, calling out to residents of other communities too.
"For those communities who don't have these measures in place, I want those residents to speak up louder than what you're hearing here and demand they be placed in your city and town," Curtatone said Monday at Boston City Hall.
Newsletter Signup
Stay up to date on all the latest news from Boston.com