COVID
Massachusetts updates mask advisory, activates National Guard to support strained hospitals
"There's no question the next few weeks will be enormously difficult for our health care community."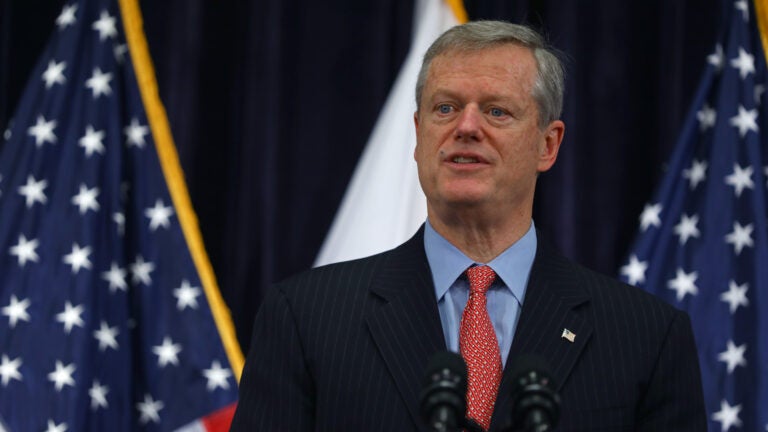 Gov. Charlie Baker's administration is once again recommending that all individuals in Massachusetts — regardless of vaccination status — wear a face covering in indoor public spaces.
The state's Department of Public Health announced the updated mask advisory Tuesday morning, as the omicron variant becomes the dominant strain of COVID-19 and a rising number of hospitalizations puts a strain on an understaffed health care system in the midst of the holiday season.
The advisory particularly urges individuals to wear a mask if they have a weakened immune system, face increased risk for severe disease from COVID-19 because of their age or an underlying medical condition, or live with someone who is high risk or unvaccinated.
"For individuals who are not fully vaccinated, it is especially important that you wear a face covering or mask any time you are indoors and not in your own home to reduce the chance that you may spread COVID-19 to other people," the advisory says, noting that asymptomatic people can still spread the disease.
Baker's administration also ordered all Massachusetts hospitals to postpone or cancel all nonessential elective procedures beginning next Monday.
And the governor will activate up to 500 members of the Massachusetts National Guard to provide non-clinical support to hospitals, such as driving ambulances, monitoring patients, or delivering meal trays. Up to 300 of those Guard members will begin training this week and be deployed Monday to 55 acute care hospitals and 12 ambulance service providers in Massachusetts.
"There's no question the next few weeks will be enormously difficult for our health care community," Baker said during a press conference Tuesday morning at the State House in Boston.
"There are staff shortages, sicker patients, and fewer step down beds available, because of those staff shortages," he said. "The steps we're announcing today are designed to support them so that they can continue to care for patients."
On Monday, Massachusetts reported 13,717 new COVID-19 cases over the past three days, with hospitalizations due to the disease surpassing 1,500 for the first time since early February. State data shows that over 90 percent of the 8,764 available hospital beds in Massachusetts are currently occupied.
For weeks, as COVID-19 cases rose, Baker has faced pressure from public health experts and local elected officials to reimpose a statewide mask mandate to stem the spike in infections, as many cities and towns in Massachusetts did so on their own, creating a patchwork of differing rules.
The updated mask advisory doesn't have the legal authority of a mandate; similar to the state's most recent mask mandate, there is no threat of fines or enforcement for those who disregard the recommendation. However, masks do remain mandatory in certain places, like public transit, health care facilities, and most schools.
Baker has repeatedly declined to say if he thinks the state could reimpose a mask mandate without again declaring a COVID-19 state of emergency. And on Tuesday, he said he has "no interest" in reimposing such an order.
"If locals wish to pursue alternative options, they can do so," Baker said. "We issued a mask mandate last fall because we had no other options available to us. At this point in time, we have vaccines, we have rapid tests, we have our testing sites, and people know a lot more about what works and what doesn't with respect to combating this virus."
The Baker administration has continued to particularly emphasize vaccination as the path out of the pandemic, including the current omicron spike.
"People in Massachusetts know, at this point, that masking is one of the tools they can pursue if they choose to do so to protect themselves," Baker said.
"But let's not forget 5 million people in Massachusetts are fully vaccinated," he added. "And the vaccines are by far the most effective tool we have in the toolbox to protect one another from COVID."
The state released data Monday showing that, while 2 percent of all vaccinated individuals in Massachusetts have been infected with COVID-19, nearly 97 percent of those breakthrough cases did not result in death or hospitalization.
Since late August, unvaccinated individuals have been five times as likely to contract COVID-19 than fully vaccinated individuals — and 31 times more likely to get the disease than those who have gotten a booster shot.
The review also found that 99.9 percent of breakthrough cases among fully vaccinated people under the age of 60 did not result in death; for those over 60, over 97 percent of breakthrough cases did not result in death. And no deaths have been reported in breakthrough cases among those under the age of 30.
Officials reiterated Tuesday that getting a vaccine and booster remain the best way to protect against serious illness or hospitalization from COVID-19.
"I know we are all feeling the pangs of pandemic fatigue," Health and Human Services Secretary Marylou Sudders said during the press conference Tuesday.
"But as we all prepare to gather with our loved ones, a tradition long overdue and that has been interrupted by the COVID 19 pandemic, it's important for all of us to remember that the vaccine and boosters are highly effective at protecting against serious illness, hospitalization, and death," she said.
State data shows that over 89 percent of the entire Massachusetts population has at least one dose of a vaccine (including 94 percent of residents over the age of 5) and that 74 percent of the entire population is fully vaccinated.
Just over 1.8 million people — or about 36 percent of the fully vaccinated population — have gotten an additional booster shot.
Baker administration officials attribute the current strain on the health care system to a confluence of issues, not just rising COVID-19 hospitalizations.
They say the staffing shortage has effectively resulted in the loss of 500 hospital beds. Officials also point to an increase in patients for non-COVID-19 reasons. Many put off seeking treatment during the pandemic, leading their ailments to worsen and resulting in longer hospital stays. And even before the pandemic, health care officials said they would see an increase in patients this time of year.
Earlier this month, the Baker administration had ordered hospitals with less than 15 percent of beds available to reduce elective procedures by 50 percent. Sudders said Tuesday that the new order to put off all procedures is intended to "maintain and increase inpatient capacity."
"I want to be clear: Our hospitals remain ready to care for the urgent needs of the residents of the commonwealth," she said.
Newsletter Signup
Stay up to date on all the latest news from Boston.com