COVID
Children in Mass. and R.I. are catching COVID at higher rates than adults. Why?
"The thing that keeps me up at night is not variants."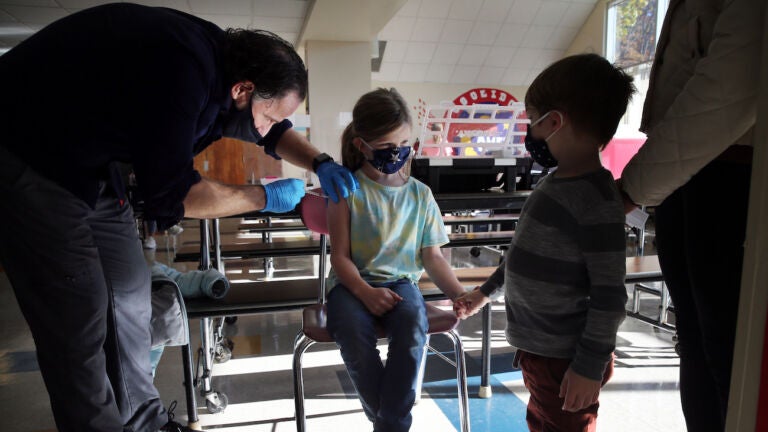 Nearly two months ago, federal regulators approved the COVID-19 vaccine for children under 12 — one of the last demographics to receive the go-ahead for the new mRNA shots in the continuing pandemic.
Still, the rates of virus transmission in juveniles are considerably higher than they are for adults around New England, including in Massachusetts and Rhode Island.
In the Bay State, the latest data available shows a case rate of 1,651 per 100,000 people among 5 and 9 year olds — higher than any other age demographic. The second highest rate was among children ages 10 to 14, with 1,491 cases per 100,000 reported over the two-week period between Nov. 28 and Dec. 11.
In Rhode Island, the highest case rate reported on Dec. 11 — the latest day with data available — was for the 5 to 18 age group, which saw a total rate of 843 cases per 100,000 people.
What's going on?
"It's multifactorial," Dr. Richard Malley, senior physician in pediatrics at Boston Children's Hospital's Division of Infectious Diseases, told Boston.com recently. "I think certainly the vaccine has been approved in kids, but obviously it takes time to roll out."
Vaccine hesitancy remains
Indeed experts say there are several factors at play in explaining why COVID-19 case rates remain higher among children and adolescents compared to other ages of the population. (While adults still make up the vast majority of new, daily cases reported in both states, the rates of transmission are lower than they are for children.)
As Malley noted, just because vaccines are available, that doesn't necessarily mean they're in the arms of children.
"The thing that keeps me up at night is not variants," Dr. Michael Koster, director of the Division of Pediatric Infectious Diseases at Hasbro Children's Hospital in Providence, said in an interview. "I actually think the omicron (variant) is a bit of a game changer, and it's probably going to make this (virus) more likely a winter virus, a seasonal virus.
"So I'm not surprised … we see kids outpacing adults," he added. "The reason for that and the reason that keeps me up at night is vaccine hesitancy."
According to Koster, despite Rhode Island's standing as among the most vaccinated states in the country, vaccination rates among minors are far lower than they are for adults.
Malley, also a professor of pediatrics at Harvard Medical School, said parents have all approached whether to vaccinate their children differently. Some parents themselves have been vaccinated, but even they remain hesitant to vaccinate their children.
A poll conducted last month by the KFF COVID-19 Vaccine Monitor research project found that vaccinations among adolescents ages 12 to 17 had slowed after a quick uptake over the summer, with 49 percent of parents indicating their pre-teen or teen received at least one dose of vaccine.
The national health nonprofit organization also found 1 percent of parents of children in that age range said they would get their adolescent vaccinated as soon as possible, while another 13 percent said they wanted to wait and see how the vaccine goes for others before they considered doing the same. Three in 10 said they would not get their teenager vaccinated.
In sum, there are approximately 25 million people between the ages of 12 and 17 and 28 million children ages 5 to 11 across the country.
Parents of the latter demographic are even less eager about vaccinating their children than parents of teens, the poll showed.
While 16 percent of parents surveyed said their child had already been vaccinated and 13 percent planned on doing so right away, a notable 32 percent wanted to wait for others to receive the jab first, according to the poll. An additional 29 percent of parents polled said they would definitely not get their child vaccinated.
One of the poll's findings may offer an explanation of those numbers: Most parents surveyed said they "don't have enough information about the effectiveness (58%), side effects (63%), or safety (61%) of the COVID-19 vaccines in children," according to a press release from KFF.
"Groups of parents who are less likely to say they have a vaccinated child – including younger parents, those without college degrees, and Republicans – are more likely to say they don't have enough information," the release says.
Asked about what parents who are hesitant should know, Koster offered a simple message.
"Vaccines protect your child," he said. "It's not about necessarily, you know, protecting the community and preventing schools from being shut down or preventing your child from giving it to a grandparent. Those are all very important reasons to get vaccinated as a child, but the No. 1 most important discussion a physician can have with a parent is to tell them how the vaccine protects their child."
Specifically, the vaccine prevents multi-inflammatory syndrome in children, according to Koster, who said emerging data also now shows the shots protect against long-term COVID, which affects between 5 and 10 percent of people who contract the virus.
The condition isn't necessarily lifelong, but can be debilitating and could lead to missed school days, Koster said.
"Parents of children who have any high risk conditions, you know, there are fatalities from COVID. So far, there's zero fatality from the vaccine," Koster said. "So as a parent, if you asked me, what do you want to do? Well, I know COVID is going to happen. So I would rather get the vaccine, and I'd bet on the vaccine every single day."
The other factors
As for additional factors that make up the higher case rates for New England's youngest residents, Malley said the latest data could be part of a swell in cases following Thanksgiving, when families were more likely to gather together and transmit the coronavirus.
"The third (component) is of course that schools were in session, and as the weather got colder, the likelihood that kids are indoors increased," he said. "And when you add all those things together, it probably results in sort of the perfect storm of having more cases in children."
There is also no approved booster shot for children and adolescents under the age of 16. Vaccinated children have not even reached the six-month mark that vaccinated adults would then be eligible to receive a booster.
"For children, the critical fact is, the vaccines have been made available much less than six months ago," Malley said, noting that booster shots are intended to boost immunity even beyond what it was for an individual when they received their primary shots. "And so, for their protection, what they need is a primary series" vaccine.
An important point on hospitalizations
Both Koster and Malley noted that despite the case rates, hospitals are not being overrun with pediatric COVID patients.
"The numbers are so far reasonable," said Malley, who added that children at Boston Children's Hospital with COVID-19 are usually in the hospital for another ailment and then test positive for the virus (They aren't there because of the coronavirus, in other words). "So it's not like the hospitals are being overwhelmed by pediatric COVID cases. That's not the case."
Koster said he can "count on one hand" the number of children admitted to Hasbro Children's Hospital with COVID-19 in October and November.
"Now we're seeing closer to somewhere between two and three cases, hospitalized cases, a week since early December," he said. "So we are starting to see an increase, but it's proportional, and maybe even less than proportional, to the rise in the number of cases.
"And to be honest, the metric of cases, which is important, is not as important as hospitalizations," he added.
COVID-19 is, after all, less severe for children who are not at high risk of severe illness as it is for older individuals – a fact that remains true even during the rise of omicron and other variants, Malley said.
"The majority, not all, but the majority of those cases will resolve with very few, if any, lasting effects, which is, of course, the most important (point)," he said. "At the same time, when you see this rise in cases in a healthy population, it should and does give us pause because what it means of course is that the virus is circulating very wildly in the population and increases the unfortunate risk that somebody who … cannot respond well to the virus and get sick from it will in fact encounter it."
Even if the illness is mild, doctors still do not want to see children catch the virus, Malley said.
"There's always a risk that a child could suffer from it," he said.
Correction: This story has been updated to reflect that the rates of transmission are higher for children than adults in Massachusetts and Rhode Island, not the total number of cases.
Newsletter Signup
Stay up to date on all the latest news from Boston.com