COVID
Dr. Ashish Jha: Here's how to get COVID-19 isolation right if you test positive
"If we don't get it right, it'll both be hugely disruptive and won't keep us safe."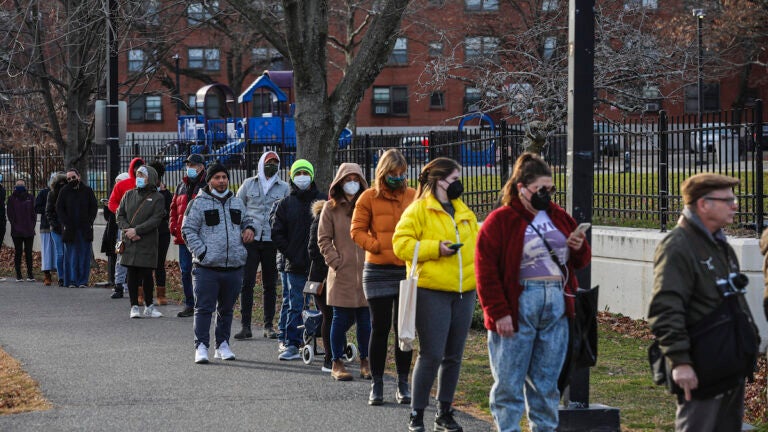 Public health experts are already making their predictions about the expected COVID-19 surge: This will be the winter of omicron.
With the anticipated rise in cases spurred by the new variant across the United States in the coming weeks, the nation must consider a new strategy for how people who test positive for the contagious virus isolate themselves from others, according to Dr. Ashish Jha, dean of the Brown University School of Public Health.
"We need to think about the purpose of isolation clearly because if we don't get it right, it'll both be hugely disruptive and won't keep us safe," Jha wrote in a Twitter thread on Sunday.
For much of the coronavirus pandemic, experts, including the Centers for Disease Control and Prevention, have recommended individuals who test positive isolate from others for a period of at least 10 days to help stem the spread of the illness.
But Jha said there are other approaches to isolation based on the science.
The main approach to isolation periods depends on how long a patient is contagious.
And how long someone is contagious depends on two things, according to Jha: When the individual tests positive (early or late in the phase of infection) and how quickly the person's immune system can "clear the virus."
"Take the average person who tests PCR+ today. How long will they be contagious? The average person who tests PCR+ today?" Jha wrote. "Some will be contagious for 2 days. Others for 5 or (rarely) 10 days.
"But here's the kicker: Some for zero days — because they tested + after no longer being contagious!" he added. "Confusing. But thankfully we have tools to figure this out."
Jha attached a graph to help show when an individual can test positive through a PCR test, noting that while the image shows an "'infectious period of about 5 days…it can be longer."
"That's why (the) CDC defaults to 10 days to be safe," he wrote. "But here's the thing: 10 day isolation uses the mental model that either people test + in Phase A/early Phase B or have symptoms beginning of Phase B."
But Jha wrote many individuals have little or no symptoms of COVID-19, especially those who are vaccinated. Others get tested late in Phase B or Phase C, when they often test positive but are no longer contagious.
"We need a simple, workable solution that works across scenarios, works for everyone, not just in healthcare," Jha wrote.
So the alternative to the 10-day isolation period?
Jha said a "reasonable, even cautious" approach is five days of isolation paired with a negative antigen test, which he said is essentially a contagiousness test.
"For the average person, if you isolate for 5 days, you are likely no longer contagious," he wrote. "But for (the) rare person who might still be? That's where the antigen 'contagiousness' test comes in. Negative antigen on top of (a) 5 day isolation? Pretty good evidence you are no longer contagious."
According to Jha, a false negative antigen test is "pretty rare."
"If you want to be extra careful (for nursing home workers), you could require 2 negative antigen tests," he wrote. "At that point, I'm not sure why you'd continue isolating someone."
An even more cautious approach could be limiting the five-day isolation and negative antigen test protocol to only breakthrough cases in vaccinated individuals, Jha wrote.
"Bottom line? Isolating COVID + people (is) all about stopping transmission," Jha wrote. "Different people (are) contagious for different periods of time. 10 days (of) isolation for everyone is unnecessary. Luckily, we don't have to guess. We have antigen tests (I know, not enough…but they're coming).
"5 days and 1-2 negative antigen tests should be enough to end isolation, not just for healthcare workers, but for moms and dads getting back to kids, hourly workers who don't get paid when (they're) home, really for anyone who doesn't want to be isolating when they don't need to be," he added.
Jha also appeared on "Fox News Sunday" earlier this week to discuss a myriad of issues and ramifications of the still ongoing pandemic.
Watch the full segment:
Newsletter Signup
Stay up to date on all the latest news from Boston.com