COVID
Charlie Baker on COVID-19 testing site lines: 'People are gonna have to be patient on this one'
"We have more testing infrastructure than just about anybody else. But people are going to have to be patient."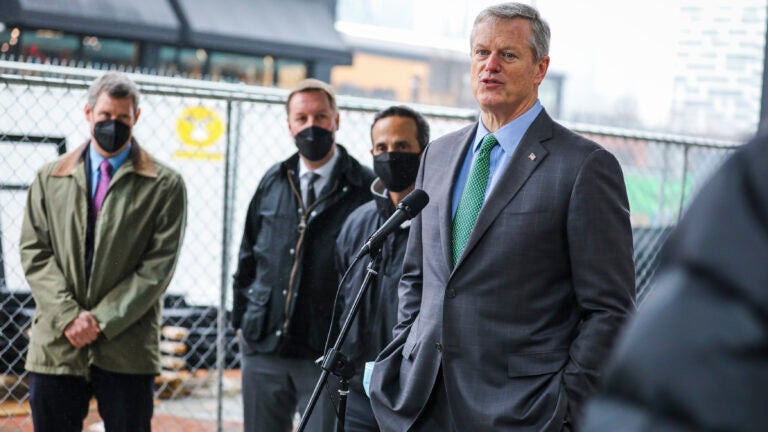 Gov. Charlie Baker says Massachusetts has one of the highest COVID-19 testing rates in the country.
That doesn't mean you still won't have to wait.
As the omicron variant propels the state's COVID-19 infection rates to unprecedented levels in the midst of the holiday season, some Massachusetts testing sites have seen hours-long lines of residents seeking to check their status, either as a precaution before a gathering or because they have symptoms.
"People are gonna have to be patient on this one," Baker told reporters during a press conference Thursday in Cambridge.
While the Republican governor said that Massachusetts has conducted the most or second-most COVID-19 tests per resident of any state since the beginning of the year, he said the surge has affected the sites' staffing levels.
"We're gonna continue to do what we can to make our testing infrastructure bigger, but we have some of the same issues with staffing," Baker said. "It's primarily a staff issue that almost everybody else in today's economy has. But we know it's important. We really appreciate the fact that people take advantage of these sites and take advantage of these tests as they are available."
After vaccinations and boosters, Baker said the tests are "one of the best things" individuals can do if they're around people they don't see on a regular basis.
He also expressed hope the more accessible rapid take-home COVID-19 tests would help alleviate the stress on the state's PCR-testing sites. Baker's administration bought 2.1 million rapid tests earlier this month for communities with high poverty rates to distribute for free. And state officials announced Wednesday that they had agreed to a deal allowing cities and towns — as well as schools and nonprofits — to purchase rapid tests directly from manufacturers at lower, state-negotiated prices.
"As those tests start to land, and cities and towns start to distribute them, they should help take some of the pressure off those testing sites," Baker said.
President Joe Biden's administration has begun to work with other states that have seen particularly high demand to set up federally backed free testing sites. However, Baker indicated Thursday that his administration was not pursuing one of those centers.
"The federal government is struggling to deliver on a number of the commitments that they've made to states already, and I take a lot of pride in the fact that we do have one of the largest testing infrastructures in the country," he said.
Baker said he had "been very aggressively communicating" to the federal government about the need for more rapid COVID-19 tests, given how quickly they return results. And with the new bulk purchasing agreements, he said cities and towns could use federal COVID-19 relief funds to directly buy rapid tests from the manufacturers.
"But you know, honestly, at this point in time, my message would still be the same," Baker said. "We have more testing infrastructure than just about anybody else. But people are going to have to be patient."
Newsletter Signup
Stay up to date on all the latest news from Boston.com