COVID
How different countries are handling isolation in light of omicron surge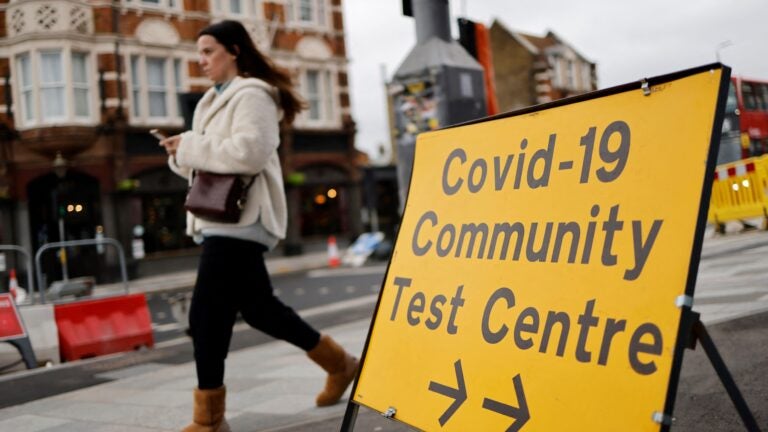 The omicron variant's swift global spread is leading some governments to shorten quarantine requirements for fear that the rising numbers of people being sent into isolation for infections or exposures could cripple economies, schools and health-care systems.
Governments say these are pragmatic responses to a changing virus. But constantly shifting guidelines have also led to widespread confusion over the rules, and to accusations that leaders crafted policies around business and political prerogatives rather than public health priorities.
Similar debates have erupted in the United States since the Centers for Disease Control and Prevention last week shortened its required isolation for infected health-care workers amid omicron's spread. Criticism escalated when the CDC on Monday said anyone vaccinated and asymptomatic – not just those in the health-care sector – could exit isolation without testing after five days.
Israel on Wednesday dropped its mandatory seven-day quarantine for vaccinated people exposed to omicron amid fears that the rate of isolation was leading the country, which has already banned foreign travelers, into a de facto lockdown.
The move followed the hard-hit United Kingdom, which last week shortened its isolation period for coronavirus infections from 10 to seven days alongside two negative results from at-home rapid antigen tests, which are less reliable than PCR tests. A government minister said Wednesday there were no plans to reduce the isolation period further.
Scientists in some countries have supported rolling back isolation periods, citing modeling that the omicron variant causes shorter periods of infectiousness and that fully vaccinated individuals with breakthrough cases have a low risk of serious disease.
But others have cautioned that there's much still unknown about when and to what extent an individual with omicron remains contagious.
Public messaging has also centered on the day-to-day implications, with officials warning that hospitals, school systems and many businesses could collapse unless less stringent isolation protocols are implemented.
In Canada, Quebec and Ontario are weighing following the CDC's lead to a conditional five-day quarantine. On Tuesday, Quebec changed its rules to allow some medical staff exposed or infected with the virus to continue working, warning that it could otherwise soon have 10,000 health-care workers off the floor and in isolation.
Authorities in Germany, where individuals who test positive or have a close exposure must quarantine for two weeks, are also weighing changes.
"Of course we have to review the current quarantine rules," Bavaria's state premier Markus Söder told Bild newspaper on Tuesday. "With a rapidly growing epidemic, we cannot simply paralyze the whole country from one day to the next."
Italy on Wednesday removed mandatory quarantine for close contacts of covid-19 cases if the individual recently received a second or booster shot or had just recovered from an infection themselves. Previously the vaccinated had to quarantine for seven days and unvaccinated for 10 days after a close exposure.
Nino Cartabellotta, head of the Gimbe Health Foundation, told Italian news outlets that at current rates in a few weeks "there could be 5 to 10 million contacts to be sent to quarantine, and this is not possible," Cartabellotta said, Reuters reported.
Italy recorded nearly 100,000 coronavirus cases Wednesday, about double the peak from any previous wave. The government has banned New Year's Eve celebrations and shut nightclubs for the next month.
In recent days, South Africa – among the first countries to report detecting the variant in late November – has had the starkest about-turns. On Thursday, the government announced the end of contact tracing and isolation requirements for anyone except individuals who are both infected and symptomatic, citing what it said was omicron's uncontrollable spread coupled with widespread immunity accrued through vaccines and previous infections.
"A number of people, including children who are in contact with covid-19 positive people, lose their income and valuable school time while staying at home without symptoms," said a government statement.
The response from the public was largely unexpected. The health department was "inundated with media, stakeholders and public enquiries and comments," the government said, leading to a policy recall on Tuesday. The government said it would reinstate the old rules as it further deliberated.
The emphasis on needing shorter or no quarantines to keep economies going has opened governments up to criticism that they are crafting policies around their own interests.
In Quebec, it was these stark realities that led health authorities to class medical workers differently.
"Omicron's contagion is so exponential that a huge number of personnel have to be withdrawn and that poses a risk to the network capacity," Christian Dubé, Quebec's provincial health minister, said at a news conference Tuesday. He said around 7,000 medical workers were out Monday due to the virus.
"In previous waves, we wanted to identify and remove at-risk employees as quickly as possible," he added. "With the current level of vaccination, we have to do otherwise. We have no choice."
Horacio Arruda, Quebec's public health director, said infected health-care workers who are not "in good shape" will not be sent to work under the amended protocols. He said potential changes could include covid-positive health-care workers treating only covid-positive patients, while being barred from eating or taking breaks with their colleagues at work.
"The thing is to balance the care we must give to people and the risk of covid-19," Arruda told reporters. "If I have a heart attack soon and I have to go to intensive care, I want to make sure that there are doctors who can treat me or else I will die."
Canada's seven-day average of coronavirus cases has jumped roughly 124% in the past week. Several provinces are smashing records, though analysts say the figures are likely an undercount due to stress on testing and tracing systems across the country.
In Israel, authorities have expressed similar worries about hospital, transportation and business strains as the country battles spiking flu cases and braces for more omicron outbreaks, despite having had one of the most rapid and wide-reaching coronavirus vaccination campaigns.
Israel on Monday began a two-week trial of a fourth vaccine dose, after rolling out booster shots starting this summer.
As of Wednesday, only unvaccinated individuals exposed to the virus will have to quarantine for seven days. The vaccinated can instead be released with a negative PCR test result, along with the recommendation to steer clear for 10 days of large crowds and those at high risk of infection.
Authorities have put in place strict border controls and vaccine or testing requirements. In publicly run hospitals, infected medical staff must self-isolate for at least a week and then receive three negative PCR results before being allowed to return to work, said Sheba Hospital spokesperson Steve Walz.
Some officials, however, have recommended easing travel restrictions, citing that the economically punitive measure cannot stop the omicron variant once it's there.
"The moment infections are spreading, there is no point in stopping entry from abroad," Heath Minister Nitzan Horowitz said in an interview with Israel's KAN public broadcasting.
But critics say the government should focus on community-level infection controls, rather than policies that appear based on business or political pressures.
"The state needs to cancel every event that might contribute to spreading infection," Sarit Rosenblum, a health reporter for the Yedioth Ahronoth newspaper, wrote in a commentary Wednesday. "The thought of New Year's parties being held as usual this year is untenable in the face of such a serious danger."
– – –
The Washington Post's Max Bearak in Johannesburg; Amanda Coletta in Toronto; Chico Harlan in Rome; and Loveday Morris in Berlin contributed to this report.
Newsletter Signup
Stay up to date on all the latest news from Boston.com