COVID
Massachusetts is doing a lot to keep kids in school amid the omicron COVID-19 surge. Is it enough?
"There's a lot of trepidation right now."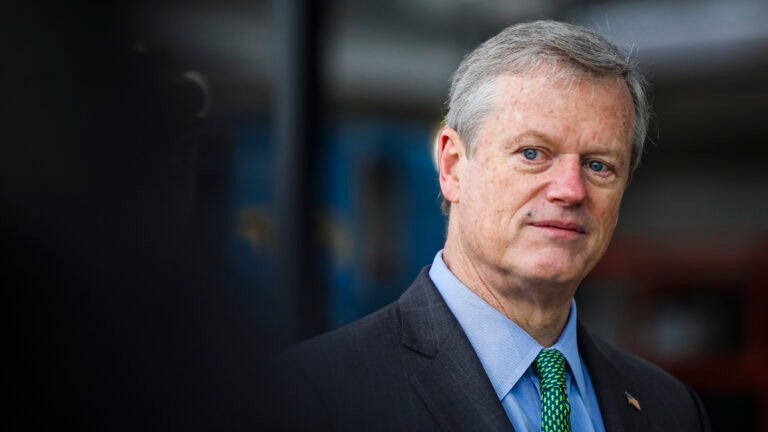 Hundreds of thousands of public school students and staff in Massachusetts are slated to return to class Monday following the holiday break, just as the state's COVID-19 infection rates skyrocket to unprecedented heights.
And while the risk of severe illness to children — especially if vaccinated — from COVID-19 has remained extremely low even amid the omicron surge, school officials are bracing for potential outbreaks and the possibility of further disruption to a third straight year of learning.
"There's a lot of trepidation right now," Tom Scott, the head of the Massachusetts Association of School Superintendents, said in an interview.
"I think people are all expecting that January is going to be a tough ride."
The tensions spilled into public view again this week, as the state's largest teachers union blasted Gov. Charlie Baker's administration's "last-minute scramble" to supply tests to educators before they return to school.
"The sharp spike in COVID-19 cases driven by the highly contagious omicron variant is extremely concerning," Massachusetts Teachers Association President Merrie Najimy said, asking the state for more "flexibility" for remote learning.
Baker's administration had announced on Wednesday that it had spent $5.6 million in federal COVID-19 relief funds to buy 200,000 at-home rapid tests — enough to give every teacher and staff member two tests.
Though not required, the state's Department of Elementary and Secondary Education is "strongly" encouraging all school personnel to take one of the at-home tests no more than 24 hours before they return to work next week to help prevent COVID-19 from being spread in schools.
The initiative is the latest in the Baker administration's effort to ensure schools stay open — and avoid the academic, emotional, and social costs of remote learning — even amid the latest COVID-19 surge.
"We should do everything in our power to make sure the kids stay in school," Baker told reporters during a press conference Thursday in Cambridge.
Last week, DESE distributed more than 6 million high-filtration KN95 masks to public schools for teachers, staff, and bus drivers to wear each day in January. The state also has an indoor mask mandate for the vast majority of schools until Jan. 15, though it could be extended as soon as next week.
The state also continues to offer several free COVID-19 testing programs for schools, including tests for students who present symptoms at school, weekly pooled testing to screen asymptomatic students, and a test-and-stay program to help close contacts of COVID-positive students avoid potentially unnecessary quarantines.
The new plan this week to distribute rapid tests to teachers was applauded as a step in the right direction by some elected officials and health experts.
But it elicited sharp criticism from the MTA as too little, too late.
In a statement Thursday, Najimy tweaked the Baker administration for not communicating the plan earlier and said the state needed to "create a much broader distribution mechanism and provide the proper staffing to ensure that the tests are being used."
Najimy said Baker and Education Commissioner Jeffrey Riley "have created a logistical nightmare all the way from distribution to testing oversight, placing the burden on school staff — particularly school nurses, who are already stretched beyond their capacity."
DESE officials said the tests would arrive Thursday and be sent to regional locations, where school district staff could pick them up and distribute them to teachers between then and Sunday — during the New Year's holiday weekend.
"There's no question there's a logistical challenge here," Scott said of the timing.
While he said some school districts were establishing test pickup locations, Scott noted that schedule conflicts and holiday travel would likely prevent the tests from reaching all educators.
Still, he said that, fundamentally, "the more testing, the better."
"I do think there'll be a sizable number of educators and staff members who will take advantage of it," Scott said. "Those who don't, I think, will probably have access to those kits going into school on Monday. One way or the other, it does give more testing opportunities for staff."
Baker dismissed the criticism of the potential logistical issues Thursday, calling the decision to distribute the 200,000 rapid tests "the right thing to do."
Najimy, however, says the plan "leaves school districts no time to develop a contingency plan if there is a local outbreak."
In addition to increased access to testing for students and staff, she called on DESE — which has pushed back on schools that have shifted to remote learning due to COVID-19 outbreaks — to relax its stance.
"In this moment, there may be further instances when in-person learning is temporarily deemed too risky, and it is time for the department to show flexibility and leadership in this area," Najimy said.
Baker rejected that suggestion Thursday.
"If we learned anything from this pandemic, it's that the damage was done to kids should never be repeated," he said. "And we have the tools and capabilities to keep people safe."
According to Department of Public Health data, nearly 80 percent of teenagers between the ages of 12 and 19 in Massachusetts are fully vaccinated, while just 42 percent of 5-11 year olds have completed their primary vaccine series.
The state does not track the vaccination rate among teachers, though the teachers union and superintendents association say it's relatively high, even in highly vaccinated Massachusetts.
Even before the introduction of vaccines, Baker noted that the state's private schools "many of which — parochial schools especially — were located in some of the highest case count communities in Massachusetts" got through the 2020-2021 academic year with in-person learning and "very limited issues associated with COVID."
The Republican governor has argued for more than a year that the academic and social benefits of in-person learning outweigh the risks, especially with vaccines and increased testing. He credited the test-and-stay program with saving students a collective 350,000 school days.
While the program is "very demanding" on school nurses and administrators, Scott says "test and stay" has been a "godsend." And he credits the Baker administration for proactively launching the program — which was subsequently endorsed by President Joe Biden's administration earlier this month.
"Massachusetts has been ahead of the curve," Scott said.
"And as much as we want more of everything, we do know that they're putting significant efforts into getting testing done, both in terms of keeping kids in school and protecting people," he said.
At the same time, Scott says his biggest concern about the coming month is the potential impacts on school staffing, if outbreaks among teachers arise. The region is already dealing with a shortage of substitute teachers. And with the state reporting unprecedented numbers of COVID-19 cases amid the omicron surge, even with shortened quarantine times, Scott says officials should be paying "double attention" to measures to prevent infections among staff.
"It's pretty clear — coming from the governor, from the commissioner, and from parents — that the last place we want to close down are the schools," Scott said. "Because we know that that's not a good thing for kids, and certainly that should be our priority. That's what we're here to do. But if we don't keep the adults safe, we don't keep the adults healthy, then we have troubles."
Newsletter Signup
Stay up to date on all the latest news from Boston.com