COVID
Massachusetts drive-thru COVID-19 testing sites 'overwhelmed' by long lines
As the omicron variant sends infection rates to new heights, local officials are calling for more testing capacity.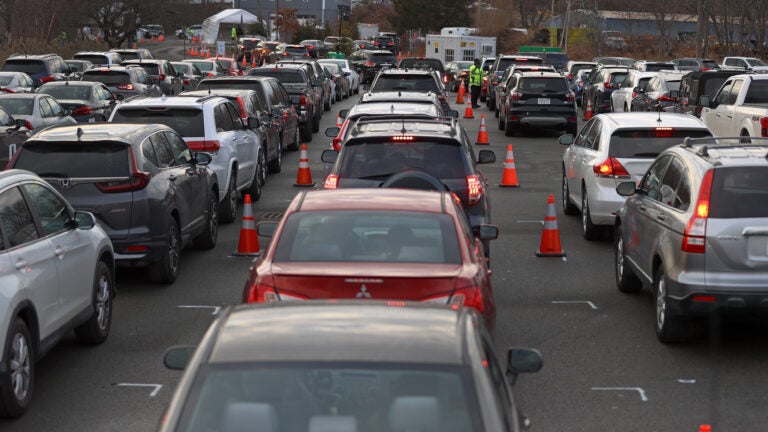 The first week of 2022 is kicking off in Massachusetts just as 2021 ended — with stunningly long lines outside the state's free COVID-19 testing sites.
Across the state, sprawling lines of cars descended on several drive-thru COVID-19 testing sites Monday, as the omicron variant sends infection rates to new record highs and puts pressure on a short-staffed health care system.
In Springfield, city officials announced at 9:30 a.m. that no more cars would be allowed at the free Eastfield Mall testing site "due to high demand," after traffic backed up to the street just 90 minutes after the facility opened.
Springfield Mayor Domenic Sarno told reporters Monday that he had asked Gov. Charlie Baker's office for National Guard support, as well as an additional state-sponsored testing site, to deal with the regional influx of test seekers.
"We are just being overwhelmed up there," Sarno said.
Springfield is hardly alone.
In Brockton, aerial footage Monday showed 10 rows of cars snaking around a community college parking lot less than an hour after the free testing site had opened.
"Simply inexcusable," state Sen. Eric Lessier tweeted in response to the footage, adding that waiting times at the Eastfield Mall site have" routinely" been over four hours and "growing fast."
Residents reported similar, hours-long waits in Holyoke, Braintree, and Cambridge, where the school district delayed its return from the holiday break so that teachers and students could be tested for COVID-19. Even before the holiday break, free drive-thru testing sites like at the Square One Mall in Saugus were reporting hours-long wait times, according to Patch.
The state's Department of Public Health acknowledged Monday on Twitter that testing wait times "may be longer than usual at sites across the Commonwealth due to recent high demand."
Boston Mayor Michelle Wu called the situation "completely unacceptable," after a resident tweeted about waiting over three hours at a local testing site. Wu said she planned to meet with her team Monday night to discuss "next steps for expanding testing & improving the experience at each site."
Massachusetts reported over 21,000 news cases on both Thursday and Friday; before last week, the state had never reported more than 10,000 new cases in a single day. While three-quarters of Massachusetts residents are fully vaccinated, the sheer volume of new cases has resulted in the most COVID-19 hospitalizations since last January and disruptive staffing shortages.
Baker noted last week that Massachusetts is already among the states with the most testing sites. However, as the state works to grow its testing capacity further, Baker acknowledged the demand will continue to outpace supply.
"We have more testing infrastructure than just about anybody else," he said. "But people are going to have to be patient."
Newsletter Signup
Stay up to date on all the latest news from Boston.com