COVID
Charlie Baker holds firm on in-person learning, as some schools delay return amid omicron spike
"They can use snow days ... but they do need to provide their kids with 180 days of in-person education this year."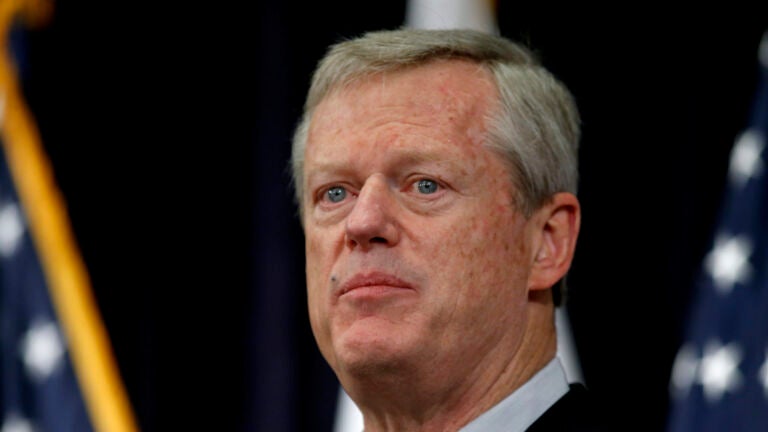 Gov. Charlie Baker expects the return of students and teachers to schools across Massachusetts following the holiday break to be "a challenging period of time," as the omicron variant of COVID-19 propels infection rates to unseen levels.
However, that doesn't mean Baker will allow schools to return to remote learning.
During a press conference Monday morning in Salem, the Republican governor held his position against remote learning, reiterating that his administration expects all schools to deliver on 180 days of in-person school days this year.
Even as some schools delayed their return Monday to facilitate COVID-19 testing or because of staffing shortages, Baker noted that the "vast majority" of districts in Massachusetts were reopening on schedule.
"The rules here are pretty simple," he said. "We count in-person school as school. If a school district is not open, at some point over the course of the year, they can use snow days until they run out of snow days, but they do need to provide their kids with 180 days of in-person education this year. And we'll do whatever we can to help them deliver on that."
During the first two school years affected by the pandemic, the Baker administration had allowed districts to count virtually held school days among their legally required 180 days of learning. But after the widespread distribution of vaccines, they removed that flexibility.
In addition to the vaccines, Baker pointed to his administration's COVID-19 testing programs for students, which he said had collectively saved 450,000 days of in-person learning across roughly 2,200 schools in Massachusetts this year.
State officials also announced last week that they would distribute rapid COVID-19 tests for every public school teacher and staff member, just as infection rates began to take off.
However, after the effort — already knocked as a last-minute logistical challenge amid the New Year's weekend — was delayed by supply chain problems, some school districts opted to delay their post-holiday return. As The Boston Globe reported, at least eight school districts — Lawrence, Brookline, Lexington, Burlington, Ipswich, Randolph, Wareham, and Sharon — canceled their first day back Monday, saying they either needed more time to get tests to staff or lacked staff due to COVID-19. Cambridge delayed their return for two days, so they could test students Monday and get results back Tuesday, before resuming class Wednesday. Other schools delayed their first day back Monday by an hour or two.
The delays came after the state's two largest teachers unions called for a statewide return to remote learning due to the increase in COVID-19 cases.
The Massachusetts Teachers Association said Friday that all public schools should have off Monday to provide more time to distribute the state-purchased rapid tests to teachers and asked Baker's administration to provide more flexibility to allow schools to shift to remote learning. And the local chapter of the American Federation of Teachers called for "a period of remote learning until the current wave of infections abates."
Baker showed no appetite for such a move Monday.
The governor noted that schools could use one of their five snow days or swap out a scheduled professional development day, if they canceled in-person classes for COVID-19-related reasons. And while he noted that dealing with staffing shortages associated with the unprecedented wave of infections "will be complicated," he suggested schools could use federal COVID-19 relief funds to address the issue.
"I do take some comfort in the fact that most cities and towns and most school districts have not spent the vast majority of the federal money they received to support their educational programming during the school year," he said. "And that can be, I think, a terrific tool to help people figure out how to bring people in to deal with some of the issues they have around staff as the year goes on."
Salem Mayor Kim Driscoll, a Democrat who joined Baker at the press conference Monday, said they "fully anticipate that we're going to have staffing vacancies or shortages due to COVID."
"Frankly, that was the case before the holidays as well," Driscoll said.
She added that the city would "do everything we can" to keep school safe and open, saying it would be "a tough couple of weeks, but one that we think we can manage and keep kids in school."
Newsletter Signup
Stay up to date on all the latest news from Boston.com