COVID
COVID-19 hospitalizations in Massachusetts have nearly surpassed last winter's peak
"Our Emergency Departments are at critical capacity and things will get worse."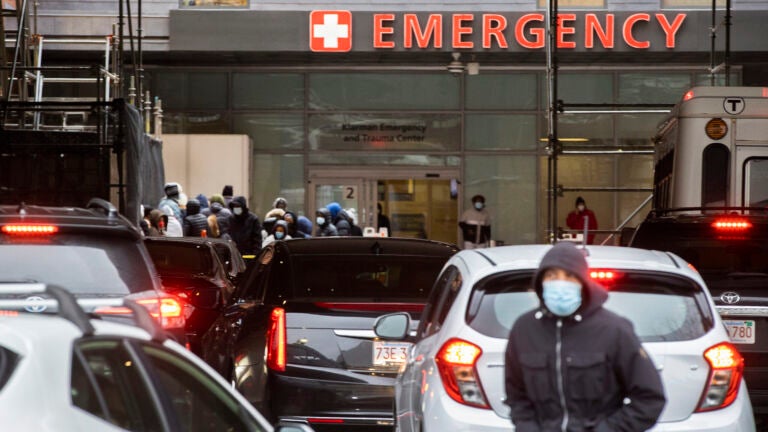 While the omicron variant appears to be more mild than previous COVID-19 strains, the unprecedented volume of infections it has resulted in is driving hospitalizations due to the virus in Massachusetts — disproportionately among unvaccinated residents — close to the peak levels seen in last winter's surge.
State officials reported Tuesday that the number of people hospitalized with COVID-19 in Massachusetts had climbed to 2,372 — close to the 2,428-patient peak reported on Jan.4, 2021, during last winter's wave, before the widespread distribution of vaccines.
The current wave is still far from approaching the first COVID-19 wave in Massachusetts, when hospitalizations reached 3,965 and state officials had to impose strict lockdowns and open field hospitals to alleviate the sudden surge of patients.
The average number of new daily deaths due to COVID-19 in Massachusetts also remains well lower than the rate during both of the previous surges. As of Jan. 2, the state is averaging 32 coronavirus deaths a day, compared to peaks of 175 and 75 during the surges in the spring of 2020 and last winter, respectively.
Still, with the omicron variant impacting the entire country at once and hospitals grappling with staffing shortages, health care providers say they've been pushed to the brink. And they say it will get only worse before it gets better.
"We are overwhelmed," the Massachusetts College of Emergency Physicians and Massachusetts Emergency Nurses Association said in a joint statement Monday.
"Our Emergency Departments are at critical capacity and things will get worse," the group said. "Waiting rooms are overflowing and hospital admission beds are limited throughout Massachusetts."
According to state data, 91 percent of the 8,691 hospital beds available in Massachusetts are occupied, including 85 percent of intensive care unit beds. The number of COVID-19 patients in the ICU — 441 as of Monday — is also close to its peak of 461 last winter, taking up over a third of all ICU beds.
Gov. Charlie Baker's administration and hospital leaders have said the spike in COVID-19 patients has compounded an already-high number of hospitalizations due to patients who delayed care for other conditions during the pandemic, as well as seasonal trends. Last month, Baker's administration ordered hospitals to cancel or postpone all scheduled non-urgent procedures due to the crunch.
While they urged residents to not ignore symptoms or avoid needed care, emergency providers warned the staffing shortage — already estimated to have resulted in the loss of hundreds of hospital beds — will also worsen due to the wave of omicron infections.
"In the coming days and weeks, we will see more nurses, doctors, and support staff become infected and stay home to isolate and get well," they said. "This situation will challenge our Emergency Departments and hospitals even more."
While three-quarters of the Massachusetts population is fully vaccinated, unvaccinated patients make up about 63 percent of COVID-19 hospitalizations. Since mid-November, Baker has also encouraged fully vaccinated residents to get booster shots once they're eligible, especially if they're older or have underlying medical conditions that could make them susceptible to COVID-19.
The MACEP and MENA urged residents to get vaccinated and wear a mask around others, even if vaccinated. They also stressed residents should not use emergency departments for routine COVID-19 testing or for mild symptoms.
"Doing so is overwhelming our departments and staff and diverting our focus from those who need us most," their statement said.
Newsletter Signup
Stay up to date on all the latest news from Boston.com