COVID
Massachusetts sent millions of KN95 masks to schools. Not all of them work as well as advertised.
"People could go in there with a false sense of security, and that's very troubling."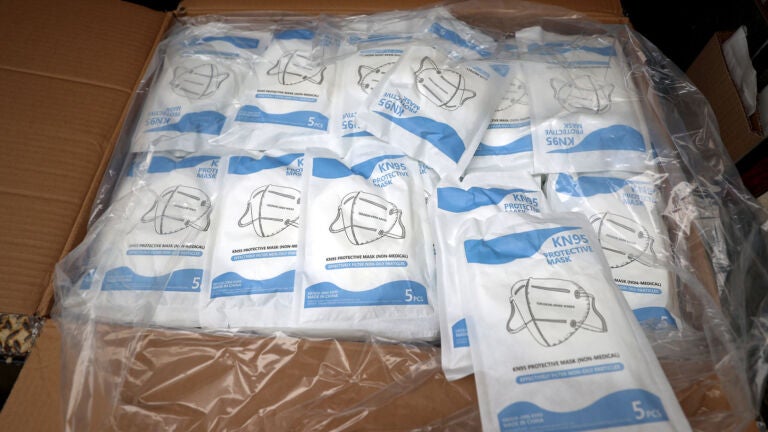 During the week before Christmas, Gov. Charlie Baker's administration distributed more than 6 million KN95 masks to Massachusetts school districts, as part of their efforts to weather the new omicron COVID-19 surge.
The delivery came as experts urged all residents to adopt such high-filtration masks to fend off the highly transmissible variant. And state officials said the new delivery would be enough to provide one KN95 mask per day for all public school staff, including bus drivers, to wear as schools reopened after the holiday break, just as infection rates across Massachusetts began to explode.
However, as the deliveries began to reach the hands of educators, teachers and outside experts began to question if the brand of Chinese-made masks the state had obtained actually offered the enhanced protection they touted.
In May 2020, the Food and Drug Administration revoked its emergency authorization allowing Fujian Pageone Garment Co. — the brand the state is now supplying to schools — to distribute its KN95s for use in health care settings.
And the following month, a Centers for Disease Control and Prevention test found that the particular "non-medical" version of Fujian Pageone's KN95s — which made up an undefined portion of the state's shipment — had a filter efficiency of between 25 percent and 46 percent, well below the 95 percent NIOSH minimum standard for respirators.
"The governor is putting public relations over public health," Merrie Najimy, the president of the Massachusetts Teachers Association, said in a scathing statement Wednesday.
In an email to school superintendents earlier this week, the Department of Elementary and Secondary Education had looked to reassure staff about the masks' efficacy, noting that a state-commissioned MIT study in early May 2020 found that the Fujian Pageone masks were 87.5 percent effective. Baker also pointed to the study, when asked about the concerns Monday.
"Those masks were tested by MIT, and they were deemed to be about 85 percent effective," the governor said during a press conference in Salem.
However, superintendents got a follow-up email from DESE on Tuesday night.
According to the department, it turned out that MIT never actually tested the "non-medical" KN95s, which made up at at least "some" of the shipment.
DESE officials wrote in the email Tuesday that they had been informed by the Massachusetts Emergency Management Agency that the KN95 masks marked "non-medical" — the same ones found to be 25 percent to 46 percent effective — had not been tested at MIT "as previously thought."
However, it's not clear what percentage of the 6 million masks distributed they make up.
Colleen Quinn, a spokeswoman for DESE, told Boston.com in an email Wednesday that they sent out "two different types of masks — some of the non-medical, and some that are not labeled, which are the ones tested by MIT."
"School districts received both types," Quinn said.
However, she said DESE did not have a breakdown of how many of each were distributed. And several superintendents told WBUR that their districts only received the non-medical version.
CDC tests suggest the difference between the two types is significant.
While Fujian Pageone's non-medical mask was found to be 25 percent to 46 percent effective, the CDC found in May of 2020 using a modified NIOSH standard procedure that the other — the one MIT did test — had a 99 percent filter efficiency rate. The only way to effectively tell them apart is by the packaging, one of which includes the "non-medical" disclaimer in parentheses.
In their email Tuesday to superintendents, DESE reiterated that "all the masks that were distributed last week are KN95s and remain effective."
Outside experts aren't sure about that claim.
Kelly Carothers, the director of government affairs at the nonprofit Project N95, says the lower protection offered by the non-medical masks is more "on par" with cloth masks, which experts have begun discouraging in favor of N95s.
"It's the same risk," Carothers told Boston.com in an interview. "People could go in there with a false sense of security, and that's very troubling."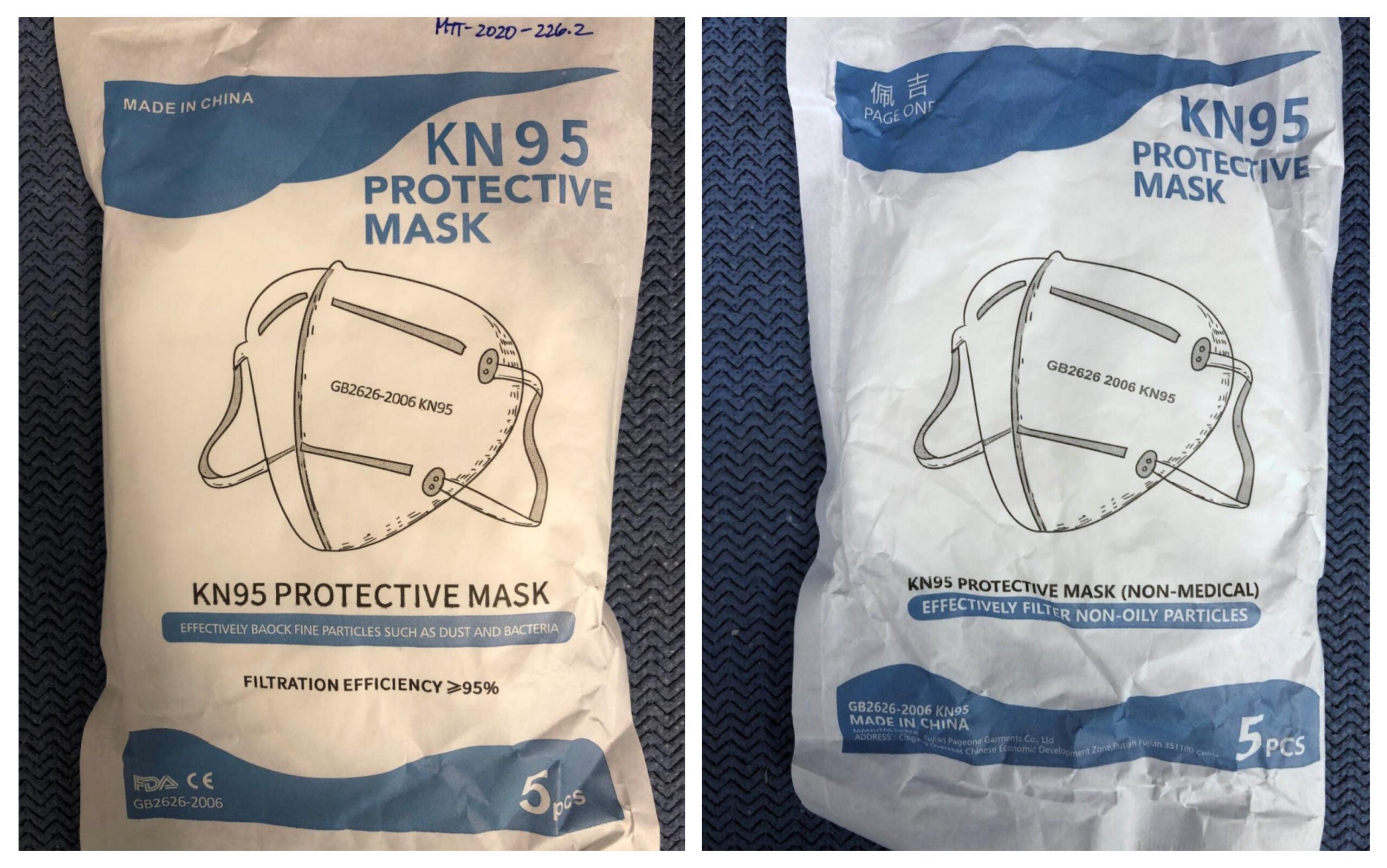 In general, KN95 respirators — the more widely available, Chinese-made counterpart to N95s — can be very effective, if vetted and worn properly.
However, the market has been inundated with counterfeits; according to the CDC, about 60 percent of KN95s in the United States are fake and do not meet NIOSH standards. Still, many companies continue to market flawed products in the United States on sites like Amazon, and experts say it can be difficult for customers to tell the difference.
Carothers says Chinese regulations of mask quality are "nowhere near as strict as the American standards," making it hard to trust many KN95-makers' claims.
"It's kind of like the supplement industry," she said. "There's no quality control for a product that's manufactured in China. And when people are using it as a life-saving device and they can go buy it off the internet from people, who were selling socks six months ago, that are now selling medical devices, it's a big deal."
The only KN95s that Project N95 recommends are made by the company Powecom, which Carothers says has a "very strict" and traceable quality control program.
DESE has reiterated this week that use of the KN95 masks that the administration distributed is "voluntary, and staff should be aware that their choice of masks is ultimately a personal decision."
However, after Baker and others repeatedly said they had been vetted by MIT, the MTA is calling on the Legislature to investigate the administration over the masks and DESE's broader pandemic response (some lawmakers are currently hoping to get Baker to testify at an oversight hearing next week)
"They either knowingly lied or they demonstrated gross incompetence — a product, at least in part, of their animus toward educators' unions and their unwillingness to engage expert stakeholders in their plans to provide masks and tests on an urgent basis," Najimy said Wednesday.
The saga is just the latest clash between the teachers' unions and Baker's administration, which has pushed to keep kids in school during the pandemic. Amid the omicron surge, the MTA has asked state officials for more flexibility for temporary remote learning, which DESE has so far declined to provide.
Newsletter Signup
Stay up to date on all the latest news from Boston.com