COVID
Massachusetts lawmakers grilled Charlie Baker over his response to the omicron COVID-19 wave. Here's what we learned.
"Sometimes I can make the sale and sometimes I can't."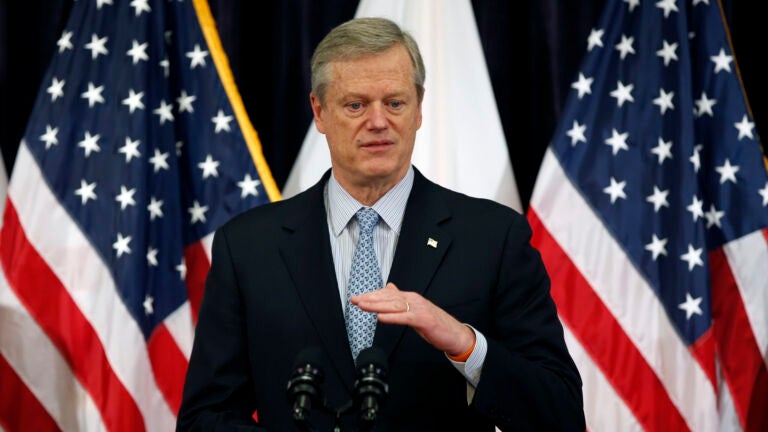 COVID-19 infections are at record heights. Short-staffed hospitals are straining to deal with the spike in patients. And some Massachusetts lawmakers are asking why Gov. Charlie Baker's administration isn't doing more.
Despite the state's high vaccination rate, the unprecedented volume of COVID-19 cases due to the omicron variant has exacerbated a bed capacity crunch at local hospitals and forced schools and businesses to scramble to stay open.
While experts expect the dramatic surge to peak this month, they also project a number of tough weeks ahead, especially for hospitals and schools.
"I wish we were doing more to slow transmission, frankly," state Rep. Bill Driscoll, a Milton Democrat and co-chair of the Legislature's joint COVID-19 oversight committee, said during a virtual hearing Tuesday afternoon.
"We seem to be coping and managing through the blizzard that is the omicron surge this winter, but I don't want to see us get here again," Driscoll added.
In fairness, the situation in Massachusetts is hardly unique. And the Baker administration argues they're already doing a lot — in some ways as much as, if not more, than any other state in response to the omicron wave.
The hearing Tuesday afternoon came just a few hours after Baker activated an additional 500 National Guard members to help hospitals and announced that the state had acquired 26 million rapid COVID-19 tests to distribute to schools and childcare centers over the next few months.
Of course, lawmakers wouldn't have asked Baker and Health and Human Services Secretary Marylou Sudders to testify at the hearing Tuesday if they felt that was sufficient.
The two top officials were grilled about everything from mask policies to vaccination efforts during the sometimes-tense, 90-minute hearing, which shed new light on how the Baker administration is approaching the current omicron wave, and beyond.
Here's what we learned:
1. With hospitals again under duress, why isn't the public being asked to flatten the curve?
In response to the omicron surge, the Baker administration is now asking all residents to voluntarily wear a mask in indoor public places, although the Republican governor says he has "no interest" in making it a statewide requirement.
However, with COVID-19 hospitalizations now pushing 3,000 and 92 percent of hospital beds in Massachusetts occupied, state Sen Cindy Friedman questioned why the same "flatten the curve" rationale that justified strict lockdowns at the beginning of the pandemic didn't at least justify an indoor mask mandate now.
"There is desperate need for relief so they can keep their staff healthy and care for those who need to be in the hospital," Friedman said, adding that hospital leaders she had spoken to have "consistently" called for an indoor mask mandate for places like restaurants and businesses.
Baker acknowledged that hospitals are "incredibly challenged." But he argued the current mask requirements for schools, health care settings, public transit, and congregate care facilities was enough.
"We have chosen to focus on mask mandates in places where we think the populations are either at risk or we believe that it's an important tool to provide some degree of comfort and satisfaction and safety for people," he said.
While dozens of cities and towns, including the most densely populated, like Boston, have imposed their own indoor mask mandates, Sudders also suggested there would be little public appetite for reimposing a statewide order.
"I'm not sure, other than frustrating people in the public, what a mask mandate would do," she said.
Sudders stressed that the "issue facing our hospitals is a hospitalization of people who are unvaccinated," who make up a disproportionate share of of COVID-19 patients, especially those in the intensive care unit.
However, she added that "as you've heard the governor say, he's not inclined, we're not inclined," to implement any statewide version of the vaccine requirements Boston and a handful of other communities are planning to implement for indoor venues like restaurants, gyms, theaters, and museums.
Unlike the COVID-19 wave during the spring of 2020, the capacity crunch now is primarily being caused by a staffing shortage resulting in the effective loss of 700 hospital beds, which Sudders argued presents different options.
During the hearing, Sudders highlighted several less public-facing actions officials can take if the hospitals continue to be squeezed, adding that "hopefully" it won't get to the point of rationing care.
The Baker administration has already ordered hospitals to pause all nonessential elective procedures likely to result in inpatient admission.
Sudders said Tuesday that they could also order them to postpone "100 percent" of elective procedures, both inpatient and outpatient. However, at the request of hospitals, they have held off on that for now.
The administration has also not utilized the new flexibility afforded by the Centers for Disease Control and Prevention to let healthcare workers who have asymptomatic COVID-19 return to work in direct care after just seven days of isolation.
"Those are two levers … that we would pull if you would, or initiate before we got to crisis standards of care," Sudders said.
Sudders also floated the idea of limited liability protections for health care staff during the omicron surge.
"These are .. folks who are working extraordinarily hard and have continued to work extraordinarily hard and are making the best decisions they can in real time," Sudders said. "And we would welcome that."
2. Baker says getting kids vaccinated has been harder than he thought
Massachusetts is a national leader when it comes to the pediatric vaccine rollout. With about 44 percent of children aged 5 to 11 vaccinated with at least one dose, the state is second only to Vermont when it comes to vaccinating its youngest eligible cohort.
But there are striking gaps.
As The Boston Globe's editorial board recently examined, the pediatric vaccination rate is lagging far behind in lower-income and conservative-leaning communities.
Baker's administration has launched significant outreach and sponsored vaccine clinics at places like schools and public events. But even the governor admitted Tuesday that it's been "more difficult" than he thought.
"It takes two in this equation," Baker said. "We need to put vaccines in front of people. I would argue we've done a very good job of that. There's always more to do. But then you got to get people willing to go."
Baker said he has had "some really intense conversations" trying to convince people he knows to get their children vaccinated.
"Honestly, sometimes I can make the sale and sometimes I can't," he said.
Baker added that he's "very open" to suggestions if the Legislature had ideas about things they weren't doing to boost vaccination rates in general (he also noted that the state's goal is to get every vaccinated person boosted; so far, they've reached about 40 percent).
"I'm all in on this, but the kid thing, in particular, is a more difficult sell for many folks than I thought it would be," Baker said.
"I think it's because there's so much noise out there about vaccines generally, and it has not helped us, in my opinion — not just here in Massachusetts, but around the country — make the case," Baker said.
3. State officials are beginning to look beyond the current wave
As much as the hearing Tuesday focused on the current wave, the experiences of countries like South Africa where the omicron variant hit earlier also portend a dramatic drop (COVID-19 samples taken from Boston-area wastewater this week are already showing a drop, though they remain above previous peaks).
And then what?
Baker said Tuesday that his administration is planning to put together a group to discuss the state's approach to COVID-19 in the medium-to-long term.
"There's a lot of different and differing points of view about how this whole thing is going to evolve going forward," the governor said, adding that he would like to have members of the House and Senate on the committee.
"The basic goal there would be to really talk about how to think about this thing, not just today or next week or next month, but how should we be really thinking about this down the road," Baker said.
Some experts optimistically project that the omicron surge's wave of mostly mild infections will combine with vaccinations to accelerate the pandemic's shift to an "endemic," where it is treated more similarly to the common flu.
"Omicron may grease the wheels of that process a bit, especially in countries with high levels of vaccination and immunity," according to the Johns Hopkins School of Public Health.
However, experts say low vaccination rates in some areas can contribute to the emergence of additional variants, which could have more lethal or transmissible mutations.
Lawmakers recently allocated $200 million in federal pandemic relief funds to the Baker administration to use on the ongoing pandemic response. Baker said about $175 million has been spent on supporting various health care providers, since most vaccination and testing spending is federally reimbursable.
That still leaves millions unspent.
"We always wanted to keep something in our pocket just in case something came up that was unanticipated that we could apply it to," Baker said.
Newsletter Signup
Stay up to date on all the latest news from Boston.com