COVID
Mass. has surpassed last winter's peak hospitalizations for COVID-19
In Boston alone, hospitalizations have increased by about 50 percent over the past week.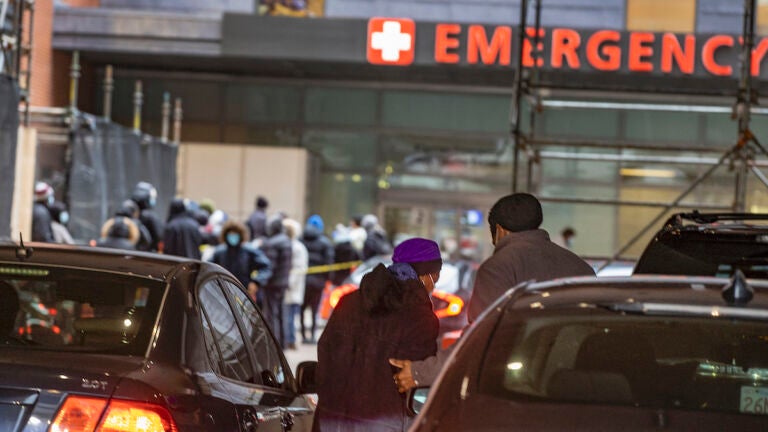 Massachusetts recorded nearly 61,000 new COVID-19 cases between Friday and Sunday, as the number of hospitalized individuals with the contagious virus surpassed last winter's peak.
Data released on Monday showed the state logged 60,986 new cases over the three-day period along with 53 deaths on Friday. The seven-day average positivity rate hit 22.39 percent.
Records show 2,923 people were hospitalized. That number shattered the record of hospitalizations set last winter as cases surged. Hospitalizations last reached approximately 3,000 patients in May 2020.
Currently, there are 432 patients in the ICU and 273 intubated patients, data shows. Of the newly hospitalized patients, 1,293 are fully vaccinated, although not necessarily boosted.
The numbers reflect the quick spread in recent weeks of the omicron variant that's set an even faster pace for transmission of the already aggressive virus.
In Boston, the test positivity rate hung at 32 percent on Monday.
"Our hospitalizations have gone up about 50 percent in the last week," said Dr. Bisola Ojikutu, director of the Boston Public Health Commission. "Our emergency department visits have also gone up about 30 percent in the last week. We're seeing more than 2,200 cases per day."
And while Massachusetts hits new records on paper, there is a chance the real number of cases is significantly higher.
The Massachusetts Water Resources Authority has charted record high amounts of coronavirus samples captured in the region's wastewater since early December.
Casey McGinley, chief of staff at Biobot Analytics, the Cambridge-based company that collects wastewater data, said last week the latest numbers show that true COVID case data in Boston and its suburbs is "much higher than it's ever been."
"We can't say definitively what percentage of all infected people are getting counted as cases, but wastewater data does support that this percentage has gotten much smaller in recent days," McGinley said.
The state's Department of Public Health recently announced hospitals will change how hospitalizations are recorded. Whether people were admitted "for" or "with" COVID-19 will soon be delineated in the regularly released state data.
Monday's data, however, did not reflect the change, though the switch is expected to take hold this week.
Newsletter Signup
Stay up to date on all the latest news from Boston.com