COVID
Some top Mass. lawmakers say the entire state should require proof of vaccination for certain indoor venues
"I don't see why not."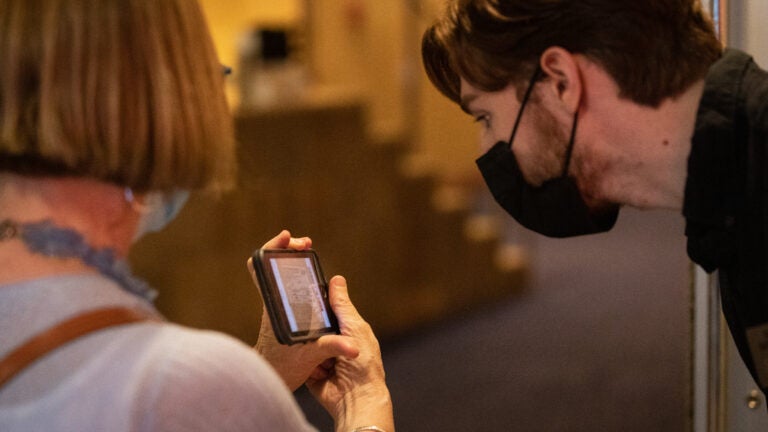 The first phase of Boston's COVID-19 vaccination requirement for customers and employees at restaurants, gyms, and other indoor entertainment and event venues takes effect this Saturday.
But some say the policy shouldn't be limited to Boston's city limits.
While a handful of nearby communities — such as Brookline and Salem — are also phasing in similar policies, a small but growing number of the most influential Democratic elected officials in Massachusetts say all of the state's 351 cities and towns should have a vaccine requirement for certain indoor venues.
The list includes a sitting U.S. senator, a sitting U.S. congresswoman, the state's Senate president, and a gubernatorial candidate.
"If we're going to be successful in protecting our communities for the long term, we need a statewide vaccine requirement for indoor social and recreational venues," state Sen. Sonia Chang-Diaz, one of two Democrats currently running for governor, told Boston.com in a statement Thursday.
Chang-Diaz, who has also called for a statewide indoor mask mandate, added that such a vaccine requirement is "not the only tool we need to fight the virus — but it is an important and necessary piece of the puzzle to protect public health."
That sentiment was also echoed by Sen. Ed Markey.
"I support a statewide vaccine mandate for entry into restaurants, bars, and public spaces," Markey said in a statement Thursday, adding that, "We need to focus on getting as many people vaccinated and boosted as quickly as possible."
His comments come after Rep. Ayanna Pressley was asked Wednesday during an appearance on GBH's "Boston Public Radio" if there should be a statewide version of Boston's vaccine requirement for indoor social venues.
"I don't see why not," Pressley replied.
Massachusetts Senate President Karen Spilka also urged Gov. Charlie Baker's administration earlier this week to mandate proof of vaccination for "larger entertainment or social venues."
"The COVID-19 crisis isn't over, and we still need our Governor to call upon all of the resources he has at hand to help us through," Spilka tweeted Tuesday.
Similar to Chang-Diaz, Pressley and Spilka say such a requirement isn't the only tool; they're also calling for a renewed statewide mask mandate for indoor public places, as well as more flexibility from the state allowing schools to temporarily shift to remote learning in the midst of the omicron wave.
Markey also stressed the importance of outreach and education about the vaccine, particularly in Black, Latino, immigrant, Indigenous, and other vulnerable communities that have been hit hardest by the pandemic.
But the support for a statewide vaccination requirement for restaurants, gyms, and other indoor venues — from Pittsfield to Provincetown — is new.
Nowhere else in the country has implemented such a policy at the statewide level. However, most of the nation's largest cities — including New York City, Los Angeles, Chicago, Philadelphia, and Washington, D.C. — have taken the step.
A poll last month from the The MassINC Polling Group found that 56 percent of Massachusetts voters said they support "stores and restaurants requiring proof
of vaccination from customers," compared to 38 percent opposed.
Still, in Boston, Mayor Michelle Wu's new "B Together" policy has been met by small but vehement protests and at least one unsuccessful lawsuit. The reaction from affected businesses has also been mixed, with some expressing appreciation for the rule, while other expressed concerns that enforcing the requirement would be an additional burden.
While he has required 44,000 state workers and contractors to get the COVID-19 vaccine, Baker has opposed extending that requirement to employees and patrons of private businesses like restaurants, gyms, and other indoor venues.
Marylou Sudders, the state's health and human services secretary, reiterated during a legislative hearing earlier this week that the Baker administration is "not inclined" to impose such a requirement.
As the same time, the Baker administration hasn't objected to local cities and towns requiring proof of vaccination for indoor recreational venues.
In fact, the Republican governor suggested during the hearing this week that the state's new verifiable, digital vaccine card would make it easier for communities and businesses.
"I'd be curious to see how [municipalities and business owners] choose to use the digital vaccine card that we released yesterday, which from my point of view, without that kind of a tool, it's awful hard for people to operate in ways they may choose to," Baker said. "That card should make it possible for people to do a variety of other things as well."
Newsletter Signup
Stay up to date on all the latest news from Boston.com