COVID
Boston's vaccination requirement for certain indoor venues takes effect Saturday. Here's where.
A primer on the details of the city's new policy.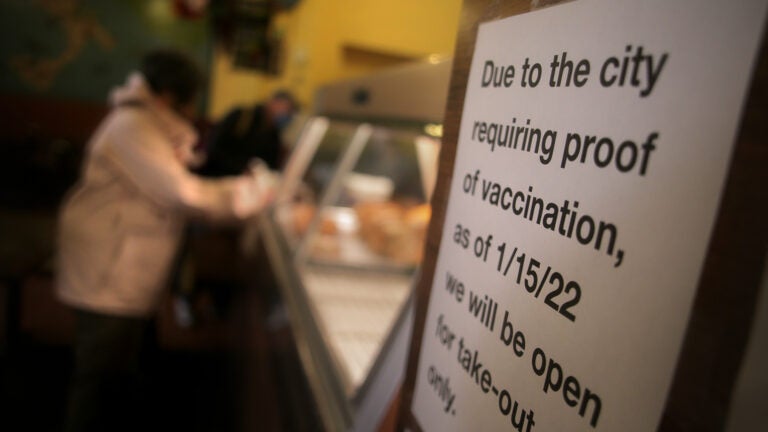 The first phase of Boston's new policy requiring patrons and employees at certain indoor venues to show proof of COVID-19 vaccination kicks in Saturday.
To enter (or work at) those locations, individuals over the age of 12 will have to show they have gotten at least one dose of the COVID-19 vaccine. And by Feb. 15, they'll have to show they're fully vaccinated.
Individuals can show they've been vaccinated using their vaccine card, a photo of their card, or any vaccine verification app.
Children between the ages of the 5 and 11 will become subject to the same rules beginning in March.
But what exactly does "certain indoor venues" mean?
The locations broadly fall into three groups: indoor dining, fitness centers, and entertainment and event venues.
"It's not about just walking around on the street or in your house," Mayor Michelle Wu said on the Notorious VOG radio show Friday morning. "This is about protecting people when you go into indoor spaces."
And while there's exemptions for "individuals entering for a quick and limited purpose" — such as using the bathroom, placing or picking up an order, or making a delivery or a repair — all others must show vaccination proof for entry.
Here's a breakdown:
Indoor dining:
The policy covers "indoor portions of food service establishments offering food and drink." That means:
restaurants
bars
all indoor dining areas of food service establishments
Boston's policy does not, however, cover outdoor seating, so places like patios and beer gardens are not required to ask for vaccination proof. (It's worth noting that a similar vaccination requirement taking effect Saturday in Brookline does cover outdoor seating.)
The requirement also does not apply to establishments providing charitable food services, such as soup kitchens or food pantries, nor does it apply to dining spaces at any K-12 school or college.
Customers also will not have to show proof of vaccination to enter fast-food restaurants that offer both indoor dining and takeout — unless they plan on dining in.
"Customers entering a covered establishment for a quick and limited purpose, such as picking up take-out food, are not required to show their vaccination status," says the city's website. "Quick-service restaurants may ask for proof of vaccination at the point of service, after a customer indicates that they are planning to dine in, rather than at the front door."
Indoor gyms and fitness centers
Any indoor setting offering indoor fitness activities or programs is also covered by the requirement, from gyms to pools:
commercial gyms and fitness centers
yoga, pilates, barre, and dance studios
boxing and kickboxing gyms
fitness boot camps
indoor pools
other facilities used for conducting group fitness classes
The policy does exclude outdoor fitness programs, as well as gyms at child care centers, schools, senior centers, community centers, and colleges and universities that already require students and staff to be vaccinated.
Entertainment and event venues
The requirement also broadly applies to spaces used for any recreational activities or events. That includes:
movie theaters
music or concert venues
commercial event and party venues
museums and galleries
professional sports arenas and indoor stadiums
convention centers and exhibition halls
performing arts theaters
bowling alleys
other recreational centers
The policy includes private events held in public event venues, like hotels or exhibition halls. While such venues may delegate the task of verifying attendees' vaccination status to the event planners or hosts, compliance is ultimately the venue's responsibility.
Hotels themselves are a bit of gray area.
While guests aren't required to show proof of vaccination to book a room or enter a hotel, the city's policy does apply to hotel restaurants and bars, hotel gyms, and function rooms.
"Facilities may display signage at the entrance of these covered portions of the multi-purpose facility – for example, at the entrance to a hotel gym, rather than the entrance to the hotel itself," says the city website. "Vaccination proof may be checked at the entrance to the facility, or at the entrance to the covered portion, according to the discretion of the facility."
Ethan Steinberg also contributed to this story.
Newsletter Signup
Stay up to date on all the latest news from Boston.com