COVID
Mass. will offer take-home COVID-19 tests to schools. Here's what we know.
"The current state of the pandemic requires that we adapt our efforts to meet the times."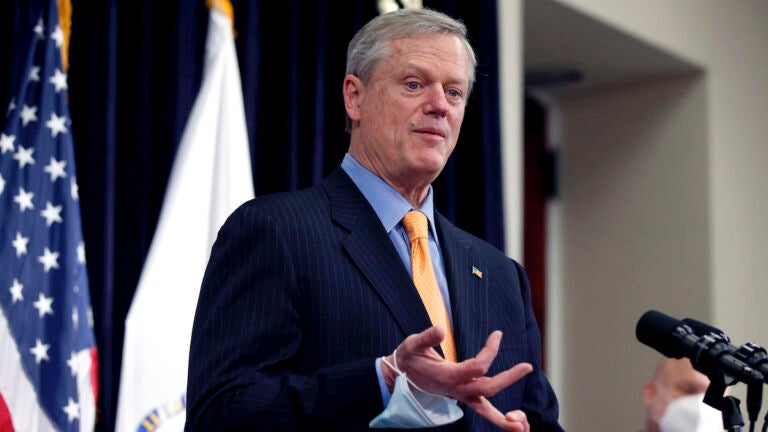 Massachusetts will soon start to offer rapid, at-home COVID-19 tests to schools for students, teachers, and staff as part of the state's evolving approach to the ongoing pandemic, the Baker administration announced Tuesday.
Beginning this week, schools can decide whether to opt into the program, which Gov. Charlie Baker described as "an extra layer of coverage" available to districts on top of the state's pooled testing initiative.
"The current state of the pandemic requires that we adapt our efforts to meet the times," Baker told reporters.
Through the new option, students and teachers take home the rapid antigen tests and test themselves once a week, the governor said.
According to the state Department of Elementary and Secondary Education, the tests will be shipped to participating school districts to distribute. Each kit contains two tests.
Students and staff will be given one kit every two weeks, and families will be required to sign permission slips if they want their students to bring home tests, officials said.
DESE Commissioner Jeffrey Riley said individuals who test positive will be required to report the results to schools.
Test kits for staff will be available starting on the week of Jan. 24. Schools will receive tests for students beginning on the week of Jan. 31.
Participating schools will be required to continue pooled testing in addition to the take-home tests.
However, they will not need to continue the state's much-touted "Test and Stay" program. Under that model, close contacts of infected persons receive daily tests for several days following exposure and are allowed to remain in classrooms so long as they test negative.
Officials, including Baker, have consistently credited the approach as saving in-person learning hours while keeping transmission of the virus within schools low — a point reiterated on Tuesday.
State leaders provided data collected through Jan. 9 that shows nearly 99 percent of the 503,312 tests conducted were negative.
"We've been able to save nearly half a million school days that otherwise would have been lost to quarantine," Riley said.
Data from "Test and Stay" "confirms without a doubt that in-school transmission is extremely rare — far more rare than transmission that is happening outside of school," Baker said.
"I'm a big believer in the 'Test and Stay' program because it kept kids in school," Baker said.
Still, the governor acknowledged that model "requires significant resources" to operate, including both tests and time for school staff to identify possible close contacts and then contact trace.
According to Riley, many school nurses and administrators urged the state to make changes, and the Department of Public Health's medical advisors told DESE the time has come to pivot its approach.
Although the "Test and Stay" model will remain an option for districts, Riley said officials are recommending schools make the shift.
"We need to pivot from strategies that worked in the fall to policies that are more aligned with how things have changed," he said.
The at-home testing option is, "frankly, a game changer," Riley said.
"Providing this option for at-home rapid testing will allow school nurses to spend more time identifying symptomatic individuals and focus their efforts on other aspects of COVID-19 management in our schools," Riley said. "Moreover, by providing at-home testing for our students, teachers, and staff who participate in the statewide school testing program, we'll be able to offer more testing every week than under the current 'Test and Stay' program."
Tests for the new initiative will come from the 26 million tests the Baker administration recently purchased for schools and childcare centers, which the governor announced last week.
The at-home testing program will run through at least the school year's April vacation, at which point officials will reassess, Riley said.
Newsletter Signup
Stay up to date on all the latest news from Boston.com