COVID
New study bolsters case for COVID vaccination during pregnancy 
"My hope is that some of this information makes women feel more comfortable getting vaccinated."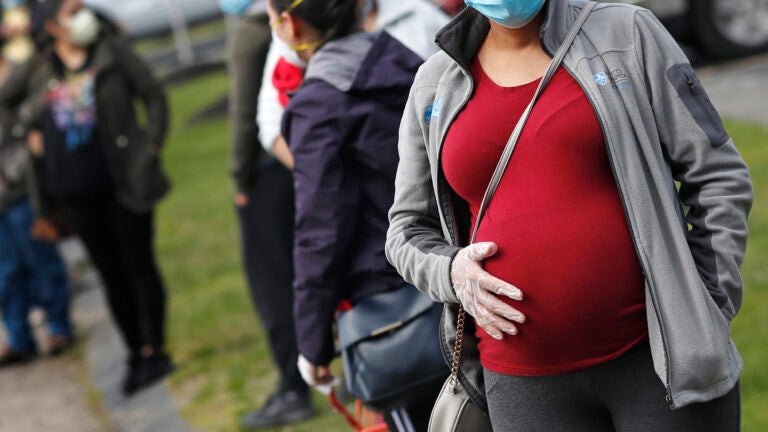 A new report on COVID-19 vaccination during pregnancy may allay the fears of some pregnant women concerned about getting the vaccine.
A study published by the Centers for Disease Control and Prevention earlier this month found that women who received a COVID-19 vaccine during pregnancy were not more likely to give birth prematurely or deliver babies that were small for their gestational age.
"My hope is that some of this information makes women feel more comfortable getting vaccinated," Heather Lipkind, associate professor of obstetrics, gynecology, and reproductive sciences at Yale University and lead author of the study, told Boston.com.
The study examined just over 46,000 women who became pregnant between May and October 2020 and whose pregnancies resulted in live births. Of the women in the study, roughly 10,000 received one or more doses of a COVID-19 vaccine while pregnant, and the vast majority of the vaccinated received their first dose during the second or third trimester of their pregnancy, according to the study.
Of the women who were vaccinated in the study, more than 95% had received at least one dose of an mRNA vaccine — either from Pfizer-BioNTech or Moderna — while the remainder received a single dose of the vaccine made by ​​Johnson & Johnson.
Compared with unvaccinated women, women who were vaccinated were not at an increased risk for preterm birth, defined as birth earlier than 37 weeks, or small-for-gestational-age birth, the study found.
Previous studies have found that women who contract COVID-19 while pregnant are at a higher risk for severe disease and hospitalization. A study published by the Journal of the American Medical Association in August found that women who gave birth while sick with COVID-19 were more likely to be admitted to intensive-care units and had higher rates of mortality and preterm birth than women who gave birth while not infected with COVID-19.
A Scottish study published Thursday in the journal Nature found that unvaccinated pregnant women who were diagnosed with COVID-19 were more likely to be hospitalized and to see their babies die within a month of being born, compared with women who were pregnant and received the vaccine.
Lipkind, the lead author of the CDC study who also practices as a maternal-fetal medicine provider, said she has seen firsthand the effects the virus can have on pregnant women.
"Getting COVID and pregnancy can be — we know — a very, very scary thing," she said. "It's heartbreaking — some of these women that are so sick were previously healthy and fine."
"This has got to become a priority for 2022," Dr. Jeremy Faust, doctor of emergency medicine at Brigham and Women's Hospital, wrote on Twitter earlier this month. "Misinformation is killing Moms and their fetuses."
Despite evidence of the vaccine's safety, the vaccination rate is lower among pregnant women compared with the general population. Just over 40% of pregnant women had been fully vaccinated as of Jan. 8, according to the CDC, compared with around 63% of the total population.
Lipkind said some of her unvaccinated patients with COVID-19 have ended up in intensive-care units, and others have died before getting the chance to meet their babies.
From her personal experience, Lipkind said it's often the fear of the unknown that makes some pregnant women hesitant to get vaccinated. She said she hopes her new study, along with others published recently, make women more comfortable.
"I personally think, if I were pregnant, I would get vaccinated," she said.
Lipkind said she is conducting a follow-up study to the one published earlier this month, which will include more data on first-trimester vaccination.
Newsletter Signup
Stay up to date on all the latest news from Boston.com