COVID
What you need to know about the new, high-capacity walk-in COVID-19 testing site open in Roxbury
There will also be new clinics in Dorchester and Mattapan coming soon, Mayor Wu said.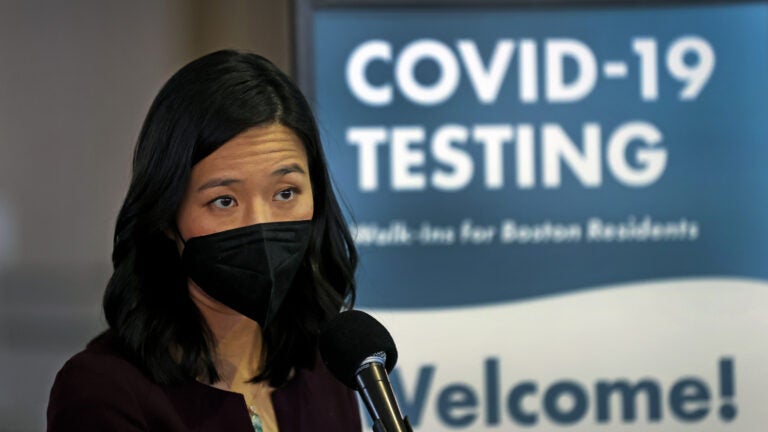 A new high-capacity COVID-19 testing site is up and running in Roxbury.
Mayor Michelle Wu gave an update on the new, free walk-in site Tuesday morning. It opened in the Bruce C. Bolling building on Washington Street, which is near Nubian Square.
"I am so excited at the potential for this to be one more way to cut down the lines we've been seeing across the city," Wu said during a press conference at the new site.
PCR tests, which will be self-administered, will be available on site with results typically released within 24 hours of the test, Wu said. It's going to be run by CIC Health out of Cambridge, and was created by Wu's office and the Boston Public Health Commission.
There will also be new clinics in Dorchester and Mattapan coming soon, Wu said. This is in addition to the site at Anna Cole Community Center in Jamaica Plain and the West End House in Allston.
The new Roxbury site allows for 20 people to be tested at the same time, with the capacity of 50 people to be able to wait inside for testing. If the site goes over capacity, cards will be given to those waiting to come back at a time when the line has gone down, according to Wu.
The site will be able to test up to 1,000 people per day, according to Dr. Bisola Ojikutu, director of the Boston Public Health Commission. She said it will be open Tuesdays through Saturdays noon to 8 p.m.
"This is really a vital resource for the Roxbury community and nearby communities," she said during the press conference. "We know that COVID-19 has disproportionately impacted people of color and exacerbated existing barriers to care, so we're really proud to open this site at the heart of Boston's Black and African American community."
On the new testing sites, Ojikutu said the Lilla G. Frederick Pilot Middle School on Columbia Road in Dorchester is set to open at the end of the week for testing. It is planned to be open Fridays 5 p.m. to. 9 p.m., Saturdays noon to 8 p.m., and Sundays 10 a.m. to 6 p.m.
In Mattapan, Jubilee Christian Church on Blue Hill Avenue will host a testing site, Ojikutu said. That is set to open next week and will be open Tuesdays through Thursdays noon to 7 p.m.
"So we're really trying to open up this resource for people and make it easy for people to access testing," Ojikutu said.
Watch the press conference:
Newsletter Signup
Stay up to date on all the latest news from Boston.com