Schools
Massachusetts Education Justice Alliance calls for in-school vaccination program, among other measures 
"Classrooms are already overcrowded as it is, the staff are underpaid, there's not enough adequate backing for the schools."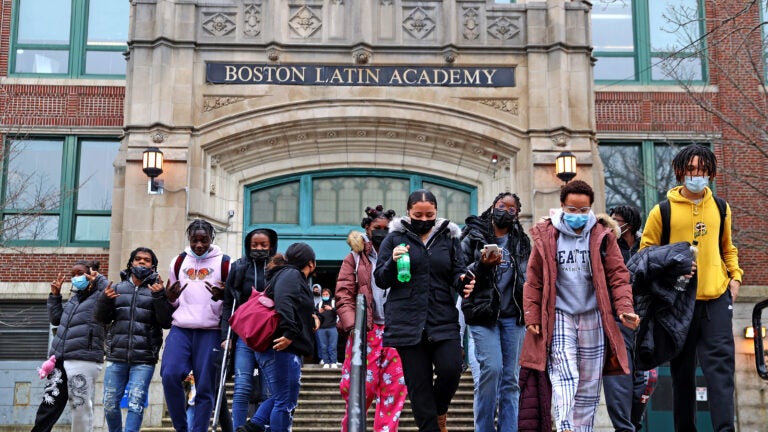 Some parents and educators are calling on the state to increase its efforts to keep students safe from COVID-19 — including by providing vaccinations in schools.
The Massachusetts Education Justice Alliance called Wednesday for a state-run, in-school vaccination program; state-sponsored distribution of high-quality masks; and a state-run, transparent testing program for schools, in order to protect students and their families.
The Alliance (MEJA) — a Boston-based coalition of students, parents, educators, school staff, and "concerned community members" — held a virtual press conference Jan. 19 to share the organization's call and to highlight the voices of parents.
Despite some evidence that COVID-19 does not spread much in schools, parents shared stories of their child bringing it home and everyone in the household getting infected.
Wanda Alvarado Eaton, a grandparent from Worcester, said her grandson who is in 11th grade recently came home with COVID, and it spread to the entire household. She called for more available testing for students who are exposed to COVID-19.
"One of the things that need to be addressed in this conversation is the fact that while we encourage social distancing in supermarkets and our venues and our restaurants, we're not ensuring the same social distancing within our schools," Alvarado Eaton said. "Classrooms are already overcrowded as it is, the staff are underpaid, there's not enough adequate backing for the schools."
Cara Berg Powers, a parent from Worcester and guest lecturer at Clark University, who led the press conference, said in schools that are already overburdened, having them run the testing program is creating further problems.
In Worcester, where she lives, there are 50 schools and not enough staff to run a testing program, she said, which is why the state needs to step up.
"Most of us that are either parents or educators in public schools can rattle off a handful of friends whose entire families have gotten sick after their child brought COVID home from school," Berg Powers said. "It's really, really important that the solutions that we're asking for are comprehensive because otherwise what we see is that the districts with the least resources, whose families are already struggling enough to to keep all the pieces in the air, are the ones that have to scramble to to try to make all of the lack of access and lack of clarity work."
In order to protect children and families from COVID, MEJA proposed a three-pronged approach. First, a comprehensive state-run, in-school vaccination program for any school with a vaccination rate under the state average of 75%. This includes Framingham, Boston, Revere, Worcester and Springfield, the communities MEJA highlighted in the press conference.
"As a parent, one of my main concerns is to make sure that my daughter is safe at school," said Ina Tall, a parent from Revere. "At the beginning of the school year, the positivity rate in Revere was low. In early December, with the arrival of the new variant Omicron, we reached 5% and yesterday we were at 24%, and according to the CDC we haven't peaked yet. So again I urge the state to please fund a comprehensive in-school vaccination program to keep my child, my family, and my community safe."
Beyond a vaccination program, MEJA called for state-sponsored distribution of high-quality masks for every school district that requests them. Berg Powers clarified that those masks shouldn't be available for purchase by schools, rather the state should provide them.
The last part of MEJA's plan calls for a state coordinated, state-financed, and transparent testing program.
On Tuesday, Baker announced the state will allow schools to stop "test-and-stay" and contact tracing efforts if they join a state program offering weekly at-home COVID-19 tests to school staff and students. The move was aimed at relieving overburdened school nurses and other staff.
Starting this week, schools can opt-in to the at-home weekly testing program, with tests for staff arriving the week of Jan. 24 and tests for families ready the week of Jan. 31. But MEJA feels the state can go further.
"Providing one test strip per week, per student doesn't meet the criteria we would expect in a comprehensive in-school testing regime. It doesn't even comply with the test instructions provided in the box for a person who's been exposed," said Steve Crawford, a spokesperson for MEJA, in an email to Boston.com Jan. 20.
"We're not test experts, but the program the governor announced yesterday for early childhood education centers, for example, seems more comprehensive," Crawford wrote. "It gives schools options and allows schools to monitor the testing results."
Cases in schools have been climbing in recent weeks — with 41,063 students and 7,351 staff members testing positive from Jan. 6-12, according to the weekly report from the Department of Education.
"This state is demanding that our children be in school and is requiring that districts remain open in person regardless of the infection levels," Berg Powers said. "If they are making those demands, if they have the power to force that hand, then they have the responsibility to provide these demands to make sure that it is as safe as possible."
Newsletter Signup
Stay up to date on all the latest news from Boston.com