COVID
Almost half of Mass. COVID hospitalizations are now classified as 'incidental.' Here's what that means.
"We do have a very large number of people affected, but we have a lower proportion of people with severe disease and that's really important."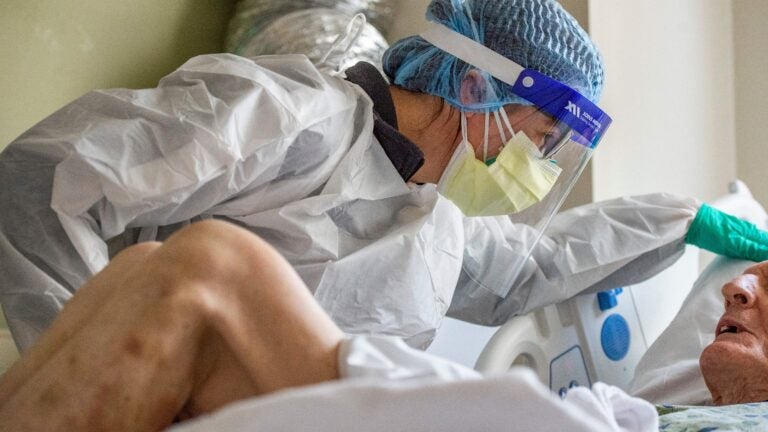 A new way of breaking down hospitalization data in Massachusetts is giving physicians, and the public, a chance to understand better how COVID-19 is affecting patients.
But even though the new system now classifies almost half of hospitalizations with COVID as "incidental" as opposed to "primary," that doesn't mean the situation in the state's hospital is any less serious than it's been made out to be, say doctors.
On Thursday, the state launched a new method of reporting "primary" versus "incidental" cases. Primary cases are when someone is hospitalized because of COVID-19, whereas incidental cases are when patients test positive for COVID-19 after being hospitalized for other reasons.
For example, someone with an incidental case could have come in for a broken bone or a heart attack, and only upon testing at the hospital learn they have COVID.
Breaking down the data in this way, and knowing exactly how many patients are hospitalized primarily for COVID, makes it easier to compare current data to information from past waves, said Cassandra Pierre, an associate hospital epidemiologist and medical director of public health programs at Boston Medical Center.
"In previous waves, we've used this idea of hospitalization as a marker of severe COVID. And in a time where we have increasing levels of people who are vaccinated, it's really important to understand what is the severity, what are we experiencing with each new wave?" Pierre said.
In past waves, for example the original spread of the virus in early 2020, basically all hospitalized people with COVID came to the hospital because of COVID or complications from the virus — so number of people hospitalized with COVID was a good indicator of the disease's current severity. Now, that is not so much the case.
State released COVID-19 data for Jan. 18 says of 3,192 hospitalized patients with COVID statewide, 52.2% are considered primary cases, and the remaining 47.8% tested positive while being hospitalized for other reasons. Basically this means, even with more people hospitalized with COVID than there were at this time last year, a smaller proportion of patients are severely ill because of the virus.
"We do have a very large number of people affected, but we have a lower proportion of people with severe disease and that's really important," Pierre said, attributing much of that to the vaccination effort.
"The point of the vaccinations is to decrease on an individual and societal level the amount of people experiencing severe disease from COVID-19, which includes hospitalization, ICU stays, and of course deaths," she continued.
The state is using the need to administer dexamethasone, a steroid used in many moderate to severe COVID-19 cases, as the indicator of whether a case should be considered primary or incidental. If the steroid is deployed, the case is classified as primary.
"It's probably our best marker that we could use without having to do a deep dive on the reasons why people come in and when they were diagnosed and when they were tested. Is it perfect? Possibly not," Pierre said.
She noted that there are situations in which a patient might be incorrectly classified with this system — for example there may be some patients admitted for COVID-19 who do not reach the threshold necessary to be prescribed dexamethasone.
Situation in hospitals is still dire
Even though recent numbers show about half of hospitalized patients with COVID weren't admitted for it, which is a good indication for public health measures, the situation in hospitals is still dire.
"The reality is that from the standpoint of the hospital and healthcare workers, it's still pretty stressful. Even if half the people aren't sick because of COVID, but they have it, it means they have to be really careful with how they deal with it and so there's added cost and added stress," said David Hamer, an attending physician in infectious diseases at Boston Medical Center.
Being diagnosed with COVID while hospitalized for something unrelated can also have a mental toll on the patient, both Hamer and Pierre said, due in part to the isolation protocols that are in place.
Right now, with the dominant variant being omicron, many people who test positive are reporting more mild symptoms than previous variants often caused. On top of that, medical professionals have more tools and information at their disposal to help those who are facing a severe COVID case.
"It's really a very different epidemic right now because the severity of the disease has changed," Hamer said "It's because we're better at treating it, omicron may be less severe in terms of it's causing more of an upper respiratory infection [than a lungs issue], and we've got a good proportion of our population of the state who have been immunized."
Still a limited picture
The state only releases the breakdown of incidental versus primary, nothing further than that. Pierre said it would be interesting to see data further broken down by categories like vaccination status, age and risk factors so people could get a better feel for what COVID is like for people like them.
Both Pierre and Hamer still advocated for caution with respect to COVID. Even though many people who are not at elevated risk for complications from COVID may have mild or no symptoms, Hamer said so much is still unknown about COVID, particularly about long COVID.
"There's a lot of questions still that we need to understand better. One of them is, 'Is omicron less likely to lead to long COVID?' That's an open question," Hamer said. "COVID is really a systemic infection. The virus infects especially the respiratory tract, but it can infect a lot of other tissues in the body. And so that's why we're seeing some of these longer term outcomes …
"Even though omicron is milder, I still don't think I'd run out and get exposed to omicron, at least not on purpose," he said.
Newsletter Signup
Stay up to date on all the latest news from Boston.com