COVID
Has the omicron surge peaked in Massachusetts?
"We're still not in a place where it's super safe yet."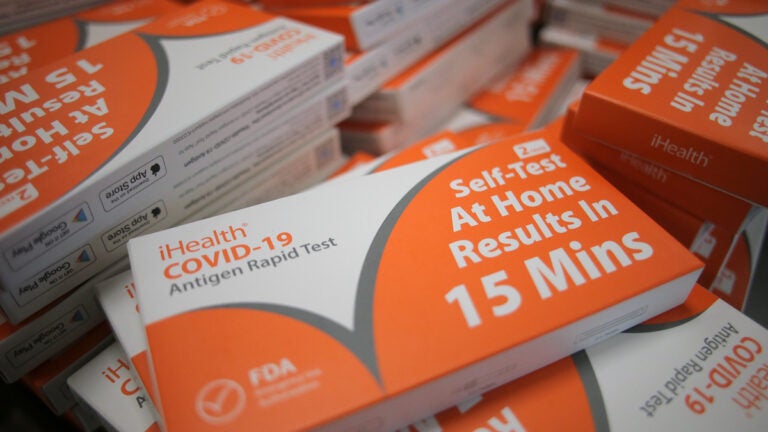 A thin, glimmering sliver of good news appears to be glowing a bit brighter: State data shows Massachusetts may be past the peak of COVID-19's omicron surge.
The seven-day average of confirmed virus cases is apparently dropping just as quickly as it rose late last month, with a case average of 9,403 reported on Wednesday, down from the recorded high of 23,071 on Jan. 8, records from the Department of Public Health show.
Probable cases recorded by the DPH hit an unprecedented high of 3,552 on Jan. 4. As of Tuesday, those cases had descended to 776.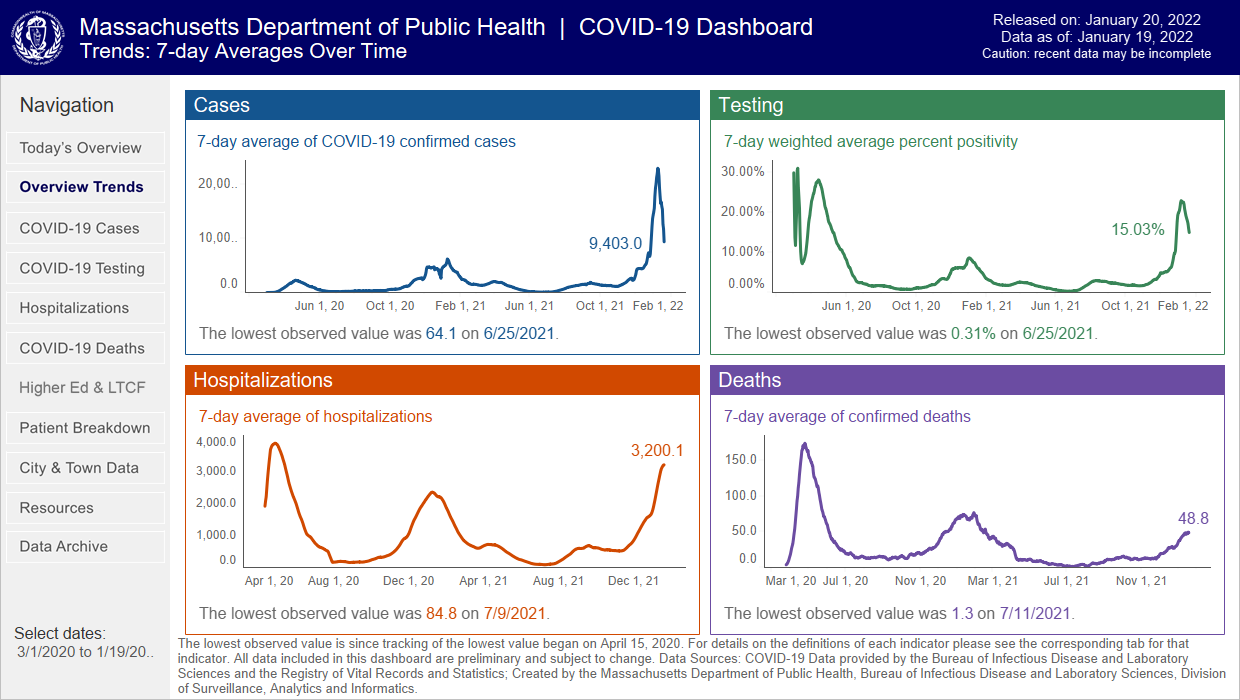 The numbers corroborate a sharp decline seen in recent days in the average number of coronavirus RNA copies per milliliter in wastewater collected from Boston's northern and southern suburbs — a data set that's become akin to tea leaves for forecasting trends in the pandemic.
All said, some experts are cautiously optimistic the worst of the omicron surge may be in the rearview.
"The one thing I would say about COVID generally is you just never know, but it certainly does look like we are very much on the backside of the omicron surge in Massachusetts," Gov. Charlie Baker said Tuesday.
Baker noted the trends follow the trajectories of the virus variant overseas in places such as South Africa and the United Kingdom, where the rise — and apparent drop — of omicron has precipitated the surge in the United States.
"It's straight up and straight down," he said.
So what exactly is happening in Massachusetts?
Here's what local experts had to say:
Where are we?
Dr. Davidson Hamer, professor of global health and medicine at Boston University School of Public Health and Public Medicine, told Boston.com this week there are various indicators suggesting the Bay State is on the "downward slope" of the latest surge.
Among those is the wastewater data collected and analyzed by Cambridge-based Biobot Analytics for the Massachusetts Water Resources Authority — samples that are "very sensitive" and often preceded case counts by as much as a week, Hamer said.
"That's dropped precipitously, so I think that's fantastic," he said.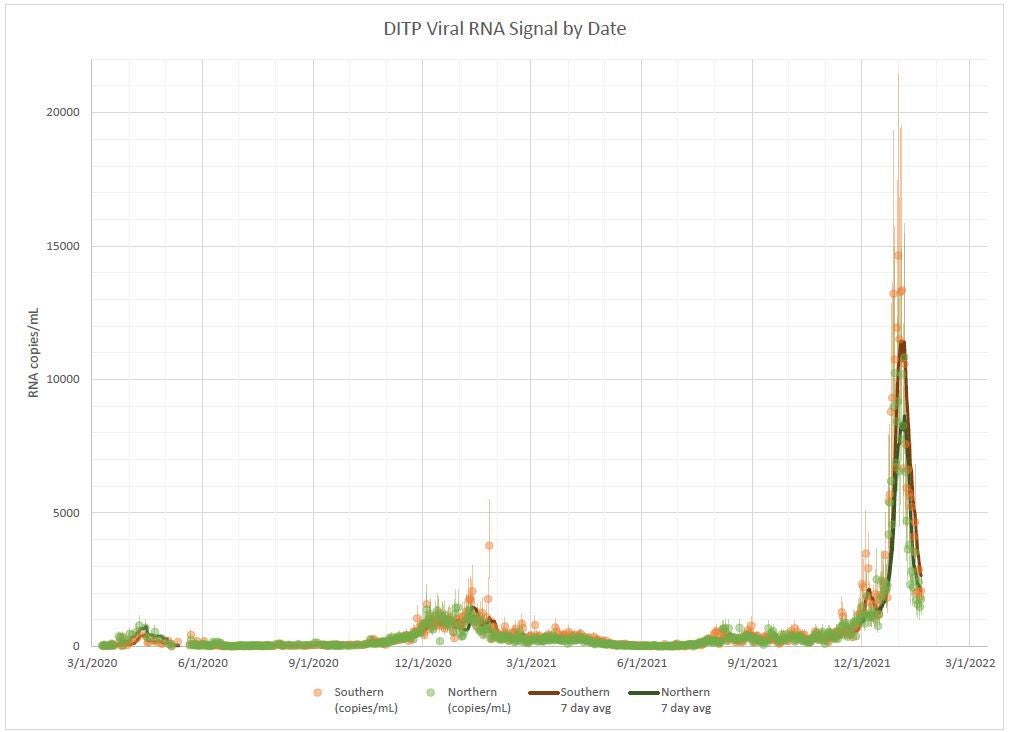 Dr. Cassandra Pierre, medical director of Boston Medical Center's Center for Infectious Diseases, said the latest data gives her "muted and weary optimism."
"Yes, the numbers are getting better. You see the case rates are declining, which is in parallel to what we're seeing in South Africa, and the U.K. and Europe, who have preceded us in this wave," Pierre said in an interview. "We're also at a time where we don't have a lot of indoor gatherings on the horizon to kind of continue the spread and the cycle of transmission. So those are things that are working in our favor, and the case data also looks great."
Pierre's outlook, however, is a bit dampened by high hospitalization rates, with a seven-day average on Wednesday hitting 3,200 cases — nearly its highest since spring 2020, according to state data.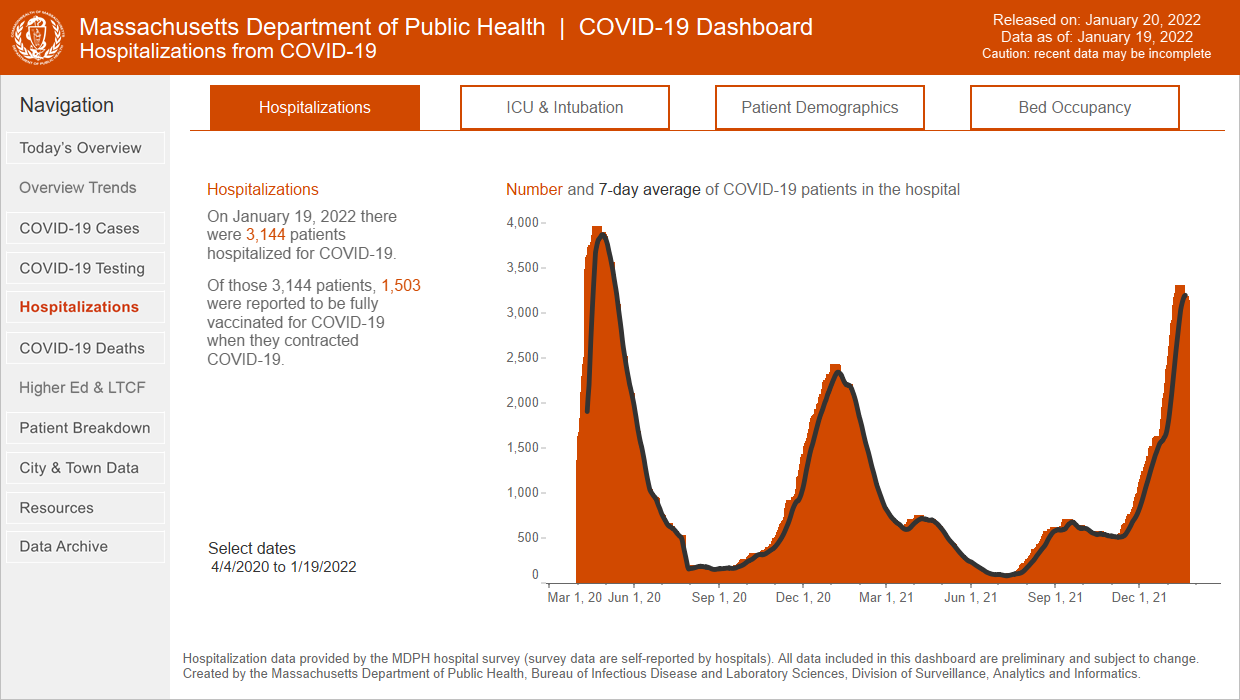 Both Pierre and Hamer noted hospitalization data typically moves at a delayed pace compared to the ups and downs of daily case numbers.
"We still see a number of critically ill people in our ICUs and that probably will continue (and) remain high for quite some time," Pierre said. "It is a lagging indicator."
When exactly the state could see a drop in those numbers is a bit more unclear.
Hamer said he hopes to see a decline as soon as within a week or 10 days. Pierre put that development a bit further out, possibly within one to two weeks.
"I'm not so sure I would put it in a number of days … Certainly by the end of January, beginning of February," she said.
Hospital workers have been stretched thin handling caseloads in recent weeks. On Thursday, the Massachusetts Nurses Association called on Baker to declare a state of emergency through the end of March to help stem the rate of hospitalizations.
Data released by the state this week also offered a new look inside hospitals amid the surge. Records show 51 percent of COVID hospitalizations on Tuesday were patients with severe cases of infection while 49 percent of those admitted sought services for other ailments but coincidentally tested positive once in the hospital.
Even with some evidence omicron may be receding, daily case counts in Massachusetts remain relatively high.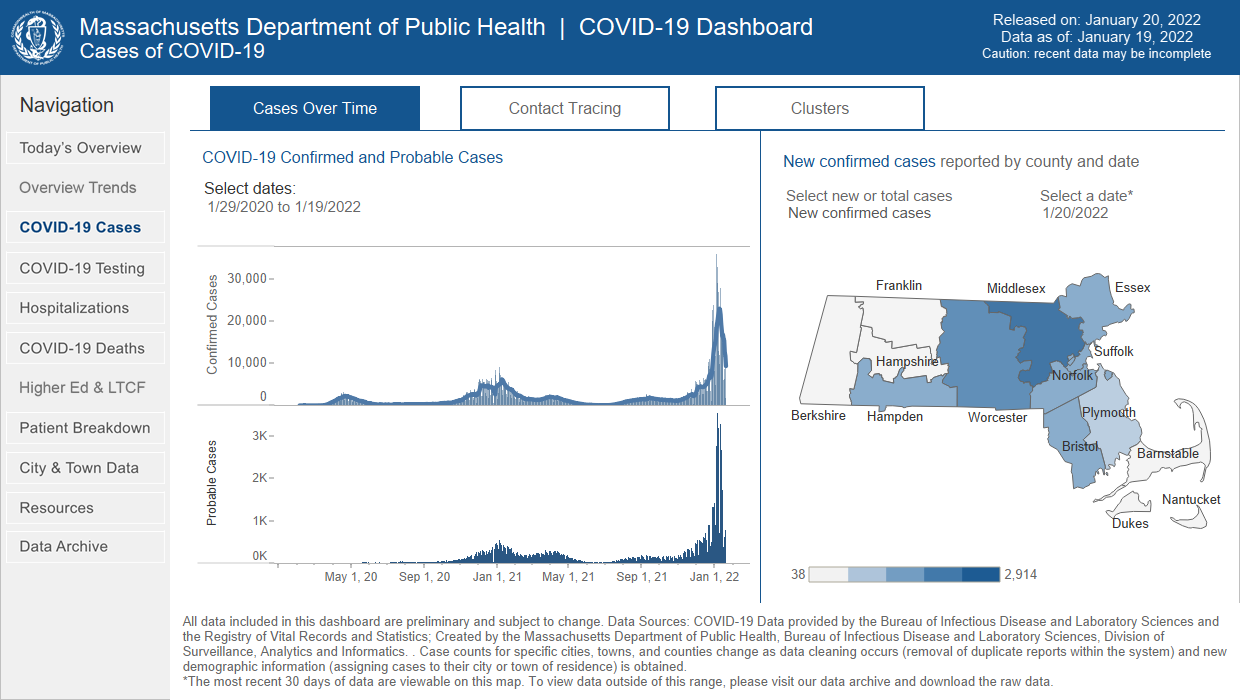 On Thursday, the state reported 14,384 new cases and 86 new deaths.
As always, the official records do not necessarily reflect unreported cases detected using at-home kits, either, Hamer noted.
"I think people need to still keep up their guard for a little while because it's definitely not gone and … it is really very transmissible. And so there's still a risk until it's really, fully gone," Hamer said.
"I mean, the case count …in Massachusetts right now is much, much higher, literally hundreds of times higher, than it was last June when it last bottomed out and things were really good," he continued. "So we're still not in a place where it's super safe yet."
Where are we going?
Hamer theorizes that rises and falls in virus case counts will vary between places where vaccination rates are lower or where there are fewer people who have had the virus before.
"There may be a harder hit on health care systems," Hamer said. "And the question is, what's going to happen next? And I have no idea. I mean, every time we think we're safe, something else happens."
Pierre also has some hesitancy about what could be coming around the corner.
"You hesitate to use the words 'hot vax summer' again because we've just been burned," she said.
Virologists in the U.K. are already tracking a sub-variant of omicron known as BA.2, which has also begun circulating in other European countries and in Israel.
Other nations are already making moves in preparation for when they may start addressing COVID-19 as an endemic disease, although the World Health Organization has maintained the world at large is far from the end of the pandemic.
"I think that one of the hopes that a lot of virologists and epidemiologists have is that this virus sort of attenuates itself to become more easily spread, but a milder disease, and it's more like common cold or an influenza-like illness," Hamer. "And you know, that may be the virus changing itself, but also partly attenuated by vaccination.
"And if that's the case, if it's not making people feel that sick and not leading to hospitalizations and deaths, we just have to learn how to live with it," Hamer added.
Hamer personally is more concerned with the concept of "long-COVID," or when patients report lingering COVID symptoms long after initial infection.
"I have spoken to a few people that have long COVID," Hamer said. "You know, it's (been) a year and a half and they're still struggling. And that, to me is really scary and that's quite different from influenza."
"There's a lot that we don't know yet," he added later.
Pierre said that while omicron has produced a more mild reaction in vaccinated individuals than previous variants of COVID, new variants of the virus may not act the same way.
There is always a "theoretical threat" on the horizon that future variants could bring more severe illness, she said.
Pierre also thinks about the dual realities that exist now in the pandemic: The reality of vaccinated individuals and the reality of the unvaccinated.
With omicron presenting as a more mild illness for vaccinated persons, "it means that we can continue to try and get our lives back, to work, continuing with school, fitting our lives to the contours of what we need to fit them to with our new COVID reality," Pierre said.
But Pierre also remains concerned for unvaccinated persons and how those populations could influence how COVID continues to evolve.
"We have not achieved an optimal global immunity, and so that means… Omicron is not necessarily the end of the line," she said. "I know many people have felt like, 'Oh, this is just the evolution of (the) virus.' The viruses aren't sentient. They don't you know, say, 'Oh, this is my last stop.' So we could continue to see variants crop up, especially if a significant chunk of the world remains unvaccinated."
Newsletter Signup
Stay up to date on all the latest news from Boston.com