COVID
What do your at-home rapid test results mean? A local doc explains.
Positive results are pretty clear, but best steps after negative tests can be less obvious, writes emergency physician Jeremy Faust.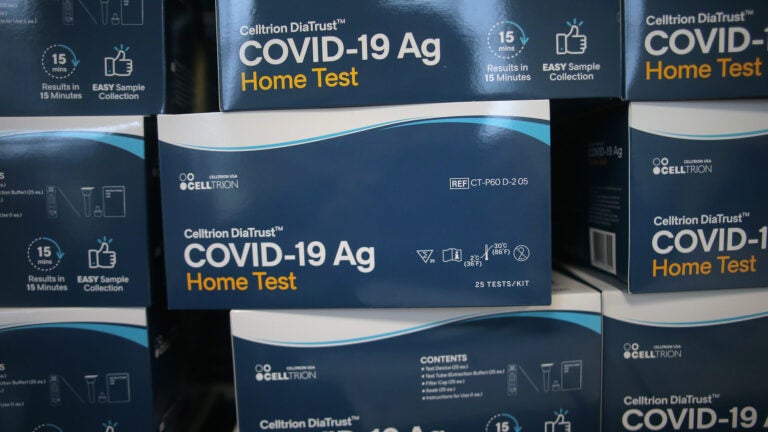 With omicron variant infections only just starting to slow down, and at-home COVID tests arriving in mailboxes across the country, many people are turning to antigen tests to try to pin down their status at any given time.
Jeremy Faust, an emergency physician at Brigham and Women's Hospital, broke down what at-home test results mean and cautioned people to take positives seriously in a blog post Monday.
The biggest point Faust emphasized was that a positive at-home rapid test result means you are contagious and should be isolating. It doesn't matter if you are past the five-day Centers for Disease Control and Prevention (CDC) recommended quarantine, if you are triple-vaxxed or unvaccinated, if you are asymptomatic, or if the line on the test is faint or strong — a positive is a positive and should be taken seriously, he wrote.
False positives are possible, and Faust writes that the best way to confirm at-home rapid test results is to get a PCR test administered by a healthcare professional.
At-home tests, also called antigen tests, are different from PCR tests because they test if someone is contagious at the time. At-home tests look for antigens, the substances that trigger an immune response.
At-home rapid tests are not the be-all-end-all when it comes to telling whether someone has COVID, but they do provide a snapshot of whether someone is contagious at a given time.
By contrast, a PCR test looks for genetic evidence of COVID-19 in a sample. They require special equipment to run, are often difficult to find, and take longer to get results than antigen tests.
While interpreting a positive test is pretty cut and dry, negative tests have more nuance, Faust wrote.
"A negative at-home rapid antigen test means you are unlikely to be contagious at the precise moment you took the test," read Faust's post.
While false negatives are possible, Faust wrote that most negatives are correctly negative in that they identify whether or not someone is contagious. For example, a person could still be infected with COVID, but are not contagious so their antigen test comes back negative.
Where negative results get complicated is in considering how long you can safely rely on negative antigen test results.
If someone has tested positive with a PCR or has had a high-risk exposure without a negative PCR, a negative at-home rapid result may not be true for very long — Faust calls a negative test in this case "simply not actionable." The reason for this is that the virus replicates very quickly, so someone can become contagious in a short amount of time.
Current CDC guidelines say after a five-day isolation, people who never had symptoms or had improving symptoms are good to end a strict isolation. Faust clarifies that while the CDC does not require testing to leave isolation, it is safest to have at least two negative at-home tests a day apart before leaving isolation.
"If you know you're infected, you'll want more than one negative antigen test (a minimum of 5 days after your diagnosis) to start feeling good about not being contagious," wrote Faust.
For those who have no reason to suspect they are infected, negative antigen tests are generally more meaningful for longer. If someone tests negative, the odds of becoming infected and becoming contagious in the space of a few hours is pretty low. Faust wrote that of course it is possible, but in his view relying on a negative antigen test in that setting is fairly safe before an event.
Faust wrote that the CDC guidance makes sense from a society-wide standpoint. Most people are not contagious after five days, so keeping society functioning with some mildly contagious people is likely better than "insisting on longer isolation periods and having everyone clamoring for food if too many people get infected at once."
Faust goes more in-depth into specific scenarios and their implications in his post.
Newsletter Signup
Stay up to date on all the latest news from Boston.com