COVID
The worst of omicron has passed. Here's what Dr. Ashish Jha says is needed next.
"Hope is not a strategy."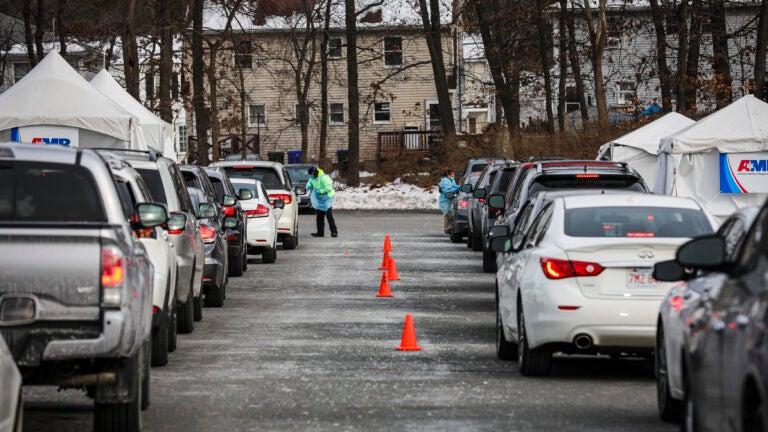 Dr. Ashish Jha said this week that if current COVID-19 trends continue, many parts of the country may soon be in a position where communities could ease public health restrictions. But the doctor also urged that work still needs to be done to protect against the ongoing pandemic.
In a Washington Post opinion piece and on Twitter, the dean of the Brown University School of Public Health outlined next steps for the pandemic as the omicron surge shows signs of coming to an end across the country.
Though Jha said anything is possible with COVID-19, he wrote that the United States has likely passed the peak of the omicron surge, and, if the trend follows what happened in South Africa and Britain, infection rates could return to a much more manageable rate within a month. Falling case counts and increasing hospital capacities leave room for relaxing mask mandates and indoor gathering restrictions, he said.
By mid-February, Jha predicts case counts should be relatively low across the country, in part because of high levels of population immunity due to the many infections seen during the omicron surge and more people getting boosted.
Jha said on Twitter that a marked fall in case counts and meaningful increases in hospital capacity should lead to relaxed public health restrictions, including mask mandates and indoor capacity limits.
"During future surges, we may need to ask people to pull back or mask up again," Jha wrote. "Preserving people's willingness to do things is critical."
Beyond relaxing measures as surges end, Jha emphasized that the reprieve that may come after the worst of omicron has passed needs to be used to prepare for future surges.
"The bottom line is that as the omicron surge subsides, we will enter a period of uncertainty, with low levels of infections but hard-to-predict surges, either from the current variants or new future variants," Jha wrote in the Post. "As such, we must use the months ahead to prepare."
Jha emphasized the continued importance of vaccines saying, "efforts to reach the un- and under-vaccinated must continue."
He called for Operation Warp Speed 2.0 and the continued development of new vaccines, with an emphasis on building lots of doses early so the country can better react to future needs.
In the same vein, Jha said the nation can't be caught unprepared again when it comes to testing.
"When more testing was urgently needed during the most recent surge, capacity had to ramp up almost from scratch," Jha wrote in the Post. "We can't make that mistake again. We must ensure that we have a large national stockpile of in-home rapid tests, and we should continue to ramp up production of raw materials, including reagents."
The time between surges should also be used to build up a strong supply of therapeutic doses, Jha wrote. Treatments like monoclonal antibodies, intravenous antivirals, and therapeutics from Pfizer and Merck can substantially reduce severity of infections, Jha said, adding that they should be a "cornerstone of managing infections."
"Their potential to substantially blunt the next wave justifies significant investments in effective protocols and stockpiles, including making treatments free to people who test positive," Jha wrote in the Post.
The virus is not going away completely any time soon, but Jha said that it "need not dominate our lives."
"We need to clearly communicate the moment we are in, the actions people should take during periods of low infection and the temporary measures we might need during future surges," Jha wrote in the Post. "Our leaders must do a better job of communicating where we are, what is to come and how best to prepare."
Jha said he suspects there will be future surges and more variants, but future trends of the virus are hard to predict.
"Obviously, I hope there won't be future surges," he tweeted. "Or surges won't matter (because of our high pop immunity). But hope is not a strategy."
Newsletter Signup
Stay up to date on all the latest news from Boston.com