COVID
Bari Weiss and Bill Maher said it's time to live with COVID. A local doctor fact-checked them.
Dr. Jeremy Faust said Weiss and Maher "slyly curated their facts, reciting a series of cherry-picked statistics."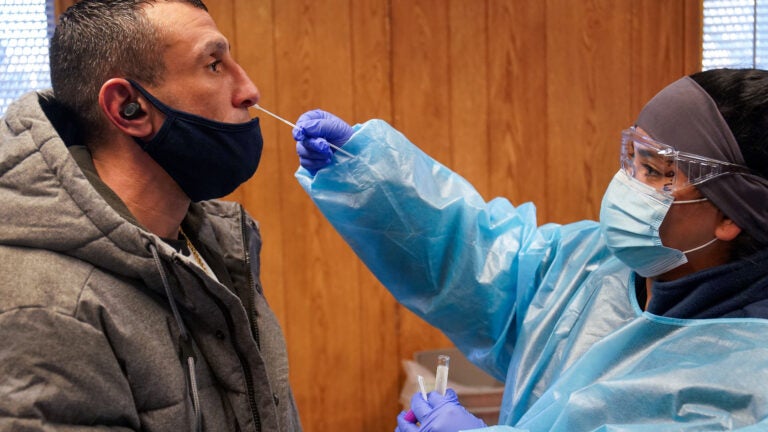 An emergency room doctor in Boston says now is not the time to give up on all COVID-19 restrictions and precautions, no matter how tired we are of them.
Dr. Jeremy Faust, an emergency physician at Brigham and Women's Hospital, outlined his argument in a blog post on Wednesday, in response to writer Bari Weiss's recent appearance on Real Time with Bill Maher.
"I'm done," she said during the show. "I'm done with COVID."
Maher agreed with Weiss, saying he's been wanting a "reset" on COVID for months and that we should start treating COVID-19 like the flu.
In his post, Faust argued that Wiess and Maher represent what he said could be called the "COVID Neo-Nihilist movement."
"These are people who previously took the pandemic seriously but are now giving up on doing anything at all about Covid, not because the crisis is over, but because they're able to ignore what's happening in hospitals and other hotspots," Faust wrote.
Faust said when all ages can be vaccinated and hospitals aren't bursting at the seams, extreme measures to stop the spread of COVID-19 will reach the point of diminishing returns. He said that is a fact pattern that would support COVID Neo-Nihilism, but he stressed the conditions right now do not warrant that approach.
Right now, children under 5 years old still can't be vaccinated, the nation's hospitals remain stretched, and care is being compromised, which will lead to the loss of lives, Faust said.
Faust also fact-checked Maher and Weiss's claims from last week.
During the segment, Maher focused on the assertion that mitigation efforts had done nothing. He listed off the number of COVID-19 deaths per 100,000 residents in various states, specifically pointing to Florida, which ranks 17th in the nation under that metric. States like New York and New Jersey did worse in deaths per 100,000 residents, and Maher argued that even though Florida "basically stayed open," the state "didn't do a hell of a lot worse, maybe did better."
But Faust said Maher was wrong. He said Maher chose the wrong data and ignored the right data.
Florida and other states with lesser COVID-19 restrictions in place fared much worse than New York, New Jersey, and states that maintained mitigation strategies later, according to Faust.
He went on to point out that if you look at excess mortality since July 1, 2020, the states with the most excess mortality per 100,000 people were traditionally more conservative states like Tennessee, Mississippi, and Alabama.
By contrast, Washington, Minnesota, and New Jersey were in the top 10 states with the least excess mortality since July 1, 2020, the doctor said.
"Notice anything about the political divide here?" Faust wrote. "Could it be that mitigation made a difference? Of course it did."
The point that Weiss doubled down on was also based on misinterpreted data, according to Faust. Weiss called the response to COVID-19 a "catastrophic moral crime" because, she explained, it is causing an increase in teens self-harming.
She cited a 51% increase in self-harm among teen girls during the pandemic as proof, but, Faust wrote, she "conveniently omitted that this increase corresponded to a time when most schools had re-opened." The Centers for Disease Control and Prevention did report a 50.6% increase in suspected suicide attempts among teen girls from February 2021 to March 2021.
"The problem is that she (and Maher) slyly curated their facts, reciting a series of cherry-picked statistics, all taken out of context," Faust wrote.
Faust broke down the data Maher and Weiss brought up — and how it was largely taken out of context — further in his post.
"It's one thing to have opinions based on data," Faust wrote. "But, so far, Covid Neo-Nihilism appears to be trading on contorted versions of the truth, designed to fit a pre-determined agenda, close enough to reality to sound legitimate, but wrong enough to be harmful."
Newsletter Signup
Stay up to date on all the latest news from Boston.com