COVID
'It's time for us to give them their childhood back': Boston-area doctors call for an end to mandatory masking in schools
New CDC mask guidelines make the change safe, the physicians said.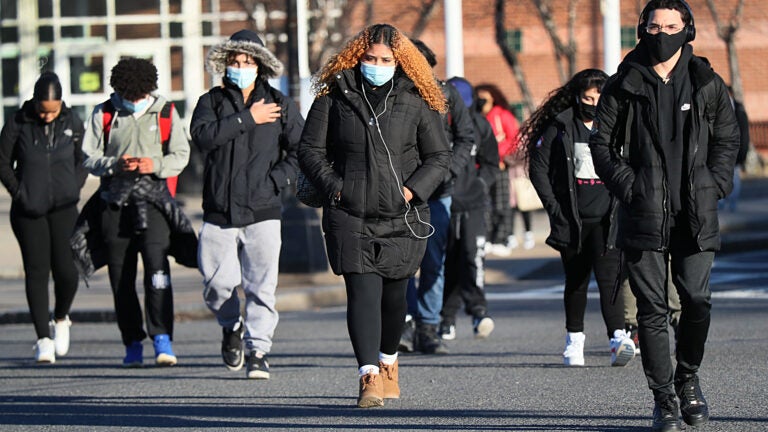 It's time for mandatory masks in schools to go, three Boston-area doctors argued in a Washington Post op-ed last week.
Shira Doron, a hospital epidemiologist at Tufts Medical Center and associate professor at Tufts University School of Medicine; Westyn Branch-Elliman, an infectious diseases physician and associate professor of medicine at Harvard Medical School; and Elissa Perkins, an associate professor of emergency medicine at Boston University School of Medicine and the director of emergency medicine infectious disease management at Boston Medical Center, said schools can now safely make masks optional.
New guidance from the Centers for Disease Control and Prevention on masks — outlining that respirators, like N95s, are more protective than surgical masks, which are in turn better than cloth masks — leaves room for a compromise about masks in schools, according to the doctors, who are also parents to school-aged children.
"Respirators and other high-quality masks are highly effective at protecting their wearers, regardless of what people around them are doing," they wrote. "That makes the old mantra 'my mask protects you and your mask protects me' obsolete."
The trio clarified that in the fall of 2020 they were strongly supportive of universal masking policies but said the policies have come with a cost.
In schools where mask guidelines were rigorously followed, they pointed out that children have not seen their peers or teachers' faces since early 2020. Especially for the youngest learners, the doctors said this affects learning and development. Strict mask rules and other mitigation policies also send a message to children, families, and staff that schools are not safe.
"This is simply not true," the doctors said.
Negative news about COVID-19 and schools and "harsh" restrictions in many districts tell students they are disease vectors, while not recognizing that they are growing children who need social interaction, the physicians wrote.
"There is a youth mental health crisis in this country, yet punitive actions that limit social interaction and normal life continue," they wrote in the op-ed. "School should be a place where children feel safe and supported, even if their mask-wearing isn't perfect."
The CDC's update and the Biden administration's promise to deliver 400 million respirators to the public for free are reasons schools should go mask optional, according to Doron, Branch-Elliman, and Perkins.
They urged public health and school officials to emphasize personal choice and inform communities about one-way masking, writing that, "It's time we stopped worrying about what others are doing and started focusing on protecting ourselves."
"Our children have sacrificed a lot to protect us," the doctors wrote. "Now it's time for us to give them their childhood back."
Newsletter Signup
Stay up to date on all the latest news from Boston.com