COVID
Local experts explain how we'll know when it's time to lift pandemic restrictions
"Just as important as knowing when to put in controls is knowing when to pull them back."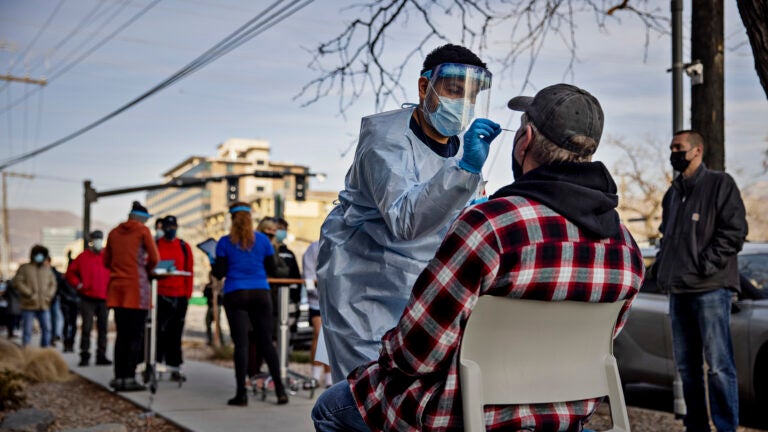 With case counts decreasing across the country and many people itching to lift public health restrictions, two Boston-area experts weighed in on when to remove the measures like masking and capacity limits.
A "live with it" mentality when it comes to COVID-19 is becoming increasingly common in the U.S. — most recently leaders in New Jersey, Delaware, Oregon, and Connecticut have announced plans to phase out mask mandates in schools. But when is it really time to lift restrictions?
In a Washington Post op-ed last week, Joseph Allen, an associate professor and director of the Healthy Buildings program at Harvard University's T.H. Chan School of Public Health, broke down some metrics decision-makers should use to decide when to ease restrictions.
He broke it down into four indicators: sewer levels of COVID, health care capacity, hospitalizations due to COVID (as opposed to with COVID), and risk level.
Throughout the pandemic, sewer readings of COVID-19 levels have been remarkably accurate in predicting the rise and fall of cases, wrote Allen.
Allen said he has been tracking wastewater reports for Boston closely for more than a year, and they correctly predicted last winter's surge, as well as the omicron variant's rise and fall.
"Wastewater data are unbiased," Allen wrote. "They're not influenced at all by the amount of testing being done, or who is doing the testing. This is in stark contrast to the two metrics the Centers for Disease Control and Prevention uses — cases and test positive metrics — which are deeply flawed and getting worse."
He continued on to say we should keep counting cases, but they should not be the focal point for deciding policy.
The second metric Allen encouraged decision-makers to keep an eye on is health care capacity. During the omicron surge, many hospitals were overrun with patients who were positive for COVID.
"Health-care capacity can help us understand how much of a threat any coming surge will be and if additional strategies, such as canceling elective surgeries or activating the National Guard, should be implemented," Allen wrote.
Next, Allen urged those in charge to track how many hospitalizations were due to COVID, as opposed to just with COVID. Some people are hospitalized because of COVID-19, and others, especially during the omicron surge, were hospitalized for other reasons and happened to test positive (those cases are called incidental cases).
Massachusettts started splitting up hospitalization data last month between primary and incidental cases and it showed that only about half of all hospitalizations were because of COVID-19.
"The health-care system is impacted by the total number of hospitalizations, so the total capacity metric is more important than the specific number of hospitalizations for covid," Allen wrote.
But, he continued, the distinction is critical because it helps " clarify the severity of different variants and the efficacy of vaccines."
And lastly, Allen pointed out that risk has to be incorporated into decision making. The two biggest determinants of risk, age and vaccination status, have remained constant for the past year, wrote Allen. He said it seems risk has been ignored in setting policy — with some of the strictest restrictions imposed on children.
"Consider that adults in many areas are allowed to be in restaurants and bars, unmasked, but so many schools force children to eat lunch outdoors or in silence in cafeterias," Allen wrote. "This is not only inconsistent but also goes against what the data are telling us about risk."
The lifting of restrictions doesn't spell the end of our work, according to Allen. Even when public health mandates change, the problem remains the same — unvaccinated adults are at high risk. He expanded on the four metrics in his op-ed.
"We should be spending more energy on vaccinating everyone — both in the United States and around the world — and less on imposing restrictions on those already vaccinated," Allen wrote. "Just as important as knowing when to put in controls is knowing when to pull them back."
Allen is not the only local expert who is of this mentality — Dr. Ali Raja, the executive vice chairman for the department of emergency medicine at Massachusetts General Hospital, said on CNN Early Start that there is data to help guide public health restrictions.
"I think that we are ready in some places to start thinking about lowering mask mandates, but it's definitely not something that we can do around the country," Raja, who is also a professor at Harvard Medical School, said. "This has to be based on the local situation in terms of new cases and in terms of what the hospitals can actually handle because our hospitals are still pretty darn full right now."
Raja said if his child's school lifted its mask mandate, he wouldn't send his child in without a mask. He said this is informed by how full local hospitals are and in an effort to protect others that his kid may come in contact with.
He acknowledged that school systems across the country are looking to federal authorities for guidance but said that, since the situation is different in different communities, a good criteria for local agencies to use is what is needed.
"As we figure out the safe way to lower those mask mandates we've got to remember that there were still 2 million new cases around the world over the past day," Raja said. "Part of the benefit to having clear and specific guidance on how to lower those mask mandates is that we can actually also see that if the numbers start trending back up, when we need to bring some of them back."
Newsletter Signup
Stay up to date on all the latest news from Boston.com