COVID
'The rest of the world is moving forward': Critical care doctor urges public to remember that COVID is still taking lives in hospitals
"For us, we're just still stuck in this place where people are still coming in really, really sick."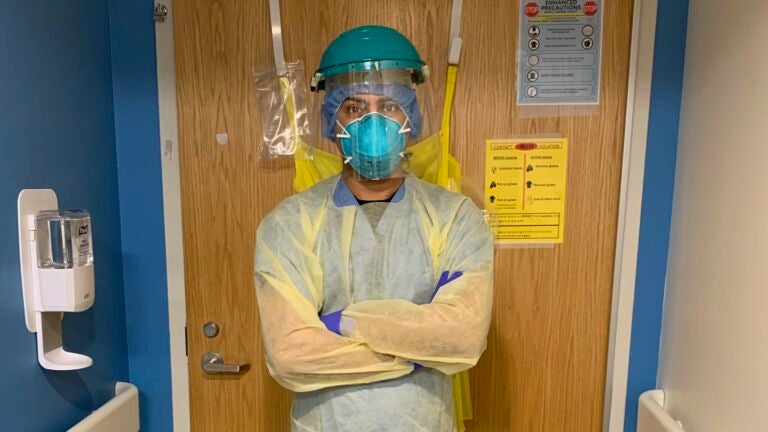 Dr. Lakshman Swamy was sitting in the dark beside his young toddler, who he'd just tucked in for bed, but his mind was still in the intensive care unit.
He couldn't get the experiences he'd had with some of his patients, who were sick with COVID-19, out of his mind.
"I just kept thinking about it and about all of the very heavy emotions that went along with all of it," he recalled in an interview with Boston.com. "And I just started writing it out, as not about any one patient in any way. It was kind of an amalgamation of people."
The instructor of medicine at Harvard Medical School and primary critical care physician at Cambridge Health Alliance kept writing, processing his own experiences with patients who were very sick and dying from COVID. He described the experience of caring for an unvaccinated patient, the kind of conversation that takes place about the possibility of being put on a ventilator, and his effort to address and recognize the person's fears.
Before going to bed, he posted it to Twitter, where he has been vocal in sharing his experiences working through the surges of COVID and the mental health impacts to health care workers on the front lines of the pandemic.
"I woke up, and it had really gotten a lot of attention," Swamy said. "And I was surprised because I didn't think people cared anymore."
Entering the third pandemic year, the difference from a year ago is stark to the doctor. Since the vaccine rollout began in earnest in early 2021, the United States has endured surges of the more infectious delta and omicron variants.
With omicron now abating, there has been increased pressure on leaders to once again relax restrictions. Officials in several states, including Massachusetts, are planning to roll back mask mandates in certain settings such as schools.
But even as the omicron surge recedes, more than 2,000 people continue to die every day from COVID in the United States, and an average of more than 100,000 new cases are still reported daily, according to The New York Times's coronavirus tracker.
Swamy said there seems to be a sentiment in society that "if you're not vaccinated at this point, you're on your own."
But that, he said, is not his feeling or that of his co-workers who continue to care for COVID patients every day.
"It feels more and more like the rest of the world is moving forward, moving on in different ways," he said. "And for us, we're just still stuck in this place where people are still coming in really, really sick. And yes, for the most part they're unvaccinated. But … that's just not the part that matters. We're just so used to taking care of these very sick people, having them die, being in touch very close in a short period of time with their families and kind of carrying all of that."
Swamy said it is challenging when he shares his experiences caring for patients only to have the first question from friends, family, or acquaintances be about whether or not the individual was vaccinated.
He said the fixation on that question only reveals the fear of the person asking it.
"I understand, it's scary for them," the doctor said. "So I'm not blaming them. But it makes us feel even more alone. And then people on social media will ask for all the details, they want all the data. 'How many patients have you cared for? What has it been like? What are the outcomes?' And it's just like, for me, we are already doing that work. And we already have been doing so much more of that work by communicating about it to the public, by sitting on committees for our schools and for other organizations — it never ends how much we do this work about COVID. And it feels more and more like we are so alone, profoundly alone, in doing all of that."
Swamy ended up turning the thread into an op-ed piece published by the Washington Post.
He said that with both the Twitter thread and the piece in the newspaper he wanted to bring to the public's attention a reminder that regardless of vaccination status, the people who are still getting very sick with COVID and having negative outcomes are human beings.
He also wanted the experiences he is sharing to underscore for people that the most important thing a person can do to protect against COVID is to get vaccinated.
"I want people to get vaccinated … Don't let this happen to you and your family," he said.
Swamy said he is concerned that the tone and urgency for urging vaccination has changed completely. The sentiment that anyone can now get it "anytime, anywhere," he worries, is "not good enough"
And then to only focus on a person's vaccination status once they are sick with the virus is dehumanizing, he said.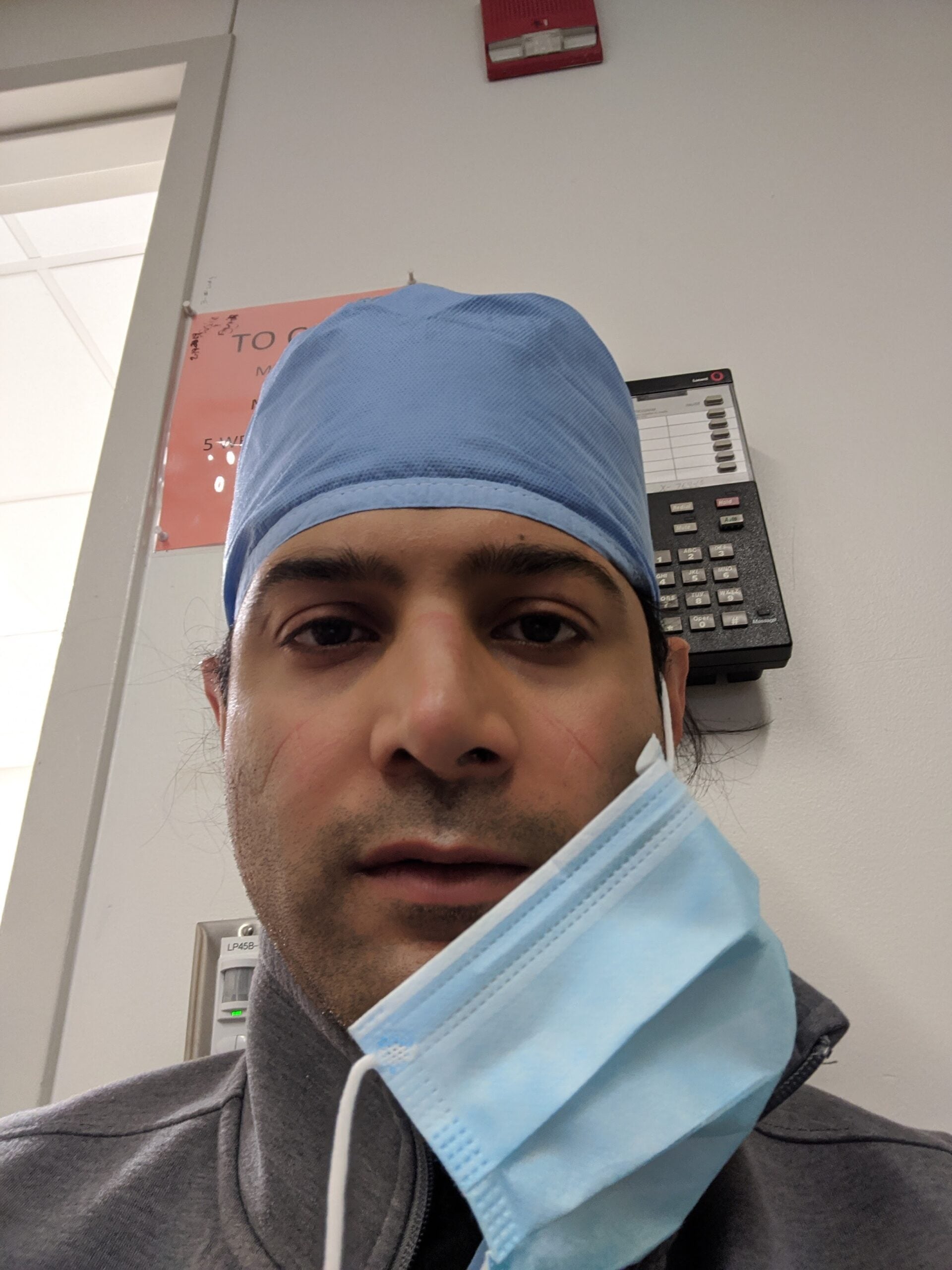 "The unvaccinated are a statistical group that [people] put all kinds of ideas about who they are onto that," Swamy said. "But what I see is individual people with families. I see mothers and fathers and children. And … I remember them like that. So I don't see that person and say, 'They are unvaccinated.' We don't say it's the unvaccinated patient that's sick. They are just whole, real people to us. And in the intensive care unit, even if the first time we meet them they're already intubated and asleep and I can't communicate with them, that just means that I'm communicating even more with their families."
Swamy said that's what his op-ed piece was about — the time that is put in by health care workers to connect with their patient and their patient's family, the weight of those conversations, of getting to know them, of being with them in "their moment of just complete terror."
"I wanted people to understand, first that these are human beings with real full lives around them and it's not the most important fact about them whether they're vaccinated or not," he said. "And the second thing is I wanted to say something that all my colleagues who are going through this, would resonate with them and they would feel it and feel heard. Because again, I think we just feel so not heard. We feel so alone and so voiceless. So I wrote it as much for my colleagues as I did for the public."
It was for his colleagues that he turned to Twitter again in February, sharing the experience of reaching out to offer condolences to someone who lost a patient.
Swamy said it was another example of his own experiences "boiling over" in his head. Working in acute or intensive care, the experience of losing a patient isn't unique to COVID, he said, but the pandemic has upped the frequency and intensity of those losses.
"I wanted people to know what we're going through, and I wanted my colleagues to feel seen and heard … It's really hard to process those moments, and those moments are so much more common," he said. "And honestly, I'm at a loss for what to do at this point because we all go through this. I mean, I wrote that from the perspective of me looking at my colleague and them experiencing it. But I've been on both sides of that conversation many times."
If you know someone working in health care, he said it is important to reach out to them.
"Anyone out there who works with anyone who is seeing the sick, find a way to engage with them," he said. "I don't know what the right way is for them, but that conversation really matters."
What he hopes the public takes away from the op-ed and his latest thread is that it is important, even with the success of the vaccines, not to forget "our most vulnerable people," such as those who may have underlying immune issues that mean that even with a booster, they are at risk for becoming very sick with the virus.
Society too often turns things into moral judgements, he said.
"I hope that people can hear these stories and say, 'These are human beings, and even though I'm doing a lot better and I had a really mild case of COVID and I'm able to go back to work and engage in my life, that's not true for a lot of people out there,'" Swamy said. "'And even though I don't hear it, in the hospital down the street, people are really suffering and dying.'"
Newsletter Signup
Stay up to date on all the latest news from Boston.com