COVID
This local doc says President Biden's 'test to treat' plan is 'a major milestone.' Here's why.
"Now is the hard part to make it a reality, and make the most use of the rapid tests."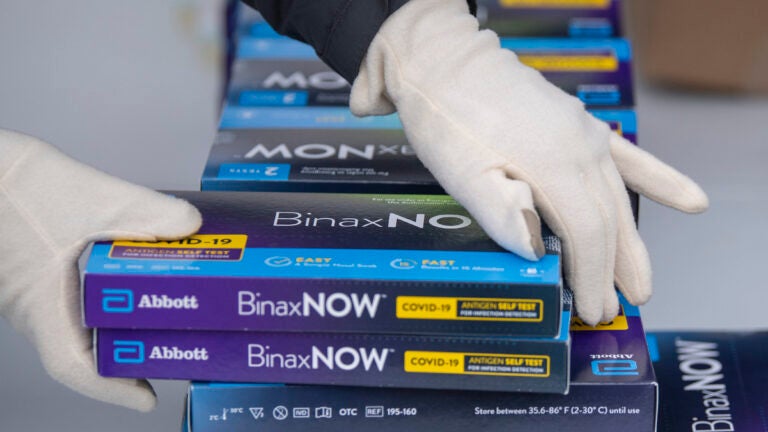 The "test to treat" initiative — announced earlier this week in President Joe Biden's State of the Union address — promises to help people get rapid access to COVID-19 treatments as soon as they learn they've tested positive.
The Biden administration says it will establish "one-stop test to treat" locations in pharmacies, community health centers, long-term care facilities and Veterans Affairs facilities across the country in March.
Dr. Michael Mina, a former assistant professor of epidemiology at Harvard T. H. Chan School of Public Health and now chief science officer at biotech software company eMed, explained on Twitter how the new initiative has the potential to "transform the impact of future surges to be dramatically more manageable."
The "test to treat" plan shortens the process of receiving a prescription for antiviral medicine. President Joe Biden announced Tuesday that his administration has bought 20 million doses of Pfizer's antiviral pills, and the company is set to provide an additional 1 million this month and 2 million next month.
Mina said linking rapid tests and immediate treatment options is "just smart," and that treating people quickly and equitably will help lessen the role of the virus in society.
Under the new plan, by the end of the month CVS and Walgreens locations will be able to provide free Pfizer antiviral pills for those who test positive for COVID-19.
Of course, prescribing antiviral pills is not always the right solution for someone with COVID. But Mina said many pharmacists are well positioned to prescribe antivirals, and including them in the plan will help fight the low access issues antiviral treatments are currently facing.
"We need better national level guidance from [the American Medical Association], [Infectious Diseases Society of America] and pharmacy societies and others for treatment algorithms so that if someone is not eligible for oral antivirals, the decision tree for what's next is not complicated and we aren't always reinventing the wheel," wrote Mina.
Mina said hearing Biden talk about the "test to treat" plan at his State of the Union address Tuesday was "amazing."
"It marks a major milestone in the pandemic," Mina wrote. "Now is the hard part to make it a reality, and make the most use of the rapid tests myself and others have fought so hard to see materialize."
Mina is not the only doctor excited to hear about the president's new plan. Dr. Megan Ranney, an emergency physician and associate dean of the Brown University School of Public Health, called Biden's announcement of the "test to treat" initiative her "favorite moment of the speech."
Newsletter Signup
Stay up to date on all the latest news from Boston.com