COVID
COVID-19 cases are rising again in Europe. But what does that mean for the U.S.? 
"*Now* is key moment to act."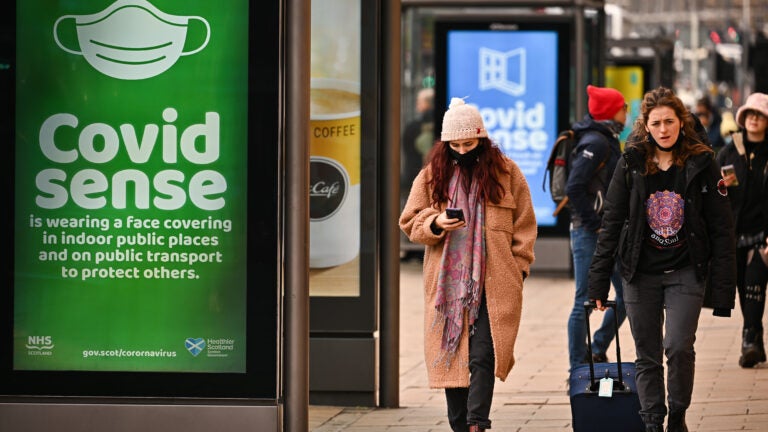 While COVID-19 cases have continued falling across the United States, much of Europe is seeing a different trend.
Daily cases are rising in more than half of the countries in the European Union and the United Kingdom, according to CNN.
The rising cases are prompting some to raise concerns that the trend overseas may be a prediction of what's to come in the U.S., and experts have begun weighing in on what Europe's numbers could mean and what should be watched for in the coming weeks.
Andy Slavitt, a former senior advisor on COVID-19 in the Biden administration, took to Twitter on Monday to explain what a future U.S. wave might look like.
Based on case numbers in Germany and the United Kingdom, he outlined that the increases abroad are being caused by BA2, which he called a variant of omicron. The more infectious BA2 variant accounts for more than 50% of cases in Germany and the UK, unlike the U.S. where it currently accounts for 10%, according to Slavitt.
"As we have seen throughout the pandemic, the US [has] followed Europe by several weeks in our waves of cases," he wrote. "That may happen again here. But what happens next is going to be different in every country based on what happened this last year."
He said the proportion of a country's population that has already been infected with omicron (estimated at 45% in the U.S. according to Slavitt), the percentage of vaccinated individuals, and the state of the nation's hospitals will all be key in determining how a surge plays out.
Slavitt said that those who are fully vaccinated, but did not get infected with omicron, "should be vulnerable to infection from BA2" but not as likely to get severely ill.
The former adviser to Biden wrote that we could see an increase in cases but a lower proportion of hospitalizations compared to the last wave of infections.
"Don't let public attitudes betray 2 realities we need to keep in mind," Slavitt tweeted. "First is the virus will continue to mutate with unknown outcomes. This is predictable. This is not endemic behavior. Second is that the majority moving on doesn't mean everyone is moving on or can move on."
For vulnerable populations, including kids under 5, Slavitt wrote that "things haven't changed. Only the people around them have."
Slavitt isn't the only expert keeping an eye on Europe.
Boston University assistant professor in the School of Public Health Julia Raifman, warned on Twitter of the possibility of an incoming surge — and pointed to wastewater data as an indicator.
According to Raifman, 37% of waste water sites are seeing increases of COVID-19 levels and that, combined with surges abroad, is reason for concern.
Raifman wrote on Monday that, "*Now* is key moment to act."
"I don't want to wait & see what BA2 does after BA1 took 150K lives, hundreds of children, in a matter of weeks," Raifman said. "Let's come together to reduce the toll of the next surge for health, lives, health care workers, & society."
Experts consider wastewater data an unbiased indicator of the state of the pandemic because it is not affected by testing rates or who has access to testing. A month ago Boston-area wastewater data was promising — it showed the city was back at levels similar to last fall pre-omicron. The data is still looking good for Massachusetts; Biobot, a Cambridge company that tracks the concentration of COVID-19 in wastewater across the country, continues to show low levels of coronavirus detected.
But public health experts are continuing to urge for pro-active measures to prevent and respond to future surges.
In a Washington Post op-ed last week responding to the Center for Disease Control and Prevention's new COVID-19 guidelines, Raifman and Elanor Murray, an assistant professor at BU and an epidemiologist, called for quicker methods to reinstate public health measures in the face of surges.
"A recommendation for universal masking should turn on when case counts alone are on the rise, even if they are not yet high," the pair wrote. "In the context of a highly transmissible variant such as omicron, just a one-week delay in implementing control measures could lead to twice as many cases, as well as to preventable hospitalizations and deaths (which do not follow cases in a 1:1 relationship)."
The time for action is now, says Raifman.
Dr. Megan Ranney, an emergency physician and associate dean of the Brown University School of Public Health, said on Twitter that she is tracking cases in Europe but that the indicators are more nuanced than just case counts.
If cases continue to grow, she said she is more focused on how high they rise and if the increase affects hospitalizations in "meaningful ways."
"But as always ➡️ prepare for the worst, hope for the best," Ranney wrote.
Newsletter Signup
Stay up to date on all the latest news from Boston.com